Entertainment
FX'S Snowfall Fame Damson Idris Is Always Surrounded By Gay Rumors But Does He Have A Wife?
Damson Idris was speculated to be gay after some intimate scenes after his series was released, but his recent headlines suggest that he has a wife.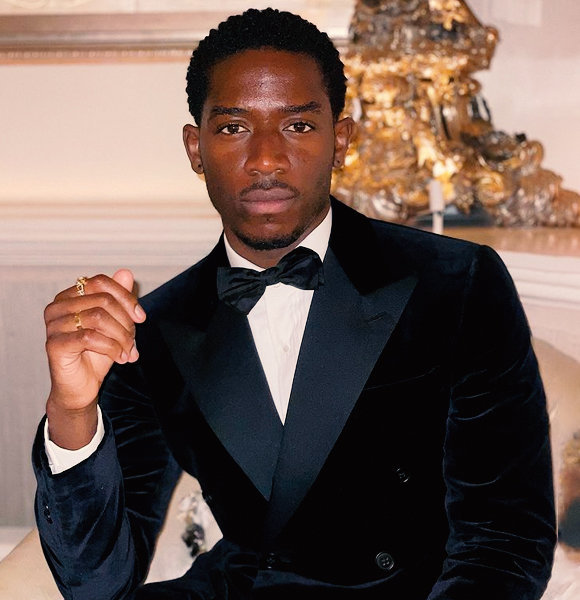 Snowfall actor Damson Idris is in the pit of gay rumors and speculations regarding his sexuality after intimate scenes from the FX original series Snowfall. 
Is Damson Idris Gay?
The Black Mirror fame Idris was caught up in gay rumors after some intimate scenes from his movie Snowfall got released, and the most interesting part of it all is that he was not even actively involved in the scene. 
Damson plays the character of Franklin in the movie, a naive character who gets beaten up and robbed by goons and later on seeks the help of his friend Leon.
Leon then connects him to Karvel, and they go to find the robber. Upon finding the robber, an altercation breaks out, leading to Karvel forcing him to the robber. 
This scene was highly controversial since form the series, and people had split opinions about it. While some thought it was the story of the movie, some condemned such activities in the movie. 
Amidst all of these, Damson's sexuality came to question. However, the Outside The Wire actor quickly shut down all the speculations without even saying anything when he was spotted enjoying a steamy time with Montana Brown in Southern France(2020). 
Love Island fame Montana Brown and the Black Mirror actor were spotted on the Cannes beach, and to say the least, they looked absolutely STUNNING!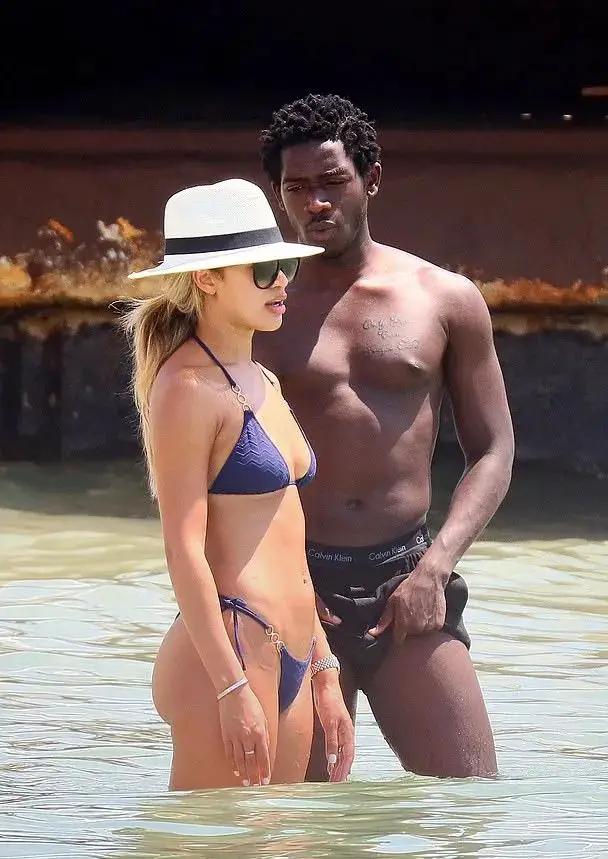 Damson Idris with Montana Brown on a beach (Source- OltNews) 
Brown donned a navy blue bikini and paired it with a hat and shades while the British actor was sporting his Calvin Kleins and black shorts. 
The two seemed very comfortable with each other, but that might have just been a vacation with a friend because their romance seems to have died down as the Love Island fame is now in another relationship. 
However, rumors of his dating life have never failed to make headlines when it comes to British fame. 
His New Relationship
Green-dressed rapper Dreamdoll posed with the actor on the 2021 Oscars event, and that was just enough for people to want them to be married. Literally!
Fans cooked the thought of Dreamdoll being Idris's wife after their appearance on the Oscars, We mean, they do look good together, but all dreams came crashing when they both had something to say about the rumor. 
"Yall need to relax... Potential Boo? I literally just met him yesterday, it was just a damn photo"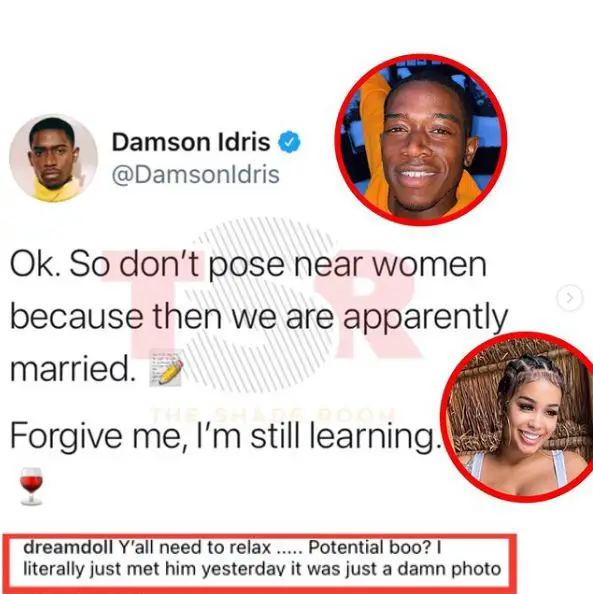 Dreamdoll clears the air regarding their dating rumors (Source- The Shade Room's Instagram) 
The savage Bronx rapper did not let the shade room get away with their Instagram post hinting on their potential relationship. 
But Damson had an even more hilarious reaction to the news. He wrote, 
"Ok. So don't pose near women because then we are apparently married," "Memo. Forgive me, I'm still learning."
Well, that ship might have sailed, but to our readers, he did a podcast with his wife named, Maybe I'm Crazy Podcast.
No! we are not crazy. We just wanted to keep the best for the last. 
Joy Taylor welcomes her husband Idris on the podcast and introduces him as, 
"You don't know this but we are actually married"
While Damson very charmingly acknowledges Joy as his wife. 
Damson Idris With his 'Wife'
They are not actually married to break the ice, and the two were just having silly laughs. 
We are sorry (not sorry) once again! 
But all and all Guardian reports the actor to be single. Good news for all of his fans indeed!
More On Damson Idris  
Damson Idris is a popular actor who is recently featured in the sci-fi action Netflix movie, Outside The Wire. 
Born in 1991, Idris's birthday falls on September 2, making him 30 years of age as of 2021. He was born in Peckham, London, in a family of 5 other older siblings. Maybe being six siblings in the household was fun as Idris wishes to have six children himself. 
Initially dreaming of being the 'next Christiano Ronaldo,' the 30-year-old grew up to study drama at Brunel University London. He received a BA honors degree in Theatre, Film, and Television. The British actor is a heavy supporter of Manchester United F.C. 
His recent movie Outside The Wire is actively streaming on the Netflix platform.