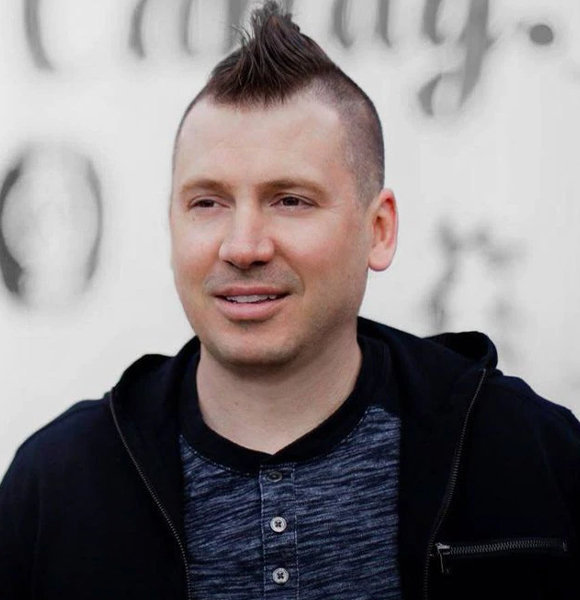 Comedian Dave Landau's companionship with his wife dates way back to when he was just beginning his journey in comedy.
As per his interview with Detroit Comedy Scene, the comedian reminisced about the days when he, along with his wife and other influential comedians, performed an improv show in Detroit. In his words,
I used to run a improv/stand up show at The Village idiot with my wife and Ken Kuykendall, Sebastian Oberst, Sam Richardson that would be packed every Sunday.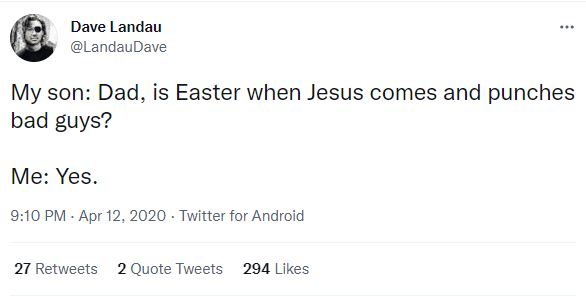 Dave Landau's Twitter post mentioning his son (Source: Twitter)
Dave Landau's Family
David knows how to get into people's hearts with his hilarious comedy, mostly based on his daily life and family. 
While he is pretty low-key about his family on social handles, he does not miss giving the comic dose once in a while through his stories surrounding his wife, with whom he relishes a happily married life.
Having been together for several years now, Dave and his wife share a son. Dave seemingly has a close bond with his family, and he often takes to his Twitter mentioning his wife and son in his funny posts.
Mentioning his son in a Twitter post of 2020, the comedian joked about his son and wrote,
My son: Dad, is Easter when Jesus comes and punches bad guys? Me: Yes.
His Journey To Success
While the comedian is relishing a happy family life, he lives his best life with an excelling career.
Dave Landau, standing at the height of 5 feet 6 inches, had a humble beginning with a dream of performing with a house-full audience. Following his passion for sharing his stories, he embarked into the world of comedy in Detroit.
As Dave describes, his greatest influences were comedians Rodney Dangerfield, Joan Rivers, Eddie Murphy, Bernie Mac, and Robert Schimmel.
Picking up his own style of presenting humor through his daily life stories, the comedian progressed his way up and later participated in Last Comic Standing, where he secured the position of a finalist.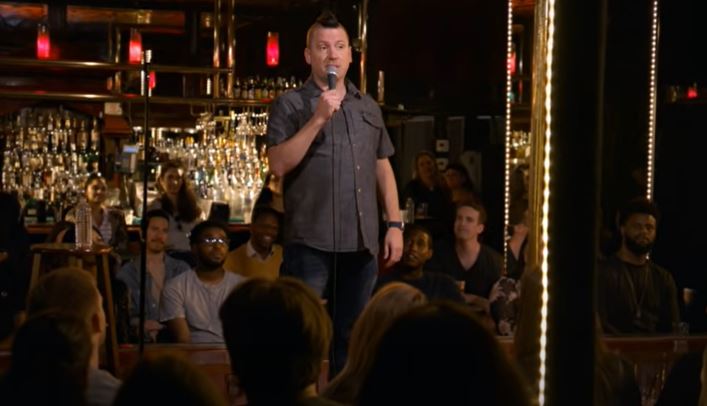 Dave's stand-up show at Comedy Central (Source: YouTube)
Garnering massive attention since his appearance in Last Comic Standing, he made several television appearances, including Comedy Central.
Talking about his creative process of creating his comedy scripts, Dave said,
I tell a story until it has a lot of punchlines and a big ending. I work it and work it. I don't record anything, if it's good, I'll remember it. Many comics disagree with me on that and I don't care. It works for me.
What Is Dave Lauden's Net Worth?
Dave's hard work and dedication paid him off, placing him amongst one of the prominent comedians.
Besides, Dave, who has reached the age of 38, celebrating his birthday in 2021, assumably has amassed an impressive net worth from his influential career in comedy.
The major chunk of his earnings comes from his comedy tours and events across the country. Currently, Dave has a jam-packed weekend filled with stand-up shows set in different locations, as mentioned on his website.
Likewise, his music, available on Amazon, and merc sells also contribute heavily to his net worth. With the growing popularity and appreciation of Dave's work as a comedian, he is sure to achieve much more in the coming days.