Entertainment
Inside Dave Navarro's Failed Marriages and His Relationship Update
Exploring all about Dave Navarro's unsuccessful married life and who his current girlfriend is.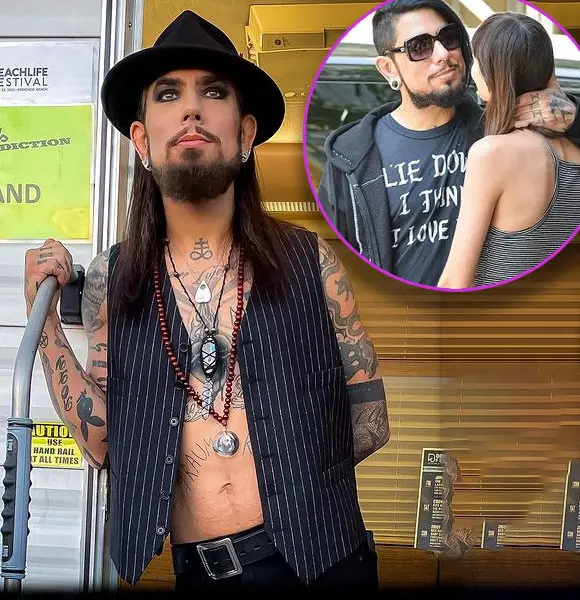 Jane's Addiction guitarist Dave Navarro's professional success is unlike his love life that somehow found its way to collapse with series of short-lived relationships.
Been in buzz frequently for his three failed marriages, Dave again made headlines for his relationship with girlfriend Andrea Tantros, a FOX reporter. But did the love last this time?
Is Dave Navarro Still With His Girlfriend?
The gossip tabloid pages went crazy on the news of the unlikely pair, Dave and Andrea, back in 2015, when Us Weekly broke the information on the newfound couple.
As the source reported, the two met each other through a mutual friend who introduced them few months before the news of their relationship surfaced.
While many were stunned by the togetherness of the unexpected pair, a source mentioned they shared much more similarities than expected,
Even though they seem like opposites, they have a lot in common. They both have a wicked sense of humor and share a love of politics and dark eyeliner.
However, the similarities did not seem to have kept them together for long. After just a few months of romance, Dave and Andrea parted their ways and were soon seen with different partners.
Andrea was spotted with a British rugby player in Bermuda, while Dave was spotted with a mystery woman in the streets of New York displaying affection for each other.
As seen in the series of pictures by Dailymail, the guitarist and his mysterious girlfriend seemed to have shared a flirtatious connection suggesting the two were nothing less than a couple in love.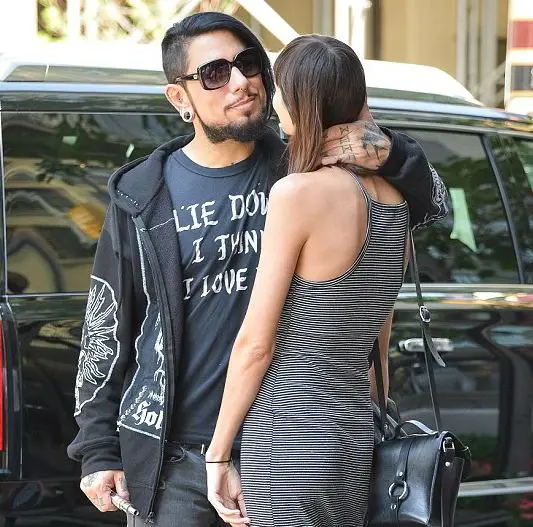 Dave Navarro with his mysterious girlfriend back in 2015 (Source: Dailymail)
However, since the end of his attention-grabbing relationship with his former reporter girlfriend, no news of his serious relationship has ever surfaced, which might suggest he is not in a committed relationship currently.
Married Three Times
The former Red Hot Chilli Peppers guitarist might have been taking a halt from his long history of failed romances.
His first failed relationship that caught public attention was with his former wife, Tania Goddar, a makeup artist. After the two-years-lived marriage came to an end in 1992, the tattoo lover got married for the second time with Rhian Gittins in 1994, and that too did not last any longer.
With two failed marriages under his name, the guitarist took his time to remarry and eventually exchanged vows with his spouse number three, Carmen Electra, in 2003.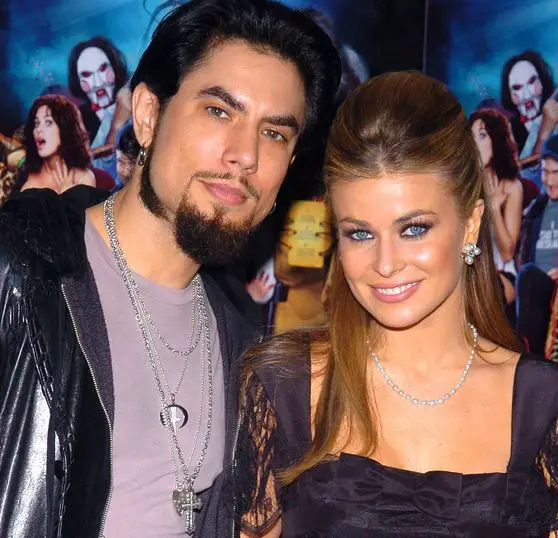 Dave alongside his third wife Carmen Electra (Source: People)
But unlike any of his previous marriages, Dave went full-on with his third one as his star-studded wedding with Baywatch star Carmen was premiered on television screens through the show Til Death Do Us Part.
Til Death Do Us Part
Circulating around the love life of Dave and Carmen, the MTV reality show Til Death Do Us Part aired in January 2004 and ran for seven episodes.
While the world watched the seemingly happy couple jump onto a new chapter in life, their divorce in 2007 came as a shock.
The pair, who reasoned their split as amicable separation, confirmed they were still in love with each other after the divorce. Taking about the divorce, Dave remarked,
Carmen and I love each other, we are and always will be best friends. In fact, we are supporting each other through this time. What better way to get through a tough spot than with your best friend?
Reciprocating the same emotions, Carmen also let the fans know that they continue to support each other in every way.