Eddie Vedder's wife's sweet Instagram post of Valentine's day cherishing their decade-long togetherness with their two kids will surely melt your heart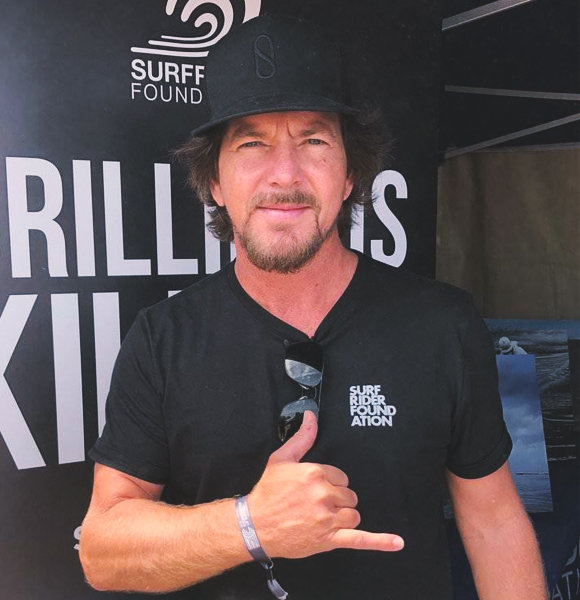 "Every day is Valentines with this babe," the rock icon Edie Vedder's wife took to her Instagram to wish her husband on this year's Valentine's day. 
Her love-filled 'gram post is enough to suggest the couple, who are parents to two kids, is relishing a fulfilling married life. 
Married For More Than A Decade
Posting a cozy picture with her beau, Eddie's wife, Jill Vedder, expressed how grateful she is to spend her life with Pearl Jam's vocalist. In her words, 
Couldn't be more grateful for all the days I get to keep you all for myself.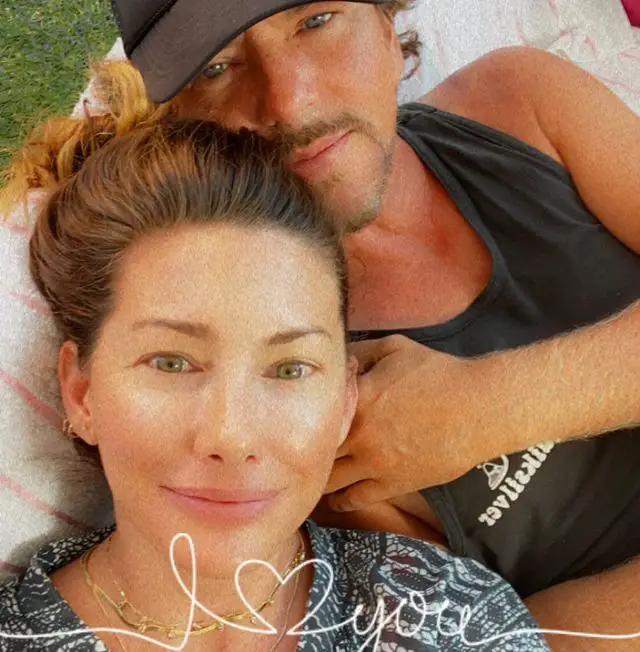 Selfie of Eddie Vedder with his wife, Jill Vedder (Source: Instagram)
While Eddie Vedder has blessed the world with his hits time and again, keeping him in the major limelight, his wedding with his longtime girlfriend, Jill, sparked the prying eyes of the media. 
As Us Weekly reported, their wedding ceremony was held on September 18, 2010, in Hawaii. 
Keeping a low profile, the couple wedded in a private setting with merely around seventy guests, including his close ones and a few star guests, attending the ceremony. 
However, Eddie's wedding with Jill marks his second time as his past marriage to Beth Liebling in 1994 resulted in divorce in 2000. After the split, the rock star moved on into another relationship with Jill. 
Having dated for a long time, the Black singer found the right time to ask Jill the big question in 2009 when he was in Washington D.C. attaining the Kennedy Center Honors gala. 
Sealing the deal in 2010, the pair are in their eleventh year of marriage, still enjoying each other's company like it's their first. 
Posting a rare picture from their wedding day, Jill wished the love of her life on their eleventh anniversary since they shared vows. In the picture, Eddie and Jill, dressed in wedding attire, stood holding hands below a wooden arbor that was beautifully draped with white fabric.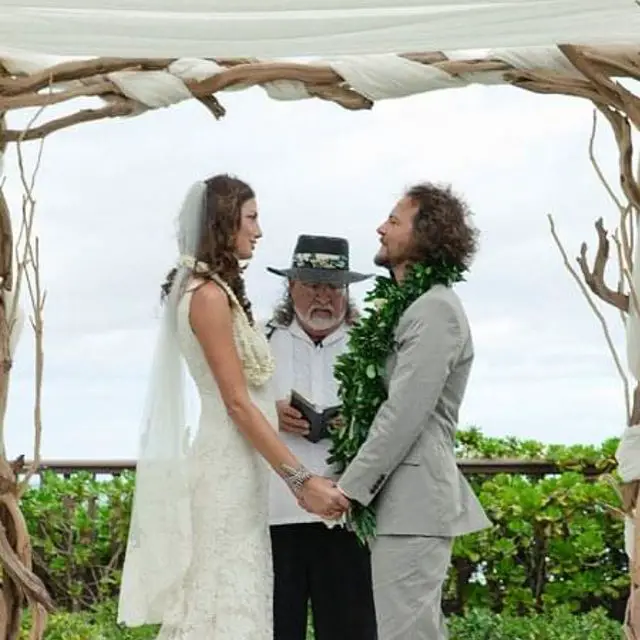 Eddie Vedder and his wife, Jill, from their wedding day (Source: Instagram)
The 'gram post, simply captioned with a heart sign, was quick to receive flooding congratulatory messages from the couple's well-wishers, including American actor Leslie Jordan whose comment read, 
I am so happy you found each other. Sending you both all my love.  
Despite the two being wedded after ten years of being together, they became parents to two kids long before the two were even married. 
Eddie and his wife welcomed their firstborn, Olivia, in 2004, while they made an addition to the family of three in 2008, welcoming their second daughter Harper. 
Jill, through her Instagram, timely flaunts the tight-knitted relationship the proud parents share with their teenage daughters. On one recent post, on the occasion of mother's day, Jill shared a few words admiring her daughters from the bottom of her heart, saying, 
My girls. Thank you for making me a momma.. and especially making me YOUR momma. I love you more than you'll ever know. 
More On Eddie's Wife And Kids
While the world knows Eddie as the legendary artist for his era-defining contribution to music, his wife has also garnered a reputation for her philanthropic works. 
Currently, she holds the position of founder and vice chairman of EB Research Partnership, where Eddie is also a co-founder. 
Moreover, the couple's eldest daughter, Olivia, has already taken on her parents' footsteps. As her Instagram bio describes, she is the youth ambassador of Global Citizen and is a host of the interview series Let's Talk.  
Besides, she is also an impressive singer who timely flaunts her angelic voice on big stages. As for Eddie's younger daughter, Harper is busy with her academics but will indeed have a notable future in whatever path she follows. 
Eddie's Astounding Net Worth
As impressive as Eddie's family life is, his startling net worth as an acclaimed artist is sure to blow your mind. 
A report by Celebrity Net Worth claims Eddie's net worth as 100 million dollars. It's no wonder the Pearl Jam vocalist has garnered immense wealth given the legacy he has left behind with numerous hits. 
Besides, Eddie once owned an oceanfront house, the San Clement mansion, worth 34 million dollars, which is evident enough to reflect his lavish lifestyle with a hefty fortune.