Entertainment
FaZe Jev Shares About His New Chapter In Life Through His Twitter
FaZe Jev who barely talks about his personal life shared the wonderful news about getting married to his girlfriend & also talked about his parents.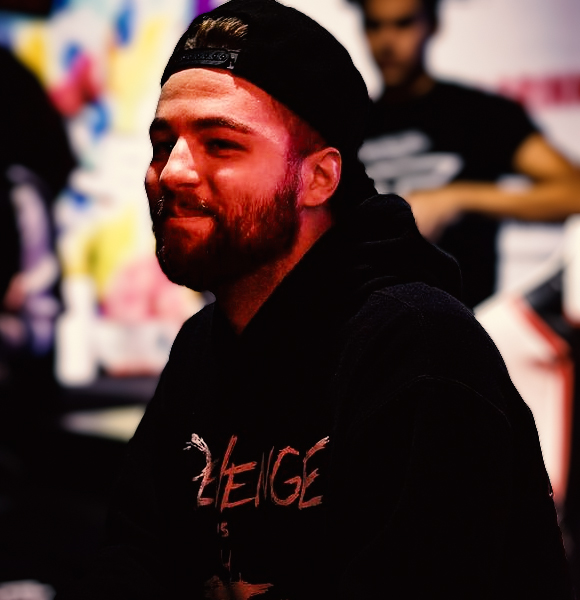 "Got married. Ezpz. I LOVE YOU "  after making this Tweet on November 11, 2020, Youtuber and streamer FaZe Jev got an overwhelming flow of congratulations.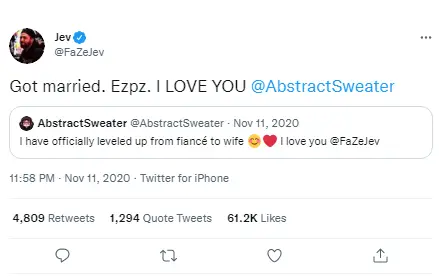 FaZe Jev Announcement Of Getting Married (Source Twitter)
His tweet was in response to an account named Abstract Sweater after they tagged Jev on a Tweet that read,
I have officially leveled up from fiancé to wife.. I love you
The pair happily announced their marriage on November 11 with their Twitter followers.
New Beginnings With Girlfriend
Jev, who is popularly known for his gameplay as a snipper in the popular series Call of Duty, is a widely loved figure in the gaming community, and as a result, his announcement garnered a massive response. As of October 2021, his Tweet has over 61.2k likes.
However, this news was no surprise to his fans as on July 31, 2020, his then-fiancee, Alexis, who also goes by Abstract Sweater, took to her official Instagram account to announce her engagement with her long-time boyfriend.
Flaunting what appears to be a massive diamond ring, she wrote,
No one else I'd rather spend the rest of my life with.
FaZe Jev's Wife Alexis Flaunting Her Engagement Ring (Source Instagram)
The ring is even making it difficult for us to type. Blinding! Not bad, Jev!
Well, that is not the first time FaZe has given something valuable to his now-wife.
His heart being the first, of course.
On January 20, 2017, Alexis took to her Instagram to share a beautiful moment of getting delivered a promise ring by her boyfriend.
Now years later, the YouTuber kept his promise and married the love of his life.
Like her husband, Alexis also is a Twitch streamer. She is also known for being a cosplayer and for her gameplay in Fortnite.
Life has now given utmost happiness to FaZe, who is 27 years of age, but it has not always been so rewarding.
On 20th June 2016, the YouTuber posted a YouTube video where he shared all the hardships he had to endure in childhood, significantly growing up without a father figure.
Rift With Parents?
On a video Titled "Parents," Jev sat down for a heartfelt communication with his viewers and proceeded to share how he did not realize that father's day was close and felt that he needed to address the fact that not everyone has both of their parents and let them know that they were not alone.
Talking about not having a father while growing up, he said,
"My father wasn't around when I was a kid.. i am not gonna sit here and try to get some sort of pity"
The YouTuber went on to share how his grandparents took him in as his father was not around.
"Honestly I don't even know the whole.. story . All I know is that he wasn't there long and then he was gone"
Says the YouTuber while adding on to his experiences of growing up without a father figure. He shared how he has met him once or twice and "never said anything to him."
FaZe Jev Talks About Not Having A Fatherly Figure
He, later on, expressed his gratefulness towards his grandparents and credited them for the kind of person he has become today.
Lastly, he concluded the four and half minutes video by teaching his fans to be grateful for having a family and letting his fans know that after putting up the video, he would go out with his grandparents and "treat them."
Despite not revealing his mother or father's identity, he often takes to his socials to wish his fans a happy father/mothers' day.
Life has now changed for the better for the 27-year-old YouTuber, and despite not having a fatherly figure, he sure has grown up to be one humble gentleman.
More On FaZe Jev
Born on October 18, 1993, Jev's real name is Jason Eugene. As of now, his YouTube channel named, FaZe Jev has over 4.8 million subscribers.
He is also quite active on Instagram with a follower count of over 501k and has over 278k followers on his Twitch account.
The American YouTuber gamer does not have any children, but he does share two dogs Ahri and Namy, and a kitten Cameron with his wife on their New Jersey house.
Aside from his YouTube platform and Twitch platform, he also earns from his merch line named Fazeclanstore.