Gabby Conception has found a perfect balance of maintaining a healthy bond with his wife and children from his past relationships.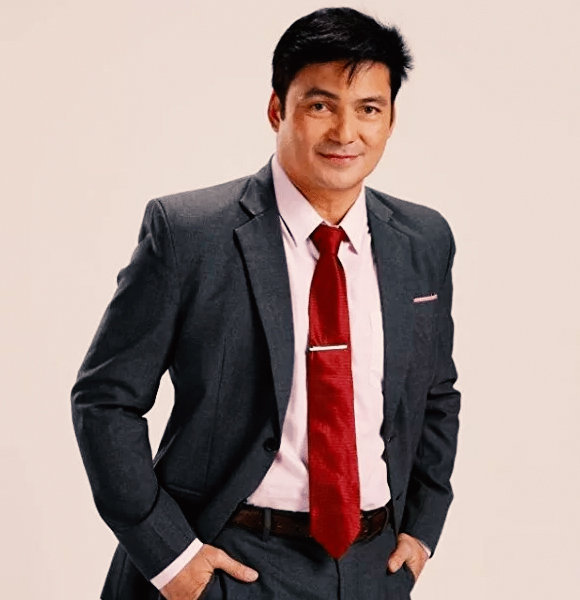 Filipino actor, Gabby Concepcion's daughter shared a glimpse of the Concepcion family that displayed a perfect balance between his past and present married life. 
Life Alongside Family
On May 30, 2021, Gabby's daughter posted a vlog of her birthday with her family. The vlog was about their family trip to the Philippines on her birthday.
The video featured all of Concepcion's family. His daughter, Kristina KC Concepcion, his wife, and his children from other marriages. 
Kristina, like her father, is also a famous actress, and she has her own YouTube Channel where she posts fun content of her life. 
Her video now has over 780k views on YouTube. 
Kristina is Gabby's daughter from his first marriage. Although her parents separated, Kristina has never let his father's new relationship affect her family's dynamic. 
"tbh giving importance and nurturing relationships between both my families can be tough- always a balancing act. But I love them all and my life wouldn't be complete without them..."
Writes KC, posting the pictures from the same vacation with her half-sisters. She explains how her parents married in their teens and separated when she was a toddler.
She further explains how her father and mother have their own families and calls their family her own. 
The relationship that Gabby's family has maintained over the years is simply commendable. 
Gabby Concepcion's Married Life And Relationships
Kristina is the daughter of famous actress Sharon Cuneta. Cuneta is a well-known and very famous actress back in the Philippines. 
Cuenta and Gabby got married in 1984, but the pair called off their marriage in 1987. The former husband-wife starred in the movie Dear Heart and P.S. I Love You together. 
The pair had many hurdles in their marriage, and it seems like some grudges from the past is still not mended between the two. 
On March 23, 2021, Cuneta posted a collage of her, KC, and Gabby and captioned the picture as-
This girl is the very best 'thing' we ever did together.
Fans thought the 55-year-old actress was reminiscing about her marriage, but the boundary set by the actress was soon evident when Sharon replied to a fan who wrote that the three were like a happy family. She wrote, 
'family' minus the word 'happy'
Sharon is now married to Francis Pangilinan, with whom she shares three children. While Sharon moved into her life and got married again, Gabby did the same thing. 
He married Jenny Syquia, an actress and a former model, in 1993 and had a daughter together named Chloe Concepcion.
The pair separated after just three years of marriage in 1996 under unknown circumstances. 
Gabby also has another daughter together named Gabrielle Concepcion. The father of four, however, was not married to Gabrielle's mother. Instead, he was in a relationship with Grace Ibuna, but the pair never started a new chapter in their life and separated. 
Gabby now has a stable relationship with his present spouse, Genevieve Yatco Gonzales. The pair got married in 2004, and they have two children together, Samantha Alexis Concepcion and Savannah Concepcion. 
Stepping into almost 17 years of marriage, a businessman turned actor rarely shares anything about his personal life with his now-wife. Still, he is close with all of his children and lives life alongside a perfectly balanced family from what can be seen.
Who Is Gabby? 
Gabby, age 56, started his career as a teen commercial model and is more prominent for his feature in the Close-up toothpaste commercial. 
He debuted at the age of 15 with the movie Katrose. Starting his career in 1980, the Filipino actor featured in more than 80 films over the span of 15 years.
But he left the Philippine entertainment industry for the wrongful and criminal doings in the industry and ventured into the US for a real estate career. 
As of now, he has started working again in the industry after a short break. 
After working in movies and TV series for over 15 years, he has earned the name of one of the most famous Filipino celebrities. 
His most recent television series named First Yaya is a romantic comedy series broadcast by GMA Network, which features Sanya Lopez and Maxine Medina.