Entertainment
Gad Saad Reveals That He Is In An Inter-Racial Same-Sex Marriage
Gad Saad's entertaining tweets about his wife and kids always keep his followers puzzled regarding his actual married life.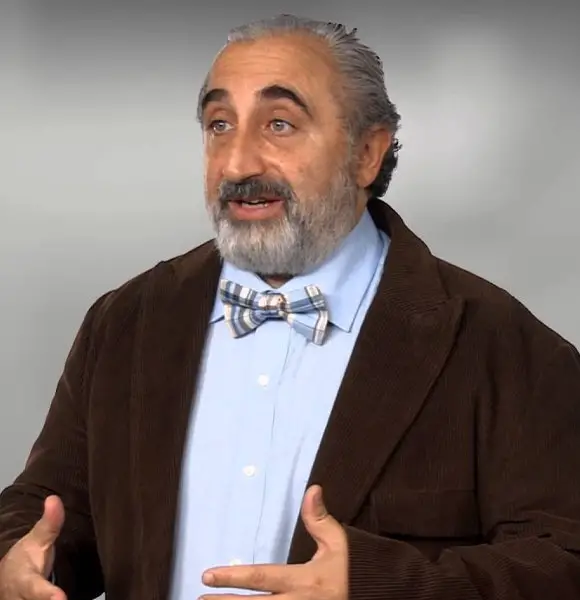 Lebanese-Canadian psychologist Gad Saad revealed that he is in an inter-racial same-sex marriage with his wife.
On September 27, a Twitter user asked him if he was married to a female, to which the professor had quite a witty reply. He wrote,

What is true and what is not is still a mystery. However, by the looks of it, Saad likes to interact with his followers and answer any queries about his married life.
How Did He Meet His Wife?
On December 6, 2019, Gad took his followers through a pleasing memory lane. His blog, named "How I Met My Wife," posted on Psychology Today, was published on the day of his 20th anniversary.
"The story begins more than 20 years ago", wrote the professor on his blog while slowly unraveling his all so wonderful journey of love with his wife.
When he was exercising at the gym, he met a gentleman who asked the professor to deliver a series of in-house executive seminars. The gentleman was a founder and president of a telemarketing firm.
Eventually, the day came, and the 56-year-old made it to the first day of his seminar. Gad was greeted by a woman who accompanied him to the venture. While the woman might not have been interested in joining his seminars, he thanks the cosmos for her presence as it was compulsory for her to attend.
As his days on the seminar continued, he saw the woman more and more and found her interested in his materials. Upon completing his last session, he thought never to see that woman again, but once again, the cosmos were in favor of the professor.
His mutual acquaintances told him that she was interested in meeting him, and eventually, the two ended up watching a movie.
And the rest is history. 
Wait! We might have missed a very important piece of information. So how did the two know that was it?
The pair exchanged page codes to express their feelings. The number 222 meant "I am thinking of you." After watching the movie, Gad was returning home, and right there, he got an alert from his pager. It read "222".
"222" To 22 Years
The pair have come a long way from their first interaction together. They completed their 20 years together on December 5, 2019, so they are on their way to complete 22 years together this December of 2021.
The doctor has long kept the face of his wife hidden. The most he posts is her stunning picture from the back. But it is still a refreshment to see her gorgeous natural curls flowing in the wind.
The pair has managed to grow a loving family alongside each other and are proud parents of two wonderful kids.
Both his son and daughter seem to be athletic in nature. The two love playing football, and the dad likes recording it all.
Recently, on Sep 29, 2021, the father of two made yet another hilarious tweet where he talked about reporting his son to the authorities.
The tweet read,
My wife and daughter went to an all-girl 5km mud race. My son was feeling frustrated that he could not participate. He turns to me and cheekily says: "I'll just identify as a girl and I can go, right Daddy?" I'm reporting him to the authorities.
Hillarious!
With his expertise and professional career, he caters a happy life to his family, and their chemistry shown by the doctor online says it all.
Gad Saad's Net Worth 
Saad is a professor in the John Molson School of Busines at Concordia University. He writes his own blog in Psychology Today.
A graduate of Mathematics and Computer Science and an M.Sc. and Ph.D. holder from Cornell University, there is no doubt that the 56-year-old is an expert on his field.
He has his own YouTube channel named, Gad Saad and he has accumulated a total of over 223k subscribers(2021). On his channel, he hosts his own YouTube show titled The Saad Truth.
Saad is also an author who has released multiple books. His most recent book, The Parasitic Mind, was released on October 2020.
Phew! and it does not end here. He also has his own merch line where he sells hoodies, mugs, t-shirts, and more.
All of these add well to his earnings, and on top of that, the average annual salary of a Psychologist in Canada is reported to be around $76,776 per year.
Adding up all of his ventures and his salaries, it is no doubt that he has accumulated a hefty net worth over time.