Entertainment
Catholic Believer Harrison Butker Rejoices A Fulfilled Life With His Wife
Catholic believer Harrison Butker did not limit displaying his affection for his wife on his socials but took it to the football field as well.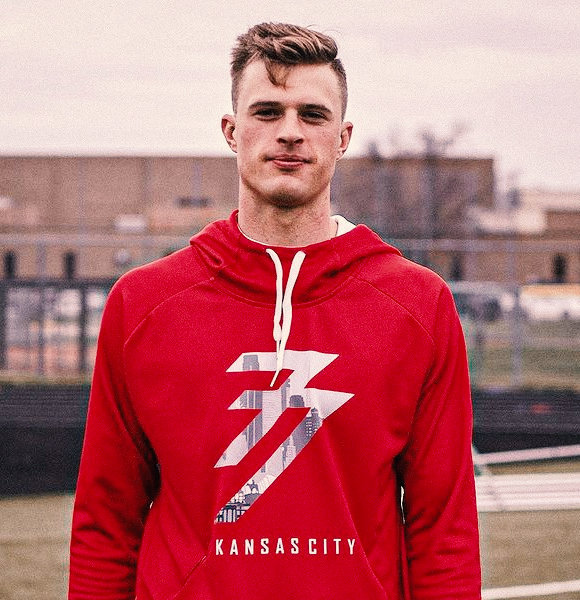 The American football player Harrison Butker has stunned his fans with his back-to-back record-setting performance since he signed a contract with Kansas City Chief.
Besides his professional accomplishments, the athlete entered into a new chapter in his personal life after marrying his wife in 2018, and the loving husband can not help but display his affection for her through socials.
Proudly flaunting his newly wedded wife, Isabelle Butker, through his 'gram, the athlete dedicated a mesmerizing caption for her that read as,
I will continue to pray for the strength and perseverance to sacrifice for you everyday of our marriage...I am overjoyed to begin our lives together. I love you Izzy!
High School Beau Turned Wife
Taking to his Instagram on April 6, 2018, Harrison, a.k.a. Butt Kicker, shared a series of pictures from his wedding held in a Catholic church on February 10, 2018.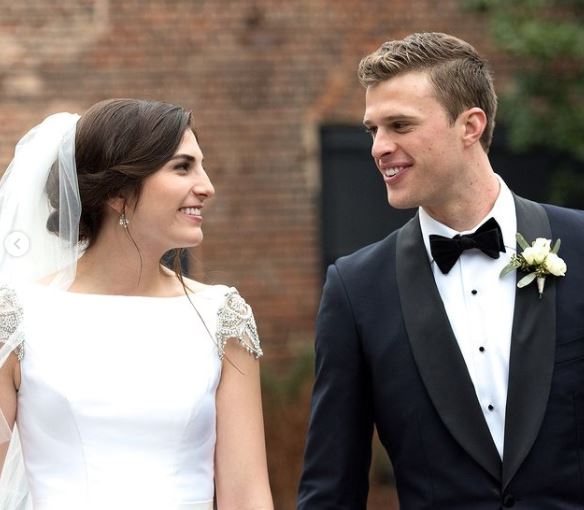 Harrison Butker and his wife, Isabelle Butker, from their wedding day (Source: Instagram)
Harrison's love story began way back while they were in high school.
Since his freshman year in high school, the NFL player dated his wife, whom he calls his best friend.
From the moment they began dating, Harrison had always envisioned marrying her and raising a family together.
Turning his dream into reality, he amazed his longtime beau with a surprise proposal on March 13, 2017, which he shared through his social handle. Romantically, the athlete surprised his love in the middle of a football field, holding an engagement ring and asking the big question, and the rest is history.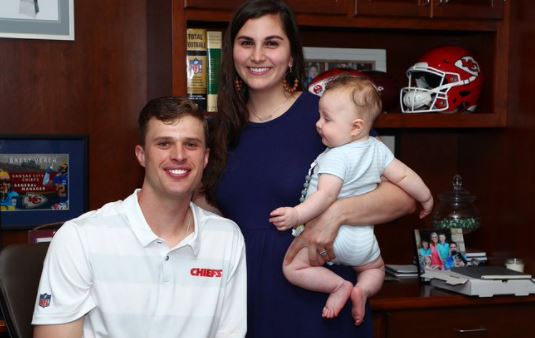 Harrison with his wife and son (Source: Twitter)
After almost eight months of their engagement, the couple wedded, and they are now embarking on the next chapter of their life, undertaking their role as parents to their son, James Augustine Butker, born on January 27, 2019.
The pair stood by each other's side through the different phases of life, having been together for eleven years since the beginning of their relationship. Harrison is one lucky guy to have a partner who has his back no matter what.
His Parents' Support
They believed in me
The Kansas City Chiefs' placekicker said about while talking about his parents' inevitable support for his passion in sports since a young age.
He also stretched on the fact that his parents, Harrison and Elizabeth, never pushed him into sports; instead, they understood his inclination towards sports and supported him to pursue it.
[Dad] will notice something in there that's a little off, and sometimes when I think I'm struggling, he'll tell me I'm doing great. So, it kind of balances out.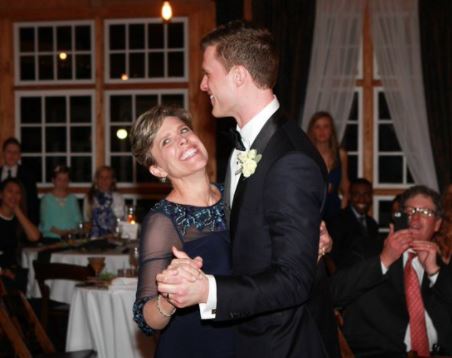 Harrison dancing with his mother in an event (Source: Twitter)
Further, taking to his Twitter, he dedicated a post to his mother with a heartfelt caption thanking his mother, Elizabeth, for her love and support for him and all the lessons she taught him growing up.
Brought up in a faithful family, Butker, age 26, believes his faith in God kept him connected to his roots giving his life a meaningful purpose. 
Moreover, Harrison Butker, a firm Catholic believer, is forever grateful to his parents for recognizing his talent early and helping him pursue a career in football.
His Impressive Salary
Beginning to garner attention for his remarkable talent in the football arena since his college days in Georgia Tech, Harrison was picked in the seventh round by Carolina Panthers in 2017.
Panthers first signed the player with a contract deal of 2.48 million dollars valid until four years.
However, he was later waived the same year he made the debut and signed a five-year deal with Kansas City Chiefs in September 2017 with an annual base salary of 3 million dollars.  
Besides, his earnings also come from his clothing line and collaborations with various sports brands, including Nike.