Sports
Ian Book's Never Ending Support From His Parents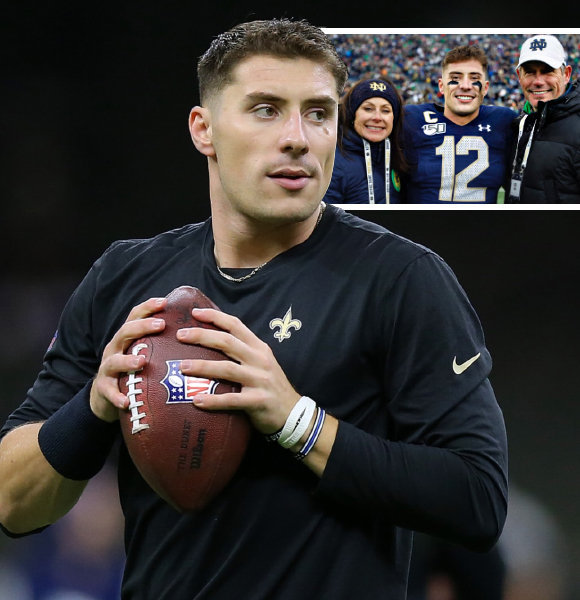 Although fairly new to the industry, New Orleans Saints football quarterback Ian Book has done a splendid job marking his name amongst one of the promising and rising players of his time. 
He has set all eyes on him after he signed a four-year deal with the Saints on June 8, 2021, and has had a successful season so far. 
Yes, hard work and determination did bear their fruits, but there wouldn't be any tree if his parents hadn't sown the seeds since he was a child. 
Book's parents have been his support since day one and have taught him to carry good morals, respectful values, and ethics. 
Who Are Ian Book's Parents
This propitious individual was born to father Rick Book and mother, Kim. As they say, one's support system is their family and themselves. 
Likewise, in Book's case, his mom and dad have been right behind him through and through, as it seems. Book started his professional career, so to say, in 2021, but his college football career has always been remarkable. 
And his parents have been there to witness it all. 
From an interview back in 2017, his father's excitement can be clearly seen when he talked about what a good season his son has had. 
Talking about how his son was excited about his match, he said, 
 "He was excited. The fact is that was the first football game he'd played in over two years, you know, since high school. So, he got his juices flowing. Had a smile -- grinning ear to ear."
Book's father further added, "We were happy for him and he was just happy for the team."
His father Rick's happiness indeed was evident through his face, and the pride he had for his son clearly shone.
Rick worked for Sacramento County Sheriff's Department for 31 years, and his mother, Kim, is a registered nurse who does cardiac research.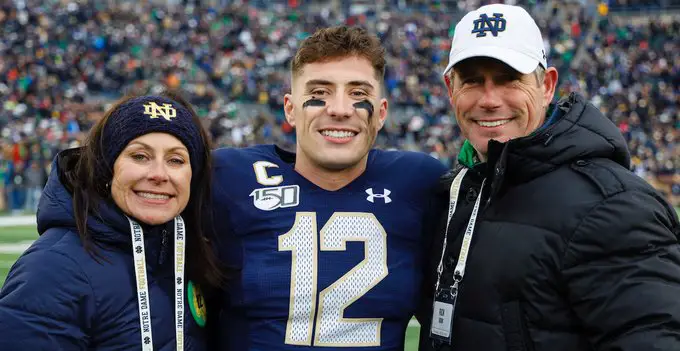 Ian Book With His Mother And Father (Source Twitter)
As it seems, Ian took quite a different approach in his career, and given his family's teachings, he is sure to win over all the hurdles that may come in his way. 
Book's parents taught him from his childhood to respect everyone, and he has grown up to be the exact same. 
As per a source, Book is a blend of both of his parents. "He's always smiling and having fun. He's just a very natural person. I think he is very, very mature," the source reported.
The love his family holds for him is quite apparent, but the NFL newbie knows how to shower his family with all the love and appreciation. 
Keep Reading: Football Coach Sean Payton Conducted a Meeting with Johny Manziel Regarding His NFL Return!
Ian Book's Love For His Family
Book was born on March 30, 1998, and will soon be 24 this 2022. From a passer rating of 40.6, Book has already started setting strong career statistics for himself. 
But as previously discussed, his parents do have some part, one way or another, to the outstanding player he is today. 
Raised alongside an elder brother, Nolan or also Nick Book, who works in law enforcement, Ian is the only one from his family who has taken sports as a career. 
Book appreciates the visible effort his mother and father have put into him, and appreciating his mother's contribution on the occasion of Mother's day, he wrote, 
"Happy mother's day mom! I can't thank you enough for everything you do for me. I love you so much and hope you have a great day!"
The NFL player has a lot on his plate. He has a lot more to prove and a lot more to give, but given the kind of support and love that surrounds him, it is only a matter of time when Book shall be listed as one of the best from his generation.