Entertainment
Israel Adesanya Took A Mysterious Girl Shopping Before UFC 253
Israel Adesanya Has Been Speculated To Be Gay For A While Now. Confirming Nothing About His Sexuality He Dropped A Little Hint On His Instagram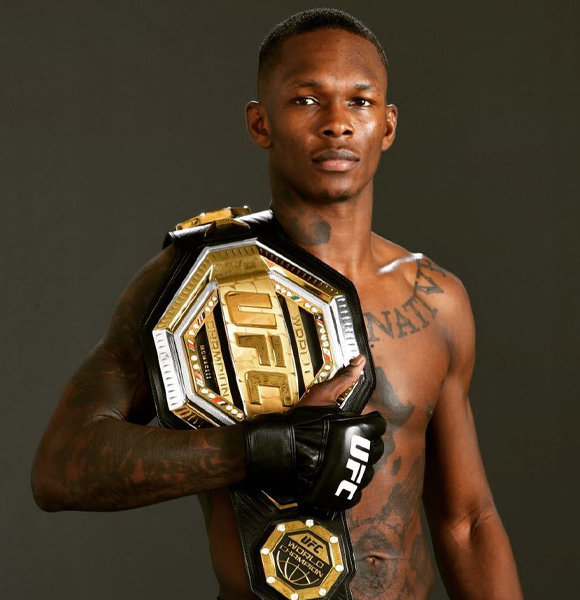 Israel Adesanya shocked his entire fan base after a mysterious woman made an appearance on his Instagram. It was quite a big deal for his fans as this was the very first time the UFC star gave a little hint of his personal life. 
Adesanya's Mystery Girl 
In September 2020, right ahead of UFC 253, Israel posted two pictures on his Instagram stories and created a buzz among his 5.4 million followers. 
Usually keeping a rather low tone on his private life, it became a point of discussion when he suddenly shared several pictures of a woman without showing her face. 
The mysterious woman went on shopping with the fighter and was quite excited in both of the videos. 
The UFC fame was also equally excited. He also pointed out how he took her shopping from his hotel room on the fight week.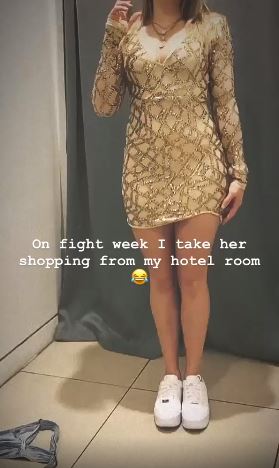 Israel Took His Alleged Girlfriend Shopping (Via Israyel's Instagram Story)
He posted a story of the woman twirling around in the dress and wrote, 
"On fight week I take her shopping from my hotel room"
Who is the 'her' in question? Maybe a friend or maybe a potential partner. It remains a mystery to date. Because of the uncertainty of his relationship, people often wonder about the 'status' of his sexuality.
Is Israel Adesanya Gay? 
Adesanya, also known as The Last Stylebender, doesn't have any records of having a girlfriend or a wife. However, because of his low-key personal life, people often speculate the martial artist to be gay. 
Nevertheless, Adesanya does not take it offensively and finds a way to make fun of these speculations with his top-tier humor. 
On December 30, 2020, he took to Twitter and made a hilarious post towards people trying to find out his sexuality.
He posted a GIF and humorously captioned it as, "The internet tryna find out if I'm gay."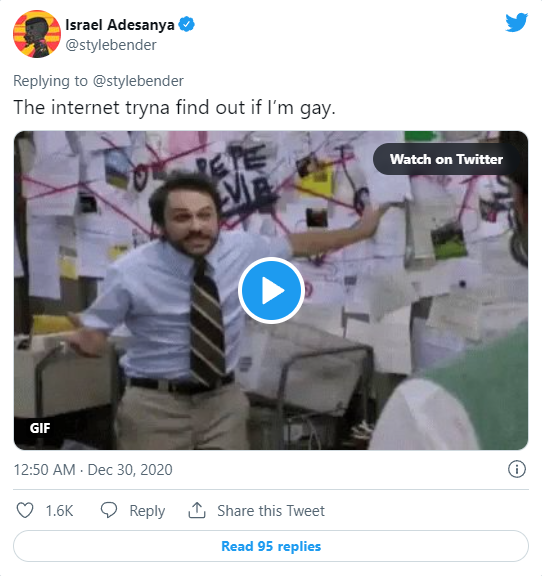 Likewise, the 32-year-old loves to add fuel to the speculations by sharing posts that only spark more conversations in the comments. 
The way he responds to the speculations shows how he does not give much attention to it and rather takes it lightly. 
Apart from all of this, his career speaks the most for himself. 
Career Of The Star
The Nigerian-born martial artist officially started his career in 2010. This was the same year he won his first fight and later recorded 6 other consecutive wins. 
But it wasn't until 2012 when he made his first professional debut. He won a TKO against another prolific player in the industry, James Griffiths.
After gaining success in MMA, he made some changes and signed a deal with the UFC in 2017. 
In 2018 he won his first Performance of the Night title and went on to win two more Performances of the Night title during the same year. 
As of recent, he won his match with Marvin Vettori for the UFC Middleweight Championship on June 12, 2021.