Entertainment
J. B. Mauney's Love For His Wife Oozes All Over Social Media
J. B. Mauney Gave Love A Second Chance After His Wedding With First Wife And Is Now Happily Married With His "Smoke Show" Wife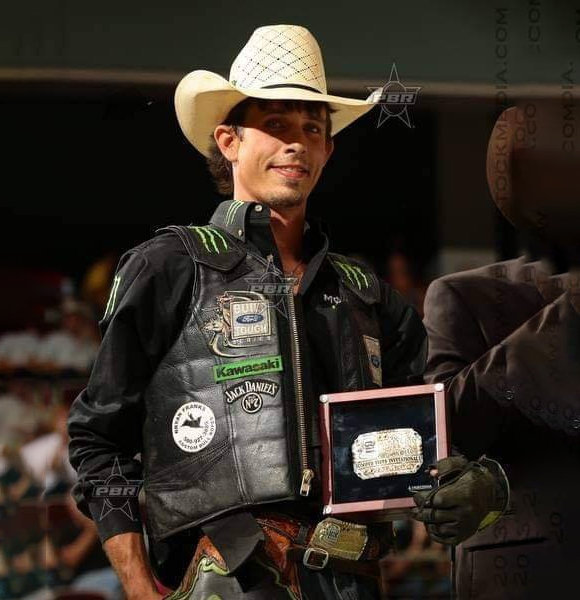 Professional Cowboy J.B Mauney calls his wife a smoke show and takes to his Instagram to wish her a happy birthday. 
On March 22, 2018, he shared a picture of his beautiful wife among over 477k followers and wished her a happy birthday. He wrote, 
Happy birthday to this smoke show wife of mine! I love you
The two recently welcomed a little angel into their life, and life has not been the same for them ever since. 
Life With Family
"She said yes" writing this post must have been one of the happiest moments for Mauney. On November 1, 2016, he shared an Instagram post with his now-wife, happily flaunting her engagement ring.
The two shortly got married after a year. Recalling their marriage on the 3rd anniversary, J.B. explains the decision as the best decision he ever made. 
He wrote, 
3 years ago today we said I do! Best decision I've ever had! Happy anniversary to the best mother and wife I love you
The charming gentleman also has his wife's initials tattooed on his hands. 
How cute!
Mauney got married to Samantha Lyne on January 3, 2017, and a little after two years, the pair were blessed with a beautiful baby boy.
The pair welcomed their son Jagger Briggs Maune on January 23, 2019. 
Jagger is now over two years old, and the father keeps himself busy playing and hanging around with his little one. 
Samantha, like her husband, is also into sports and is fond of bull riding as well. She is a professional Barrel Racer who participated in the 2014 NFR Qualifier. 
Samantha Lyne's Interview
The proud parents are already encouraging their son to grow up to fancy sports. Cowboy hats, rides on bulls and horses, walk on the woods, the parents of two are making sure to teach their son from very early on. 
Did we say parents of two?
Yes, Mauney also has a daughter from his previous relationship that he loves and adores equally. 
First Married Life 
Whew! It was hard at first because I was used to just being by myself all the time. I was pretty wild. But it changed my whole outlook, you know, having a daughter and getting married.
This was his reply when he was asked as to how he manages his newly married life with a daughter from a previous relationship. 
Fortunately, his wife, Samantha, was his most considerable help during the confusing times. Samantha quickly adjusted to his daughter's life and became her friend. 
Love these three
Writes Samantha while sharing a picture of her husband, her stepdaughter, and her son. 
The love that Samantha shares for her step-daughter is no less than Mauney's.
She makes sure to be there for her all of her step-daughter's essential events, and the mother-son duo loves dressing up and showing up to Mauney's games. 
His daughter, Bella Maunbey, is his daughter from his previous marriage with Lexie Wiggly. His first wedding was in 2015, and he was married to Wiggly till 2015. 
The ex-pair used to make appearances together, and Lexie accompanied her then-husband on most of the events. 
The reason for their divorce is unknown, but by the looks of it, Bella now lives with Mauney and Samantha mostly. 
The professional Bull rider is one of the highest world ranking PBR champions, and he started his professional journey from 2005
Six Times Champion
Born on January 9, 1987, originally as James Burton "J.B." Mauney is considered one of the greatest bull riders in the world and his generation. 
He is the titleholder for the 2013 and 2015 PBR world champion, but apart from that, he has bagged other PBR titles. 
In 2009 and 2013, he won the PBR World Finals Event Champion. The 34-year-old also won the 2005 PBR Touring Pro Division Champion and won the title of PBR  Rookie of The Year the same year. 
He made yet another achievement when he broke history by being the only bull rider to reach the $7 million mark in career earnings. 
As of now, he has announced that he will not ride in the PBR because he wants to focus on the PRCA and qualify on the first-ever National Finals Rodeo.