Celebs
Jane Ferguson's Wonderful Life Complimented by a Supportive Husband
Someone as busy as Jane Ferguson people often wonders about her personal life and if she has a husband. Turns out she does, and her husband is very supportive of her.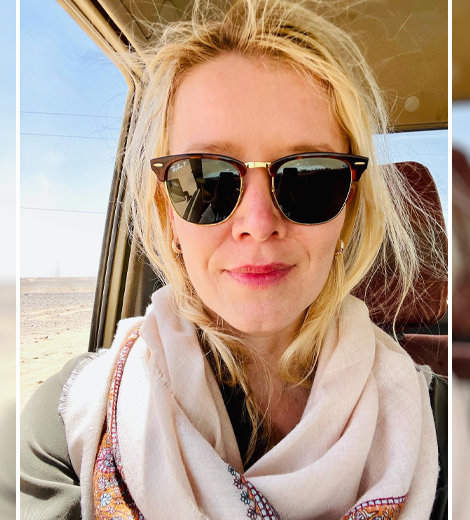 British Journalist Jane Ferguson is known for her outstanding coverage of the Arab Spring, the war in Afganistan, and much more important affairs.
Someone as busy as Jane Ferguson people often wonders about her personal life and if she has a husband. Turns out she does, and her husband is very supportive of her.
Who Is Jane Ferguson's Husband? 
Ferguson is married and has quite a supportive husband, and it turns out she is the one who proposed to her boyfriend.
Dont believe us?
Well, that's what the special correspondent for PBS NewsHour revealed herself on her Twitter account.
Sharing an Instagram post to her Twitter account, she revealed to her followers how she was extremely grateful for the year 2018.
The tweet made on December 31, 2018, was then followed by Ferguson sharing how he returned to Mogadishu and proposed to her then-boyfriend on Saint Patrick's day.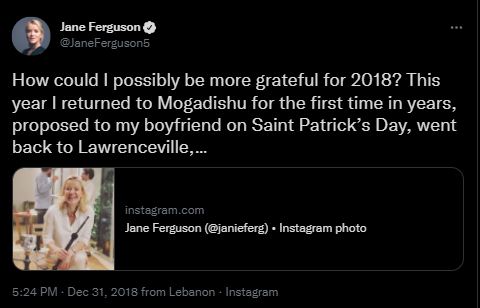 Jane Ferguson Revealing Her Proposal To Her Husband (Source-Twitter)
Ferguson, however, never revealed the dates of their marriage and kept it under the wraps. But her occasional tweets, later on, confirmed that she was married, as she started referring to her man as her 'husband'. 
During the pandemic, Ferguson did not shy away from making a note on her personal life and tweeting about it to her social media followers. 
She made multiple tweets with 'Coronavirus Lockdown diary,' where she shared her day-to-day affairs. 
More On PBS Journalist: Was Gwen Ifill Married Before Her Death? Does She Have Children?
And guess what?
Well, she did not refrain from posting about her share of funny moments with her spouse. 
Looking into these tweets, one can really understand how amazing and funny their chemistry is, and yep! they do seem to fight like cats and dogs. 
Her hilarious partner always has a clap back to Ferguson that makes her speechless. For example, In a tweet made back on May  4, 2020, she shared a hilarious interaction with her spouse, which went as,
Another instance was when her husband, by the looks of it, was really asking for a divorce. Ferguson again shared another interaction with her spouse where his comeback was … as per Jane, "grounds for divorce."
Don't worry! The two are doing perfectly fine with their lives, and their love has only grown ever since. 
Although she is not much open about her love life, their relationship where they seem to be best of friends shows how merry Ferguson's life is with her husband. 
The Irish-British Journalist now works as a correspondent for PBS NewsHour and is a contributor to The New Yorker, but her commitment to her work and accomplishments prior cannot go unnoticed in any way. 
More on Jane Ferguson
She worked as a freelance foreign correspondent for CNN International for about a year, where she reported most of the Middle East and Africa. 
Ferguson was heavily invested in reporting and producing the stories from Yemen, Somalia, and Sudan.
She eventually worked as an international correspondent for Al Jazeera English, where she reported other crucial accounts including, Arab Spring, the war in Afganistan, the Palestinian-Israeli conflict, and the Syrian Civil war. 
After starting to work for PBS in 2015, her accomplishments never stopped. She also covered the ISIS situation in Iraq in 2016-17. 
In January of 2021, she traveled to Afganistan and exclusively covered all the situations of the US withdrawal from Afganistan and all of what went down in the country with the Taliban. 
Undoubtedly, she is one of the resilient, brave, and authentic war reporters who believe in digging the truth out even in the harshest of situations, and she has always made it happen. 
She was awarded the Aurora Award for Humanitarian Reporting for her contribution in 2020.