Entertainment
'I was not gay and I still don't consider myself gay' Says Jeremy Fragrance
Jeremy Fragrance's recent YouTube video answers his curious fans' concern regarding his gay speculation and girlfriend.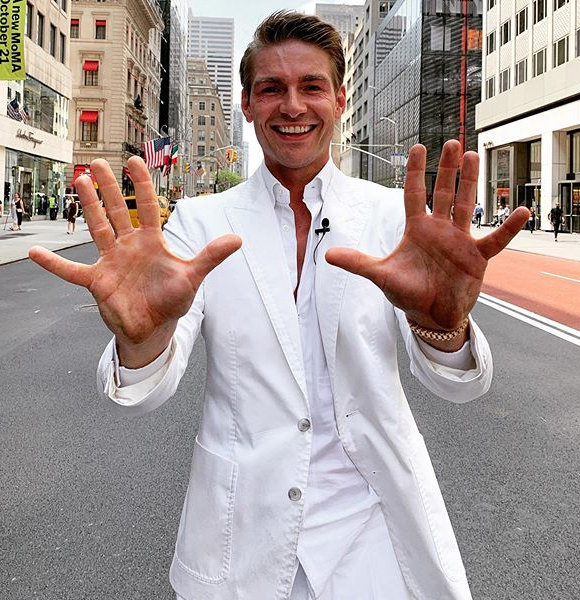 The multi-talented Jeremy Fragrance, reputed as the most followed fragrance influencer on social media platforms, shares his life story through one of his recent YouTube videos, and the video is sure to answer several of his curious fans' questions from his girlfriend to gay speculations.
In the video, he touches on several aspects of his life. But his remark on his involvement with the gay community in the past garnered substantial attention, stirring discussion amongst his fanbase.
So Is Jeremy Fragrance Gay?
"I was into gay community. I liked the attention. But, I was not gay and I still don't consider myself gay."
The influencer said on his video of May 17, 2021. Further explaining his involvement with the gay community, he said he had a lot of experience and 'actually likes the gay community.'
Jeremy Fragrance sharing his life story (Source: YouTube)
He also elaborated that he was in a relationship with a gay guy at the time, but the relationship was short and ended on bad terms.
Meanwhile, he also 'had stuff with girls,' meaning he had girlfriends as well. But his relationship with one particular girl at the time was a bit of a mess.
As he began to lose interest in that particular girl he was dating, he cut off contact with her. But she kept approaching him, saying that she loved him. As he further narrated the story, he said,
I did not want to have contact with her anymore, just like many men are a little bit arrogant after they have sex with a woman. But, she was very much in love with me, and she says I love you, I love you, I love you.
Well, his arrogance and ego made him brush off the girl despite her trying to get him back. But six months later, the girl shocked him, saying that she would sue him for allegedly raping her. While he did not respond to her even then, she actually tried to sue him alleging him of rape.  
He had no other option than to respond. So, he contacted the police and took help from a lawyer. Finally, after a lot of hassle, he got out of the situation even though it was not in his favor. But he admits that the whole situation taught him a great lesson.
After a series of messed-up relationships, the YouTuber finally landed in a relationship with his girlfriend Lara who often appeared on his videos reviewing perfumes.
However, as she is not seen as frequently in his recent videos, it's possible that the two broke up. But, nothing can be said about their current relationship status unless Jeremy addresses it himself.
Who Is Jeremy Fragrance?
Besides his relationships, the internet sensation explored how he came about making fragrance his thing, which he probably loves more than his girlfriend.
'My best friend, and my girlfriend,' that's what fragrance means to the influencer as per one of his Facebook posts.
Growing up in a German town, Jeremy, age 32, did not know he would be the fragrance guy with an immense passion for perfumes.
Jeremy, standing at an impressive height of six feet one inch, was a 'tough guy' and not to mention a good-looking one since his young age. He got into martial arts initially after his brother was hit in a bar.
Taking martial arts classes until the age of sixteen, his interest switched to dancing. Through dancing, he entered into theatres and began earning money while young.
While he was already famous on YouTube uploading his dance videos, he also joined a boy band which did not do that well.
With a series of unfortunate incidents in his life at that point, one of the major ones was bankruptcy. But his journey with fragrances got him out of bankruptcy, and he is now an internet sensation with his expertise in the realm of fragrances. 
Jeremy Fragrance's Net Worth
Having found his passion, he religiously devoted his time and effort to exploring more about fragrances. At the same time, sharing his passion with the world through his social media platforms got him to become one of the top fragrance influencers globally, garnering a massive net worth.
As of now, the fragrance guy has amassed 418 thousand followers on Instagram, a whopping 3.2 million followers on TikTok, and widespread subscribers of 1.59 million on his YouTube channel.
He also has his self-founded fragrance brand, Fragrance One, which has quite a good reach in the market.
Given his global influence, his company and his social media assist greatly to his assumably high earnings.
From YouTube alone, he is estimated to have an annual income of over 100 thousand dollars, according to the analysis of Socialblade. So, in a nutshell, Jeremy's successful career as a fragrance influencer has most certainly peaked his net worth in millions of dollars.