Celebs
Spotlight on Jesse Watters's Family Life- Who Is His Daughters' Mother?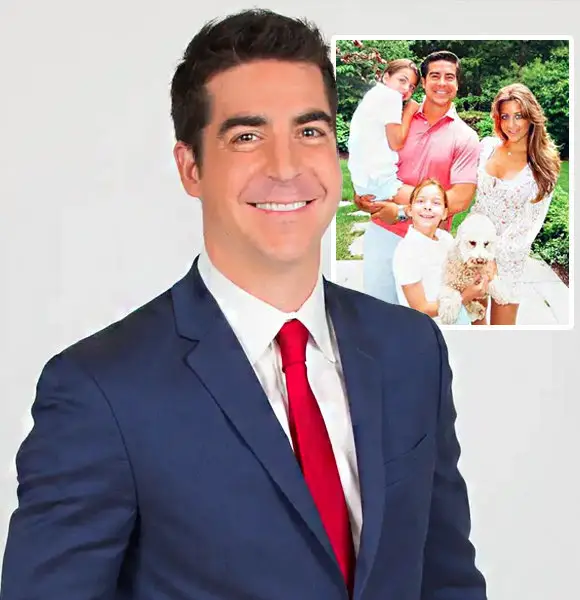 Well-known Fox News reporter Jesse Watters is accustomed to being the face of news and political discussions. However, his daughters are the ones making the headlines these days.
Jesse is known for being open about his bold opinions and statements on various shows on Fox, such as 'The O'Reilly Factor' and more recently 'Jesse Watters Primetime.' Similarly, he has been open to the public about his personal relationships.
Watters caused quite a stir in the media after admitting to infidelity in 2018, leaving viewers more curious about the women in his life.
Who Is the Mother of Jesse Watters' Daughters?
Jesse Watters has been married to producer Emma DiGlovine for about two years. They have a son, Jesse Bailey Watters, Jr., while Jesse also has twins Ellie Watters and Sophie Watters, who were in his life way before Emma came into the picture.
The truth is, Jesse has twin daughters from his previous marriage with his co-worker Noelle Inguagiato. Unfortunately, Noelle had to end a 9-year long marriage with Jesse due to Jesse's infidelity, and the two divorced in 2019.
You might want to read: Noelle Watters [Jesse Watters' Ex-Wife] Bio: Age & Married Status
Watters admitted to having an affair with Emma, then a producer at Fox News. As a result, he sacrificed his first marriage and started a new life with his new love interest.
Nine months after Jesse's separation from Noelle, Jesse and Emma got officially together and got married shortly.
The two got married in a grand ceremony with a star-studded guest list. And the guests were the country's most influential people, including President Donald Trump. 
However, things did not take a turn for the worst for the Watter couple and their son and daughters as they found a new home. "All's well that ends well," they say.
Talking about the brighter side, it seems that Jesse's daughters love their stepmom completely, and the family looks like a smiling happy bunch together. Indeed, his twin daughters were also part of the grand wedding.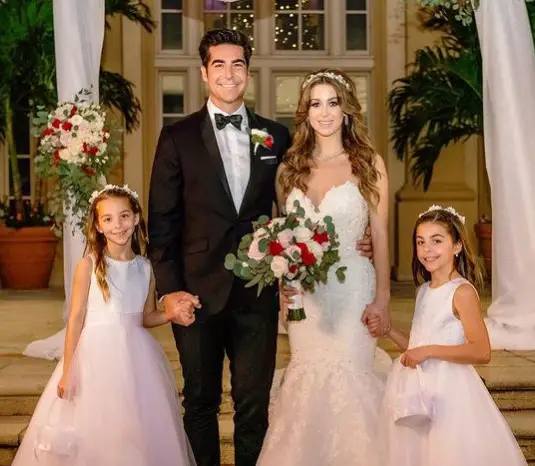 Jesse Watters With Daughters and Wife (Source: Instagram)
Moreover, the family is very close to each other. Especially with the new addition of a baby boy in the group, they certainly have their hands tied. But, Jesse likes to take time out of their schedules and share little glimpses of their life with their children.
Jesse fondly shares pictures of his family on his Instagram. On that note, he once shared a cozy moment with his girls at a casual dinner.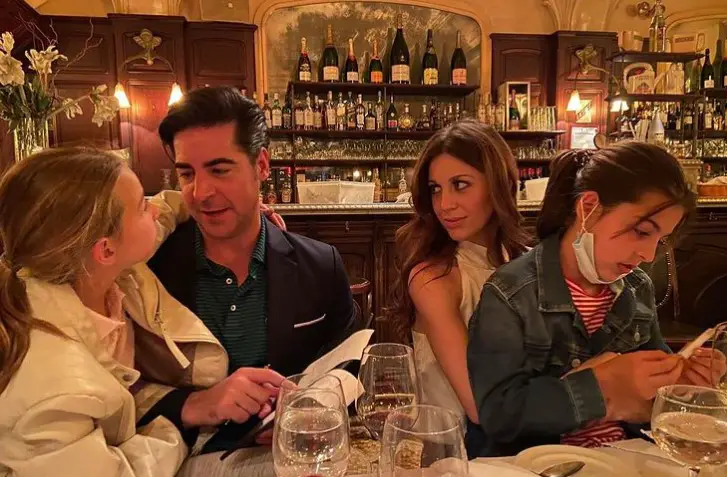 Jesse Watters Shares Casual Moment With His Wife and Kids (Source: Instagram)
As seen in the picture, the couple seemed to have had a sweet time together, with the girls comfortably seated on mommy and daddy's laps. Jesse seemed to be ready to pay the bill while talking to his daughter, whereas his gorgeous wife gave him a smoldering look from the side. (He was dropping a classic dad joke, maybe?)
Anyways, the Watters often enjoy their time together by going out to eat, skating, celebrating the holidays, and you know, all of the fun and cheerful moments in a happy family.