Entertainment
Joe Concha Shows Love For His Wife On Becoming A Doctor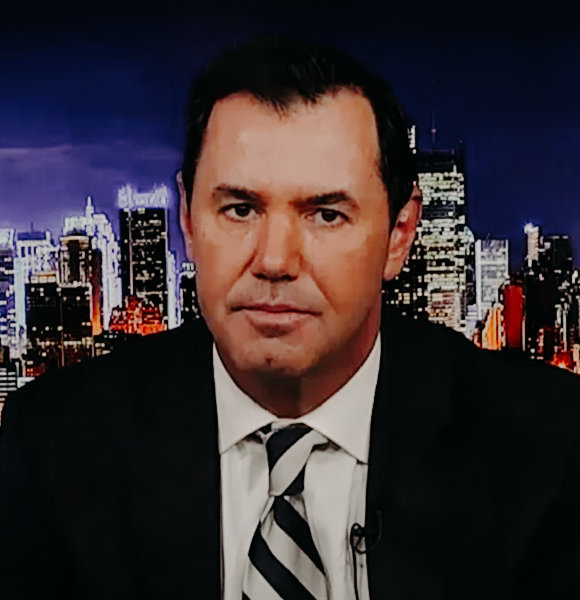 Many might know Fox News contributor Joe Concha from recently making headlines after blasting and getting infuriated on CNN for not firing fellow journalist Chris Cuomo.
But aside from all the highlights from America's leading news portal, Fox News, Concha lives a happy life with his children and wife. 
Who Is Joe Concha Married To?
Columnist of The Hill, Concha is married to Jean Eileen with whom he shares two children,
The pair decided to kick start their new life by tieing the knot in June of 2010, and since then, their relationship never saw a break. 
Eileen is a doctor, more specifically a neurosurgeon. "More specifically" because Joe himself is very precise about his wife's post as he explains that it took a lot of sacrifices for her to achieve the accomplishment. 
On May 27, 2017, Concha took to Twitter and shared the news of his wife's achievement.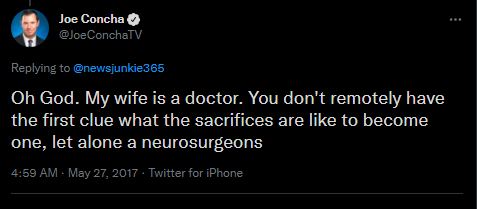 Joe Concha's Tweet About His Wife (Source Twitter)
Joe is undoubtedly proud of his wife and leaves no stone unturned to make her feel special. 
The pair have been married for over a decade now, and their love is still as fresh as new, and it is very evident through his social media. The two are blessed with two wonderful children, a son and a daughter, who recently got done with their first day of school. 
The proud father of two shared beautiful pictures of his children after their first day of school.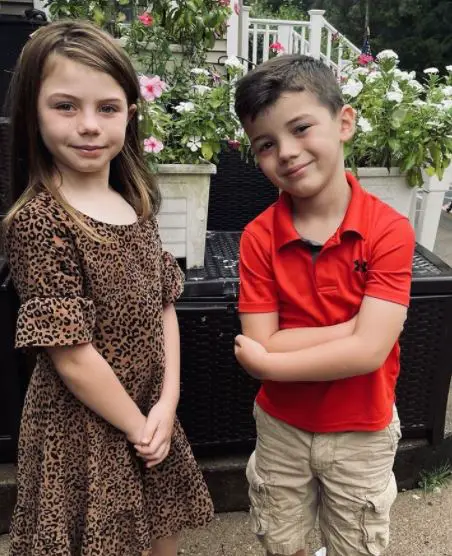 Joe Concha's Daughter And Son (Source Instagram)
Joe proudly shares his post of a father, husband, and dog dad on his Twitter bio. 
Although married life seems to be calm and fun for the father of two, he does have his fair share of stressed moments on his work life. 
Concha recently lost his cool and blasted CNN for not firing one of their Journalist. 
What Happened To Joe Concha
The Fox News contributor took a dig at CNN's Journalist Chris Cuomo.
He should not have been on the air last night, that being Chris Cuomo. They should have put somebody in there that resembles a journalist and not an activist with the type of anchor and plays one on TV.
Apparently, Chris's brother Governor Andrew Cuomo sexually harassed multiple women from 2013 to 2020. It was further revealed that Chris took part in drafting a response for the governor to the allegations against him on February 28. 
Concha expresses his dissatisfaction with the treatment that Cuomo gets. He feels that Cuomo shouldn't have given the platform to be on air after everything that happened. 
The 50-year-old also asked the CNN journalist to resign from his designation and CNN. 
He further added, 
Chris Cuomo got access to VIP Covid testing from his brother-governor when almost no one could get tested early in the pandemic in New York. CNN says and does nothing. Chris Cuomo on multiple occasions when he interviewed his brother never broached the nursing home death toll cover-up that one of his own aides admitted to.
Joe's rage was clearly evident on the Fox News segment of "Fox & Friends Frist."
Being one of the notable figures from Fox News, Joe garnered a lot of attention from his statement. 
Given his post on the News portal, a Political Columnist averages a salary of $47,407 annually with added bonus from people's reporting. 
This figure fluctuates in a 20% increment on San Francisco. 
According to Glassdoor, a Political Columnist makes an average of $61,944-$66,662. So, Joe's salary might fall down in between any of these numbers. 
With such a hefty salary he makes annually, it is of no doubt that he has garnered himself a net worth of millions. 
More On Joe 
Joe, age 50, was born on February 16, 1971. Before working in Fox News, he worked at CNN, The New York Times, and NBCSports.com. 
He completed his Highschool from Wayne Valley High School and completed his college education from the University of New Jersey. 
In addition to his work as a columnist, Concha also works as a media analyst on Fox News Channel and Fox Business Channel. The 50-year-old also hosted a radio show on NPR'S "Air Talk."
Concha also worked as a staff writer in The Hill, and many of his popular articles can be accessed from there.