Sports
Insight Into Joey Votto's Low-Key Love Life
During Joey Votto's low point of time his girlfriend was his biggest support because of the nature of their bond fans often wonder if the two are married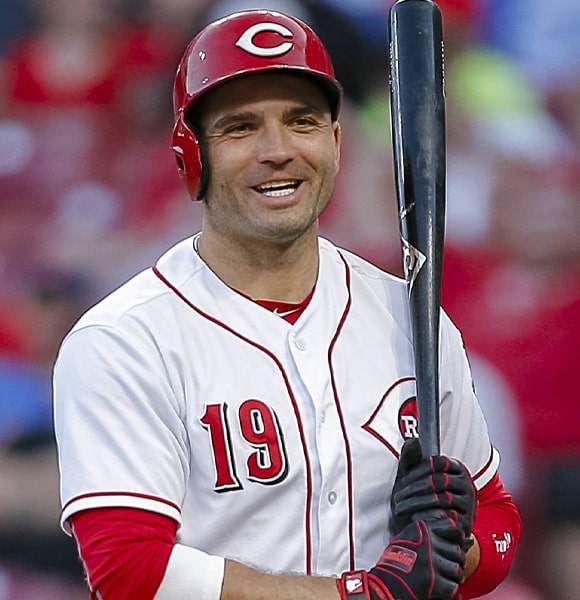 Professional baseball player, Joey Votto's love life is one of a kind. The grief of his father's passing had led him to a very low point in his life until he found his biggest support system. 
With them, he now shares his highs and lows and life has been amazing since. 
Is Joey Votto Married?
Votto does not have a wife, but he is in a long-time relationship with his girlfriend, Jeanne Paulus.
The two have been together for a while now, but they are yet to tie the knot.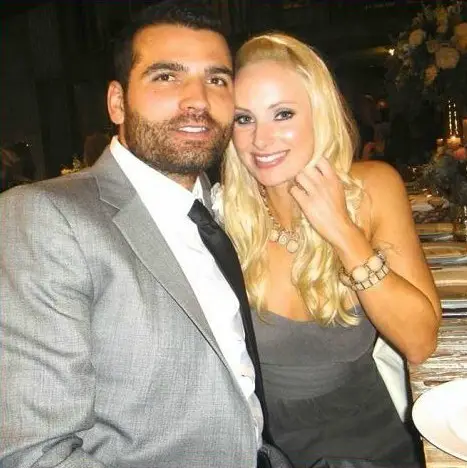 Joey with his girlfriend, Jeanne Paulus (Source- FamousFix) 
The Canadian baseball player's love for Paulus flourished after she became his support system through the grief of his father's passing. 
There is not much information about Jeanne or their relationship as Votto is not on social media and has kept his personal matters to himself.
But from what we know, the beautiful Jeanne is a dental hygenist, and she has been in his life for more than 5 years. 
Although Votto's personal life is not much known, his career front has given him a name that would forever be written in the history of baseball. 
Recently, he proved that he is not only a perfect player but also a perfect human being when he gifted his little fan something so special that it made her heart melt. 
A Fan Favourite
The Canadian professional baseball player is a baseman for Cincinnati Reds. Unfortunately, the MLB player got evicted from his game in the first inning (2021). 
Another Cincinnati Reds Fame: 
On a series of unfortunate events on the field, Votto lost his cool and was enraged at Additon, the umpire of the game. 
Votto struck out a check-swing after an appeal to the third-base umpire Chirs Guccione. However, he had few words for the third-base umpire while he was headed out of the field.
But upon hearing umpire Ryan Additon's words exchange for him, he got upset and was thrown out of the game. 
Although some people were pleased to lose a threat from the game, not everyone was on the same page. 
A particular fan was present to watch the game just for the Canadian player, but her hopes of watching him play were shattered after he got evicted. 
Her mother shared the little fan's teary picture on her Instagram, which soon blew up and reached the player. 
Upon seeing the picture, Joey could not keep it to himself and decided to send a little note to the beautiful girl. 
Votto signed on a baseball and apologized to the little girl for not completing the game. He wrote, 
"I am Sorry I didn't play the entire game"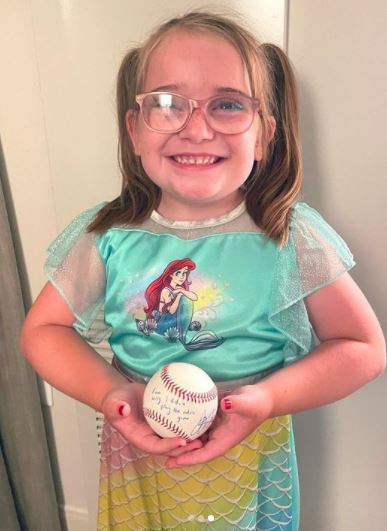 Joey Votto's Fan With His Signed ball (Source: Instagram)
Votto then sent the ball to the little girl, and well, her smile says it all. So it seems like the apology is accepted. 
Looking at his behavior towards children, it is intriguing to think how much love he would shower to his own. 
Career Front Of The MLB Star
Born on Toronto, Canada, Votto was selected by Cincinnati Reds when he got out of high school. He was selected in the second round with the 44th overall selection of the 2002 MLB draft. 
He played for the Reds rookie level for 5 years, then ascended to the major league on 2007. 
During the first year of his major league career, he finished the season with four home runs and 17 RBI. 
This was a splendid achievement for a rookie player that had just been promoted. 
By 2011, he had signed a $38 million deal with the Reds, giving best performances each season. 
This was the same year the MLB star won his first Gold Glove Award, and hit is 100th career home run.
On 2012, he signed a whopping $225 million contract extension with the Reds for 10 more years. He is still bound by the contract as of 2021. 
The deal is the 13th largest deal in MLB history. 
The 37-year-old player has had a good run of his career, and he is still going strong. 
The Canadian Sports Star recently hit ish 2000th career hit on August 16th while playing against Chicago Cubs.