Sports
Having Two Athletic Sister's Justin Fields Was The One To Fulfill His Father's Dream
Having Two Athletic Sisters Justin Fields Was The One To Make His Father Proud After Accomplishing A Dream That He Always Saw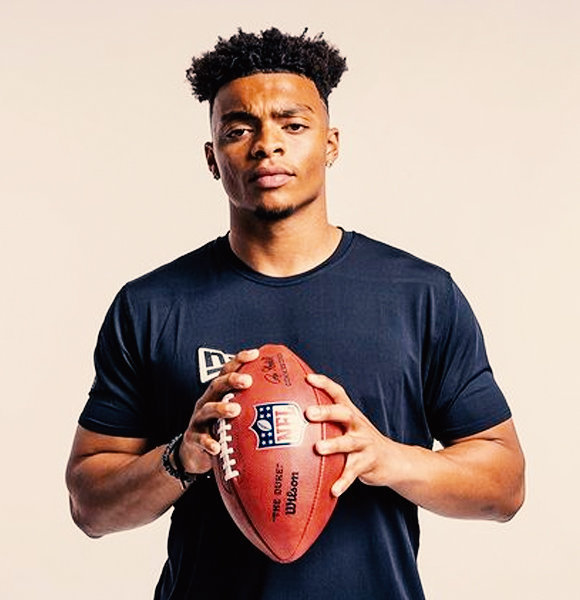 Chicago Bears player Justin Fields's promising career comes as a reward to his father. Fields fulfilled his father's lifelong dream of becoming a player in the NFL that he saw since childhood.
Making Parents Proud
It is the ultimate achievement for a child to make their parents proud of their accomplishment, and it is cherry on top when they choose the same career front as their parents wish they did during their time.
Fields, just at the age of 22, has accomplished much in his career. He is recently drafted into NFL 2021 by Chicago Bears.
Justin's father, Ivant 'Pablo' Fields, had the same dream that his son is living now. Ivant was a linebacker for Eastern Kentucky University, but his selection in NFL sadly did not happen, and he opted for a career as a police officer.
Nevertheless, he has been his son's biggest fan and supporter. 
"I know who they say the best is. But I know what he thinks, and he wants the chance to show it. That he's the best."
Ivant told Fox Sports. He feels that his son has something to prove and pushes the 22-year-old to better himself.
The rising sports star acknowledges his father's support for him. Wishing his fathers on the occasion of fathers day, he wrote,
"Happy Father's Day to the man that has helped me be the man through all of my tough times,"
Ivant is always present on his son's football matches to cheer him up and provide extra support. 
But Ivant is not the only one that is proud of his son's achievement. Junior Fileds mother, Gina toby too is his biggest supporter.
Like Ivant, his both sisters are also into sports, and they are already on a path to become the best in their careers. His sister Jaiden is is a softball player, and his little sister Jessica is also a softball and a basketball player. 
His sisters do not share the same mother as him. Ivant and Gina got divorced, and he married a Personal Injury attorney, Jo Ann Claudrick.
It looks like Athletics runs in the family. With his determination and families support, Justin has officially reached the highlight of his career.
Career Of The Football Player
He officially has started his football player after being selected on the 2021 NFL draft. 
Fields was drafted by Chicago Bears in the first round.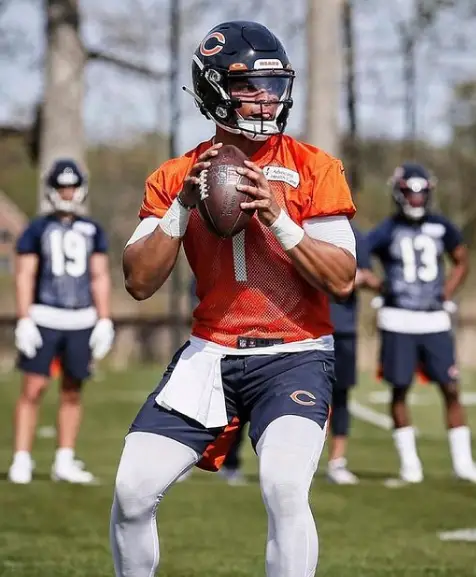 Justin Fields Practicing On The Field (Source Instagram)
He has signed a four-year rookie contract with CB for a whopping 18.8 million. Starting his college career in 2018, he played for Georgia in 2018, serving as a backup for Jake Fromm. 
In 2019 he was granted permission by the NCAA to play for Ohio State.
He also has a dog that is quite famous amongst his fan base.
Dog, Now A Celebrity.
On a zoom call where Buckeye media was busy interviewing the head coach Ryan Day, they were entertained with a furry surprise.
Field's dog Uno made a special appearance on the segment.
While it was paw-sible that it was a mistake, it was still a treat to the eyes.
A fur-tunate event indeed! 
Okay, enough with the paw-ns! Literally now.
Adding onto the appearance, Fields stated that he named his dog Uno because he wears number 1.
Justin Fields And His Dog Uno
The player surely has a lot on his plate and has a long way to go, but so far, his career is on the right path, and it is only a matter of time when he starts acing on major leagues.