Celebs
Kat Timpf's Heart Rendering Story of Abuse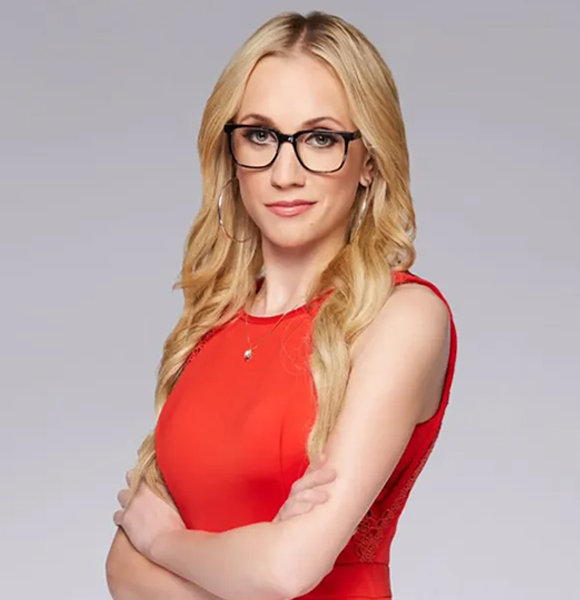 Kat Timpf is a woman of grace piled up with elegance and versatility. She is a journalist, comedian, and libertarian columnist. Yet, the power her written article holds captivates the readers always.
However, the incisive lady packed with talent has been subjected to abuse a few times simply because of her profession. As heart-breaking as this may sound, the abusive behavior even caused her to go through neck surgery. 
The story of the inhumane behavior she dealt with through the years is sure to shock you.
What Happened to Kat Timpf?
The perception people have regarding the Fox journalists is broad. She is one of those reporters who holds the charismatic power and strength in her words that easily captivates her listeners.
Yet, a journalist who handles her prestige with pride and respect was humiliated for working at Fox. Talking about the unfortunate incident, she once went to a bar to celebrate her weekend, get some drink and relax.
After a tiresome day, she thought that would be the perfect place for her to drain her fatigue. But, her fate prepared something else. As she was sitting peacefully on a chair, a woman working at the bar approached with agony towards her.
She seemed to be in immense fury. The woman then started yelling at her to get out of the bar. Kat was shocked cause she didn't have any reason to be thrown out. Initially, Kat ignored the woman's words and moved to another bar corner, but the woman wouldn't stop. She wanted Kat to get out just because she worked at Fox.
So when she came across the woman's words, she gently asked if she had said something that hurt her. But, the woman didn't even seem to have ever heard Kat speak; she just wanted her to get out of the bar for working at Fox.
The woman abused Kat with harsh words; however, she couldn't stay there tolerating the abusive behavior, so she stepped off the bar. She said,
"I was afraid she would hit me or throw a drink at me. She was super belligerent. I tried to move to another area, but the yelling continued. So I didn't see that I had a choice."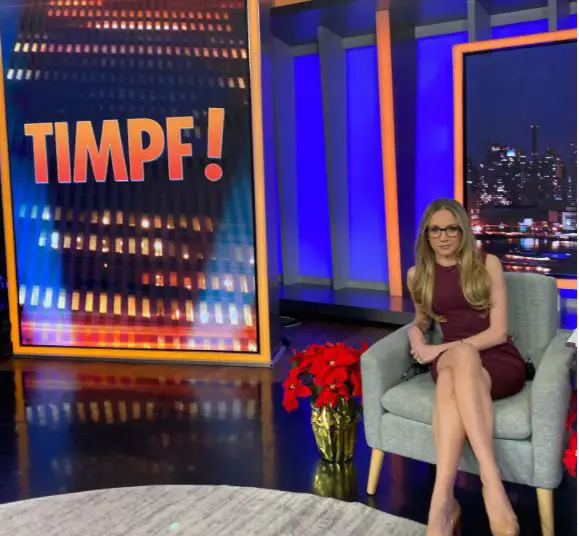 Kat Timpf is all set to host her show (Image Source: Instagram)
She also took the matter to the internet, saying how she was chewed out and abused over where she works. Moreover, this is not the first time the Fox journalist faced something terrible.
Instead, it was her third time being treated that way. One of the horrendous incidents led her to undergo neck surgery.
Also, read about another Fox News journalist- Kirsten Power's Dating, Marriage and Divorce History. Fox News Journalist Announces Engagement With Boyfriend.
Kat Timpf- Neck Surgery
Kat hasn't been abused just for once, and it's happened to her thrice already, but one such incident even led her to have neck surgery. 
One of the inhuman behaviors she became the victim of was a few years back when someone attacked her with a water bottle on her head while she was at a political event, doing her job.
Getting hit with the water bottle affected her neck, and she had to undergo neck surgery. She hasn't disclosed any details regarding the neck surgery, but she is completely fine today.
However, the incident aroused multiple health problems in her. Her trauma was yet to take a break, but when she was on her dinner, some random person came in and told her how she was ruining the country.
The matters Kat has been facing get ridiculous every time. She also tried to hide her appearance multiple times to eliminate the harassment. Moreover, people have made it tough to let her be in public places.
Kat has explained how she fears walking out with glasses, as if people recognize her, she will have to go through the loop of abuse again. Also, she maintained a distance from social media where she was more prone to verbal abuse. 
However, she later opened up on how she did it for the sake of her mental health and asked her audience not to worry as Kat was completely fine after the neck surgery.
From being threatened in a bar to having gone through neck surgery due to brutal abuse, the journalist has come out even stronger and resilient.
Despite all the challenges Kat has faced, her courage and confidence have not dimmed by the slightest bit.