Entertainment
Inside Scoop of Laura Bozzo's Controversial Relationship With Cristian Zuarez
Laura Bozzo's stumbling love life has not gone as she wished, her smooth-sailing professional life on the other hand has garnered her a massive net worth.
"I want to inform that I will not be making any declarations in respect to Cristian and topics without foundation. I am very happy," tweeted Peruvian host Laura Bozzo addressing her controversial relationship with her former partner Cristian Zuarez.

Seeing Laura, an acclaimed media personality who garnered chunky net worth, make headlines time and again is not an unusual case. Still, her relationship with Cristian, with whom she shares an age difference of twenty years, is the headline that remained a matter of discussion for a long time.
Bozzo's Controversial Relationship With Cristian Zuarez
Cristian and laura's love life was a matter of public attention from the get-go, but attention sparked again in 2017 after Laura's former partner was confirmed of infidelity. 
Confirming the cheating allegations, Laura spoke out on a show, Beto a Saber mentioning, 
I had no idea of this relationship of two years that Cristian had with this woman. I had no idea. I wish him the best.
As the report further elaborated, the woman that her former partner was involved with was Adriana Amiel.
Despite knowing the devastating truth that killed their seventeen-year-long relationship, Laura kept her calm and wished him the best, which is not surprising given her humble nature.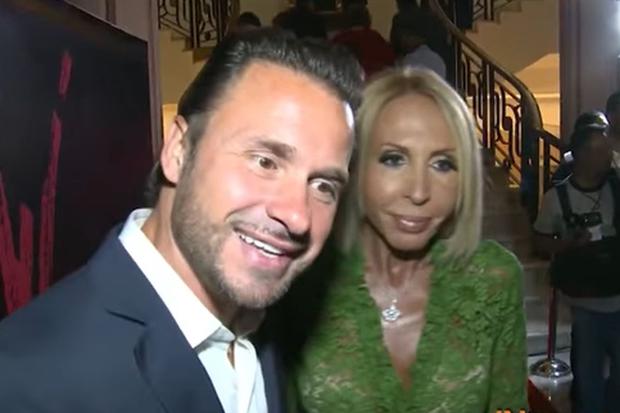 Laura Bozzo alongside Cristian Zuarez (Source: Peru 21)
Expressing her sentiments on the whole situation, the talk show host said,
Cristian has always been a good person, he was with me during hard times, but I had no idea about this and if this is true, it's fine.
What can we say? She has a heart of gold!
No matter how big-hearted she is to forgive Cristian for his love-ending affair, the separation indeed left a big hole in her heart.
She even said she might never get married again. That's how heartbroken she was.
But like a pro, instead of living in hurt, she filled the void with gratitude towards her life that has blessed her with wonders many can only imagine of. In her words,
May anyone come into my life that needs to come, may anyone who needs to leave, leave, may it hurt as much as it has to, and may anything that happens, happen.
More On Her Relationship Status
Since the breakup, which created a big stir in the media, the talk show host has maintained her distance from relationships as none of her dating gossip has surfaced since Cristian.
Although she appears to be single currently, she had been married in the past before Cristian. Laura is a mother to her two daughters, Alejandra and Victoria, from her former husband, Mario de la Fuente.
Mario and Laura remained married for two decades, ending their long-lived relationship in 2000. Despite having a stumbling love life with two major heartbreaks, Laura's extraordinary professional accomplishments, on the other hand, keep growing exponentially. 
Laura Bozzo's Short Wiki & Net Worth
Born in Callao, Peru, Laura Bozzo, age 70, began her television career in 1990 as a host for Las Mujeres Tienen la Palabra, and soon grabbed substantial attention for her talent.
After her association with RBC Television, the host went to Panamericana television. Later she signed with America Television as a host of her own show, Laura en America, a tabloid talk show launched in 1998.
Since then, she is widely famous for covering various social issues in her show, including domestic violence, drug addiction, adultery, and so on.
Having maintained a massive impact as a media personality, it would be completely fair to say Laura has a net worth of over a million.
As per the average salary range of a talk show host, she probably has an annual salary of over 65 thousand dollars.
Besides, her lavish lifestyle, as it appears on her social media, including her fancy house in Miami, screams her impressive wealth.
Moreover, she uses her platform and massive exposure in helping others in need through her charity organization, Solidaridad de Familia, which provides charity to people in need of legal and medical assistance.