Lindsey Raiser's major pregnancy announcement raised questions about her potential husband and her married life.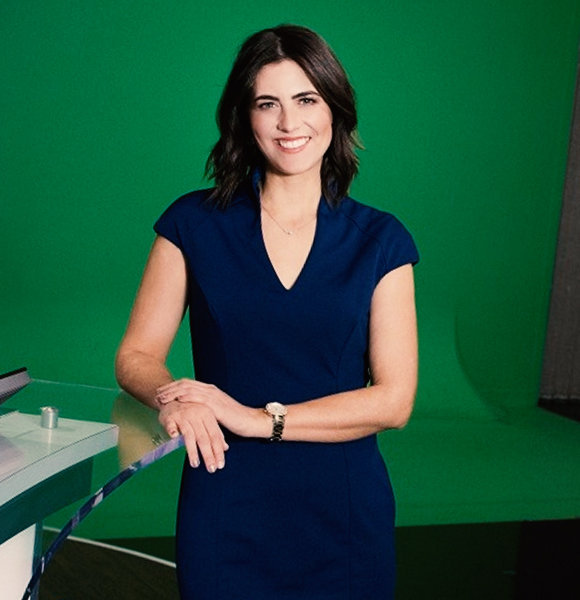 On September 17, 2021, MSNBC journalist Lindsey Reiser shared her excitement of making an addition to her family soon enough.
Lindsey took to Instagram and uploaded a picture with her wife Kathy wearing a matching pair of t-shirts that displayed the famous ' I [heart] NY' sign, and above them hung another baby t-shirt that read the same sign.
The picture was paired with the caption- 
"COMING SOON: Baby girl Reiser-Clark will be here in March!"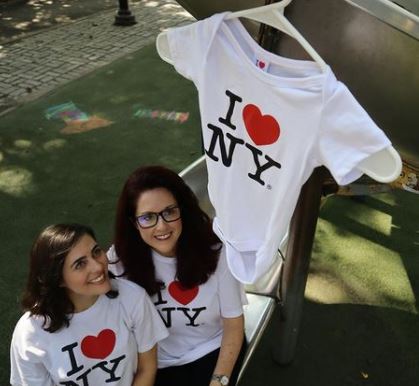 Lindsey Reiser's and her wife announcing the big news of welcoming a baby girl to their family (Source: Instagram)
Married for a year now, Lindsey and her wife, Kathy Clark, are passionately waiting for their highly anticipated moment of welcoming their baby girl into this world. Undoubtedly, the duo will make great parents for their little one.
Well, the two are not the only ones excited. After their big announcement, Reiser's followers showered the couple with several well-wishing and congratulatory messages.
According to Today, Reiser, age 33, is presently fifteen weeks pregnant and will be due in the coming six months. 
Along with her pregnancy, well wishes fans bombarded the internet searching if she had a husband.
But to calm the curiosity, she is, in fact, openly lesbian, and her pregnancy was possible through the procedure of intrauterine insemination that involves direct injection of sperm into the uterus.
With still six months remaining for the sweet addition to their family, Lindsey and Kathy are already preparing themselves for the new chapter in their lives.
The MSNBC anchor, talking about her wife's role during her pregnancy, said,
For Kathy, she is so grateful she can finally fulfill a lifelong dream of being a mom at 48. Kathy has been incredibly supportive during the hormonal ups and downs, a strong advocate of talk therapy.
Inside the Married Life of Lindsey Reiser
The beginning of the couple's relationship goes back to over seven years ago, but taking their time with their relationship, Lindsey and Kathy got married on March 19, 2020.
Lindsey, reminiscing on her wedding day, took to her Instagram to share the story of her marriage with Kathy.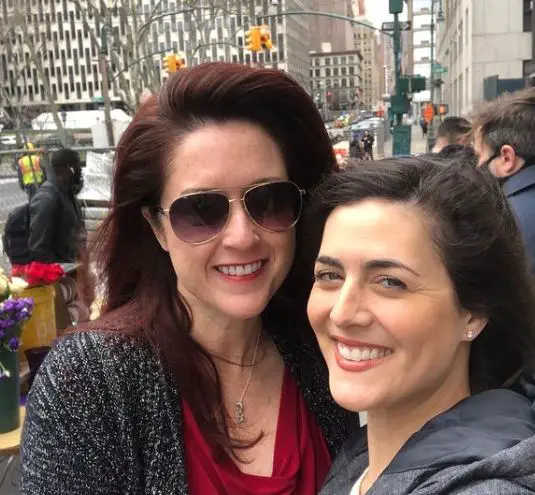 Lindsey with her wife on their wedding day outside the NYC Clerk's Office (Source: Instagram)
While the world was shutting down of the COVID pandemic, the pair decided not to wait any longer to take their relationship a notch further and shared their vows at the NYC Clerk's Office with Tara Prindiville as their witness.
The anchor poured out her heart wishing her wife an anniversary through her 'gram post that read as,
There was a lot of heartache in 2020 but we're grateful for all the time we've had together that has only brought us closer. Happy Anniversary my love!           
A Short Bio On Lindsey's WIfe
Kathy Clark's multi-hyphenate professional titles include content strategist, brand manager, and creative director, and currently, she is serving at The Social television Network as an executive producer.
After she graduated from the University of Arizona with a degree in the bachelors of arts, she embarked on a professional journey in 1996, working as a producer at KVOA-TV.
Amassing experience in her field of work, the news anchor served at Meredith Corporation, Arizona Highways Television, and SHE Media.
With years of expertise, the executive producer is progressing in her career just as her partner, Lindsey, is amongst the acclaimed anchors at MSNBC. 
More On Lindsey
The Arizona State University graduate Lindsey had her go at journalism professionally in 2010 when she worked as a multimedia journalist at ComCorp of America.
Leaving her job at ComCorp in 2011, Lindsey worked as a reporter at Meredith Corporation and later served as a podcaster for Wiser With Reiser.
In January 2020, she secured a position at MSNBC as a news anchor and quickly marked her place amongst the prominent journalists on the network.
As a host of MSNBC, she probably has an annual earning of around 72 thousand dollars, based on the average salary scale reported by Payscale.