Lori Gottlieb, who raised her son as a single parent, shares her intriguing opinion on settling with a good enough husband.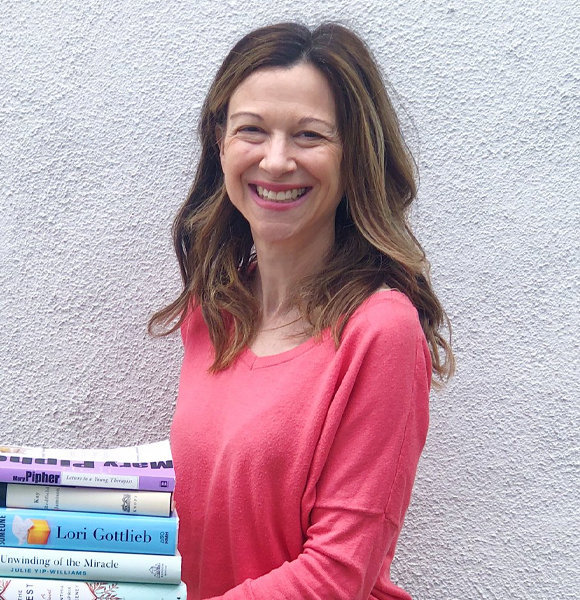 The beauty of motherhood is that it lets you see life from a whole different perspective and, for the American writer and psychotherapist Lori Gottlieb, being a mother to her son has 'given her freedom she had never experienced before.'
But Lori did not take the traditional route to build her family of two. Instead, she fulfilled her dream of becoming a mother with the help of advanced medicine, a sperm donor.
Lori's Unconventional Motherhood
Sharing her story of how she came about deciding on becoming a single parent, the psychotherapist unveiled the process through an interview with Psychotherapy Network in 2020.
Although taking the help of ever-advancing medicine for fertility is an openly talked subject today, it was a whole different scenario sixteen years ago when she decided to become a single parent through a sperm donor process.
Even to her, the idea of conceiving a child without a husband, taking help of laboratory gadgets instead, was alien.
She was introduced to the idea by a friend. In her words,
I was surprised when a friend, knowing I was getting into my late 30s and didn't have a partner, suggested I look at a sperm donor site. I didn't even know what that was.
Lori explored a little more before she dived into making a decision. The process involved finding a suitable donor based on the characteristics as provided on the donor application.
And, Lori's pick happened to be 'a very popular one,' that he was 'out of stock' at the time. But, she was lucky enough to have the pick she wanted, and the rest is history.
Now the psychotherapist is a mother to her beloved son, Zach, who is in his late teens and is already motivating people to be vocal about their mental health.
Sharing her proud mother moment, Lori took to her social handles to highlight her son's move to break the toxic masculinity by teaching boys and men that 'being vulnerable is a strength.'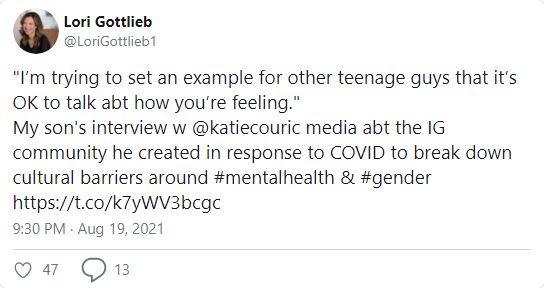 Further, the teen uses social media platforms for his initiative to introduce people to mental health and often posts about his suggestions and ideas surrounding the subject of mental and emotional health.
In a nutshell, Lori's splendid parenting is evident through her son, who is already paving his path towards a brighter future.
However, her decision to have her son without a partner came with many challenges, which she articulated in her recently published memoir, Maybe You Should Talk to Someone.
Through the book, she portrays difficult times she encountered in both her personal and professional life.
Her Experience As A Single Parent
Raising a child is a lot of work, and being a single parent is a struggle only another single parent can relate to.
However, it was not Lori's first choice to single-handedly raise her kid without her having a husband or a partner.
But as her biological clock was ticking and she had not yet settled with the right one, her dream of having a child gradually began weighing in.
That's when she decided to take help from science and became a single mother in her mid-30s.
Though she went through with her life-changing decision, she admitted to having faced difficulties along the way when she felt the need for a partner. She said,
There are challenges at every stage. For me, the issue wasn't having trouble getting pregnant: it was not having a partner.
Despite the inconvenience she faced, the writer is a happy mother who is grateful for her journey through parenthood.
Is Lori Gottlieb Married?
The author has not had any luck in her love life yet. But having been through a failed relationship where she almost reached the point of marriage did leave her with some life lessons to spare. 
In her issue of 2008 in The Atlantic, she illustrated her opinion and some harsh facts on finding the perfect partner. She wrote,
Ask any soul-baring 40-year-old single heterosexual woman what she most longs for in life, and she probably won't tell you it's a better career or a smaller waistline or a bigger apartment. Most likely, she'll say that what she really wants is a husband (and, by extension, a child).
Though debatable, her statement possesses truth on several levels. She further stretches her opinion saying most women are bound to panic if they enter their 30s unmarried despite their professional success and independence.
And her ideas came from her own experience and the several other single women she encountered. Lori articulates her heartbreak from the failed relationship in the past in her memoir.
While she was close to getting married to her long-term boyfriend, her then-boyfriend suddenly called it quits, reasoning he could not live with a kid. Ironically, he knew Lori had been with a child since the start of their relationship.
The turmoil of her failed relationship with her ex-partner led her to see a therapist. Though the separation did leave her with a scar, the whole experience added a new perspective on grief associated with it.