Entertainment
"I Kept Losing Weight, Getting Thinner And Thinner", Mads Mikkelsen Addresses His Weight Loss After His Shoot
Mads Mikkelsen lost as much as 14 pounds while playing his role in the movie Arctic. From his notorious habit to fans' obsession with his teeth, Mikkelsen is surely a gem of Hollywood that everyone loves.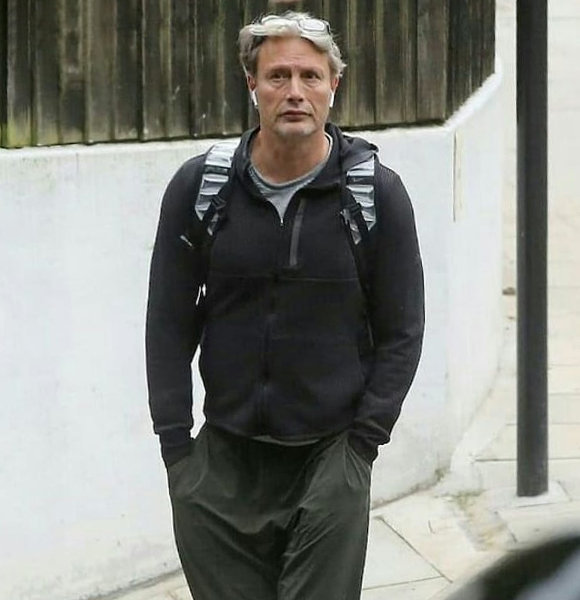 Mads Mikkelsen lost a lot of weight while filming for his movie in the snow-covered mountains of Iceland. He expresses his battle with the extreme environment and how he overcame it. 
Overcoming Harsh Environment
Following the journey of his movie "Arctic," for which he endured all the troubles, he expresses how he broke down a couple of times because the whole experience was so draining. 
"I kept losing weight, getting thinner and thinner, I had no energy at all, and I forgot to eat. I had to do extreme physical things that I would have had a hard time doing when I was fit!"
Says the actor, addressing his weight loss during his time of the shooting.
While talking to Men's Journal, Mikkelsen revealed how he had to work for as long as 15 hours a day for 19 consecutive days despite the harsh environment.
"It was rough. I was completely spent at the end of every day, and they were pretty long days often. I took a few painkillers when I needed."
Quoted Mikkelsen when asked about how hard it was for him physically. Nonetheless, the situation turned in his favor. 
Movie director, Joe Penna, saw positivity in all the troubles as he felt that working in such an environment helped Mikkelsen bring out authenticity in his performance.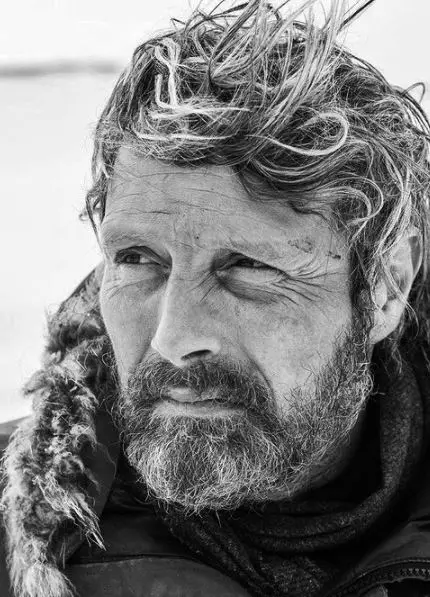 Mads Mikkelsen From The Movie Arctic (Source- Tumblr)
An actor's life surely is not as easy as it might seem. And these conversations are proof of it. After all, losing as much as 14 pounds is a big deal.
Yes! 14 pounds! The actor estimates about losing somewhere around 14 pounds over the course of the shoot. Despite having a hard time enduring the weather, the 55-year-old has no regret whatsoever. 
Further on his interview, he explained how the whole experience was totally worth it. He says, 
"I had a great experience working with the whole Iceland crew, and the country is one of my favorites in the world. In the end, that landscape is the major character in our movie so it was absolutely worth it."
The movie is based on a rugged researcher, totally stranded in the icy wilderness after his plane crash, and how he finds rescue while struggling with the environment.
Released in 2018, the movie and Mads performance got a positive response and garnered a box office collection of 4.1 million dollars.
As much as he is famous for his amazing acting skills, he is also notorious for his smoking habits. 
Mikkelsen's Notorious Habit
Although it is not unusual for someone to smoke, it is quite unusual to see a page dedicated just to post pictures of them smoking.
Actors have fan pages posting every little detail of their life, but on the contrary, the 55-year-olds smoking habit has gained such attention that an Instagram account was started just to post pictures of him smoking. 
The Instagram account falls under the name Mads Mikkelsen smoking. 
Besides, this was not the first time his smoking habit has been highlighted. Back on June 1, 2019, the scriptwriter of the movie DS revealed how Mads character in the film was not a smoker, but he changed his plans and made the character a heavy smoker upon seeing the Danish actor's smoking habits.
The actor, however, is fully aware of his smoking habits and wants to change them for the better. But he expresses how hard it is to let such habits die down. 
Well, this is not the end of his fan's obsessions with him. What's next, you ask? His Teeth! 
Obsessed With Teeth? 
"Where I have to say? His lips? His teeth? His hair?" A fan takes to Twitter to admire their idol based on his features.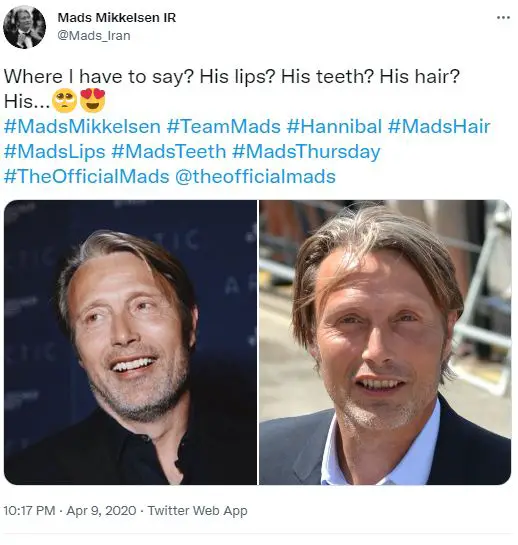 Fans Appreciation Towards Mad Mikkelsen's features (Source- Twitter) 
Fans sometimes go overboard when it comes to expressing their love of their favorites, but someone admiring their idol's teeth might be the first for our readers as well, isn't it?
Well, the Danish actor himself seems to be in love with his teeth as he mentions that he never wants to fix it. He has also addressed how he would never fix his teeth and like them the way it is. 
The actor certainly gets a lot of attention, whatever the reason be. But his acting skills are way out of the par to be unrecognized.
His movie Another Round  (2020) won the Academy Award for Best International Feature Film. And he has several projects already lined up until 2022.
The movie the Arctic is now streaming on Netflix and also can be accessed through various streaming platforms.