Entertainment
"Third Time Is A Charm" Marilu Henner's Third Marriage Is More Than She Could Ever Ask For
After series of heartbreaks, Marilu Henner found her spouse, at the age of fifty-four and their special day is still utterly clear on her memory.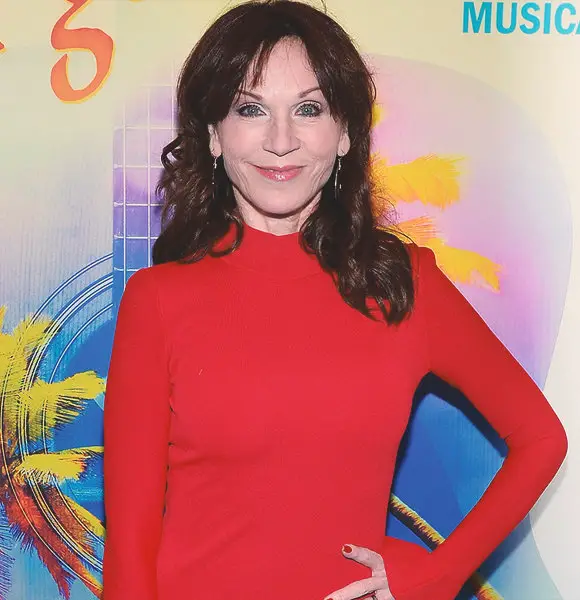 "I remember every detail of getting dressed," the multi-hyphenated American media personality Marilu Henner said, recalling her big day with her spouse, whom she wedded at the age of fifty-four. 
Marilu Henner's College Crush Turned Spouse 
Talking to The New York Times in 2017, Marilu walked us down her memory lane with extensive details on her wedding day with her husband, Michael Brown, held on December 21, 2006. 
To clarify, her crystal clear memory of the ceremony results from a rare condition, hyperthymesia, which makes Marilu remember every day of her life with utter clarity.
And, one of the treasured memories she likes to recall time and again is her none other than her wedding with the love of her life, Michael.  
I can see exactly where everyone was standing in that moment when we lit the candles.
She said, talking precisely about her marriage ceremony held in the Hollywood Hills of Los Angeles.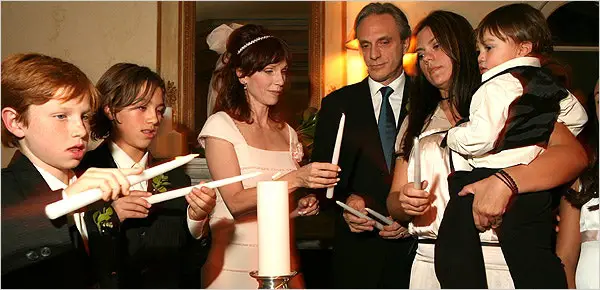 Marilu Henner's wedding ceremony with her spouse Michael Brown (Source: The New York Times)
However, it took her multiple heartbreaks and decades of waiting to finally seal the deal with her then-college crush, Michael Brown. 
Her movie-like love story with Michael dates back to her college days at the University of Chicago. 
The now-couple did not date while the two were students at the same university as Michael was dating Marilu's roommate, and Marilu was secretly crushing on him. 
Nothing significant happened between the two while young, but as fate had it, decades later, when life had turned several chapters in both their lives, the once drifted friends met again in a whole different setting. 
After connecting several years later, they ended up going on a dinner date that marked the beginning of their romantic relationship. 
But their meant-to-be love story was put to the test again. Soon after they began dating, Marilu's now-spouse was diagnosed with early-stage lung cancer. 
While many assumed she would bail out on him given his health issue, she proved them wrong and resiliently stood by his side throughout his recovery. 
No obstacle could strip her away from the love of her life this time around. Immediately after Michael's recovery, he proposed to Marilu, and the rest is history. 
The wedding date was set, and the two exchanged vows in a private setting at Marilu's house with a limited number of guests. 
Despite their years-long marriage, Marilu and her spouse do not share any children together. Instead, they have kids from their past relationships, which is another story to tell. 
Marilu Henner's Past Relationships 
During the decades between Marilu developing a crush on Michael while young to Marilu becoming his spouse at the age of fifty-four, several life-changing occurrences took place in the Taxi actress's life. 
She got married twice and became a mother to two kids, Joseph Marlon Lieberman and Nicholas Morgan Lieberman. 
Her first wedding was at the age of twenty-eight, to When the Legends Die actor Frederic Forrest. After their relationship ended with a divorce, she tied the knot for the second time with the TV director Robert Lieberman, with whom Marilu shares two sons. 
Her second marriage also could not sustain and came to an end in 2001. 
On the other hand, Michael also had his share of a failed marriage from which he has three children. 
On the contrary, none of the hardships really matter since the universe conspired to Marilu and Michael together at the end. 
While she already has an accomplished career, getting to spend the rest of her years with the love of her life is a cherry on top. 
What Is Marilu Henner's Net Worth?
As for her profession, Marilu goes by several titles, actress, producer, singer, radio host, podcaster, and author. 
Not many can pull off multiple career titles, at the same time excelling predominantly towards success.
However, having started her career in 1971, the spotlight beamed on her after her breakthrough role in the sitcom Taxi in 1978. 
Since then, she has been in countless notable films and series garnering her a grand net worth of 12 million dollars, as reported by Celebrity Net Worth. 
Besides, adding to her massive net worth are the sales of the nine books she has published to this date. 
With an impressive career, she still continues to progress in her field of work, with several more screen appearances to come. 
A Short Bio
The Chicago-born Marilu Henner, age 69, was born to parents Loretta Callis and Joseph Henner. 
Brought up in a family following Catholic religion, she embraces Greek and Polish roots from her grandparents' side. 
Heridited with an impressive height of 5 feet 7 inches, her stunning visuals has her fans curious if she ever had plastic surgery. 
The internet is bombarded with the actress's plastic surgery rumors questioning her timeless beauty, but no concrete evidence points towards the baseless rumor. 
However, some also assume she might have taken the help of botox and filler, which is a pretty common scene in the entertainment industry. 
But, whatever the case is, the actress's incredible charm and splendid talent have indeed won many hearts.