Entertainment
Martins Licis Celebrates His Big Win With People He Loves The Most
Martins Licis was accompanied by his mother and his girlfriend after the completion of his childhood dream.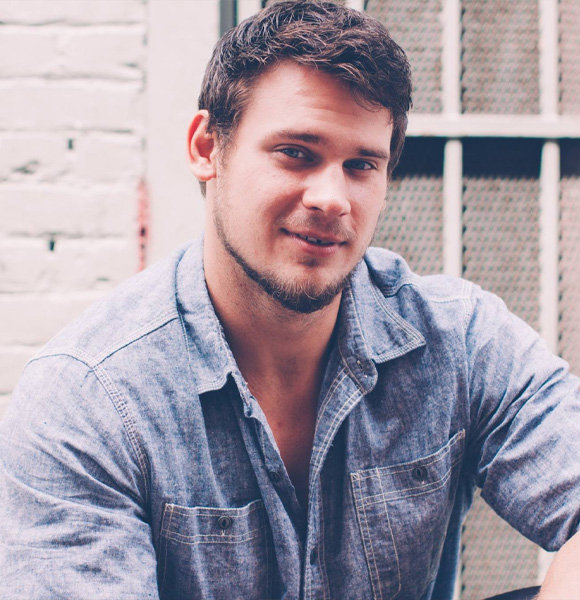 "To be here second year in a row accomplishing a childhood dream in front of the people i love the most.. There is nothing like that," said the winner while wrapping his hands around two beautiful women. 
Worlds Strongest Man Martins Licis shared his love for his girlfriend and mother upon winning the 2019 Worlds Strongest Man competition.
A Proud Son And Boyfriend 
Lilacs appeared in the world's Strongest Man competition back in 2019 and bagged the win against Bjornsson. 
Upon his win, he was accompanied by the two most important people in his life. One of the women was his mother, and one was his then-girlfriend. 
Holding his two lifelines close to him, he said, 
"This is the richest i have ever been in my life".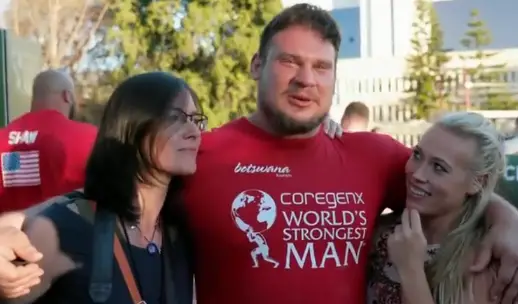 Snippet Of Martins Licis (Centre), His Mother (Left) And His Then Girlfriend (Right) (Source Redditt)
There is no doubt that his mother, Anita, and his girlfriend were the most important people in his life. 
Martins does have a heart as soft as a marshmallow when it comes to women in his life. 
He is very fond of his mother, Anita. On June 18, 2018, the Latvian-American showed up at his mother's photo exhibit with his little brother.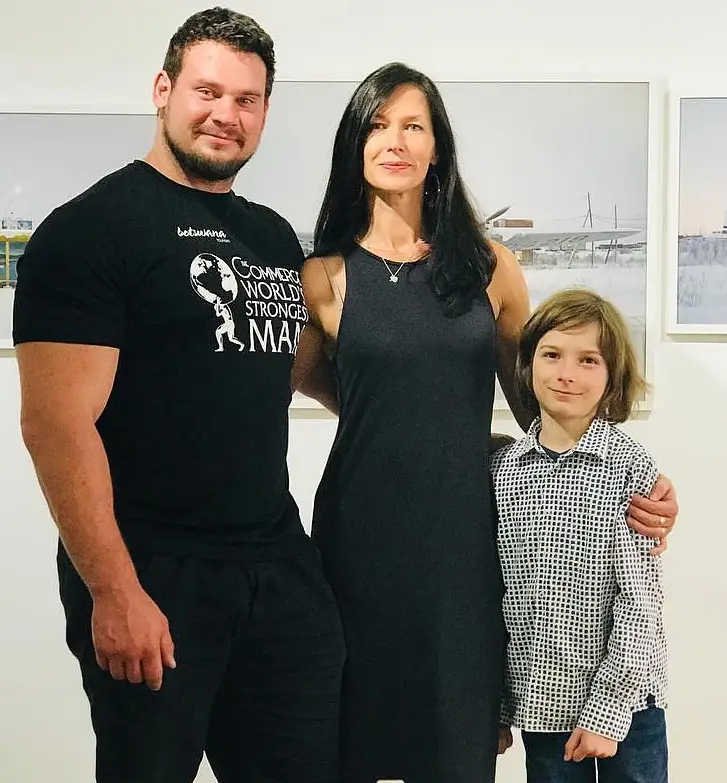 Martins Licis With His Mother And Little Brother (Source Facebook)
While he was giving out his grateful speech, his mother snuggled her head to Martins's shoulder, and his then-girlfriend continuously watched her man with pride. 
The world's strongest man also regarded his then-girlfriend as "My Lady" in the video. 
But the relationship that seemed to be meant forever now has broken apart as his then-girlfriend has moved on with her life. 
Who Is "The Lady"? 
The woman that he referred to as his 'Lady' is World's 3rd Strongest Woman. 
Rebecca Rowley, also Martins's 'then-girlfriend,' won the title of the Strongest Women in the World in 3rd position in 2019. 
Like Martins, she is also an athlete and a powerlifter. While the two have never openly talked about their breakup, they now have moved on from each other. 
Rebecca has kept her career upfront while also nurturing her family. 
Rebecca has two boys from her previous relationship and is happily married to Lucas Tru. She and her spouse met on June 6th in 2019, and their love has grown strong ever since. 
On June 6th, 2020, sharing a picture of her kissing him, she wrote a heartfelt message to her husband. The caption read-
 I'm so grateful for the strength, safety and growth you have brought me. Love you so much Lucas Tru. Grateful your cute bum walked confidently into my life 12 months ago
After being engaged on late May 2020, the pair tied the knot in early June 2021. 
While Rowley has started a new chapter in her life with her own family, Martins has progressed to earning more titles in his career by keeping his career the main focus. 
Riding Ladder To The Glory 
Martins Licis, age 30, is well known for winning the 2019 World's Strongest Man title and also winning the Arnold Strongman Classic. 
Starting off as a personal trainer in 2010, Licis progressed to compete in the Strength Classic in 2015. 
Standing at the height of 1.9m, Licis slowly got invested in the competitive powerlifting world after placing first in the Odd Haugen All-American strength classic. 
His journey to World Strongest Man did not come easy for him. The 30 years old first joined the competition back in 2016 after he was selected in the finals. But he placed six. 
He again tried his luck in the 2017 and 2018, but he could only bag the fourth position. 
Striving to be a winner, Martins gave another shot at a competition and this time ended up coming first on June 2019. 
He also competed at the Arnold Strongman Classic and placed second in the same year. But he soon turned that title his own when he won the title in 2020. 
Since then, he is invited to many shows such as Game on!, To Tell the Truth and appeared in the Geico commercial.