Sports
Maurkice Pouncey Has Retired From His Football Career And Now Enjoys His Life With Family
Maurkice Pouncey's retirement from his career as an NFL athlete has given him more time to be with his family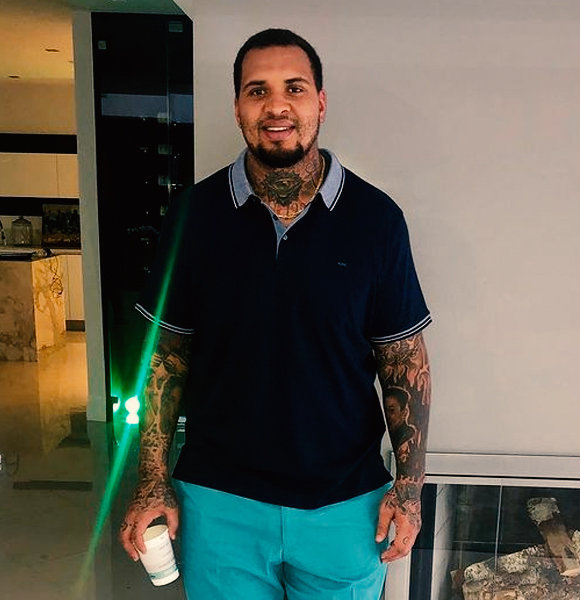 Maurkice Pouncey is the father of three children, and all his children's mothers are different. 
Recently Pouncey's post with his second daughter's mother garnered a lot of attention as it seemed like he was still in touch with her and possibly in a relationship with her. 
Relationship With His Childrens' Mothers
On July 24, 2021, the former NFL star posted a picture with two of his three kids alongside the mother of his second daughter.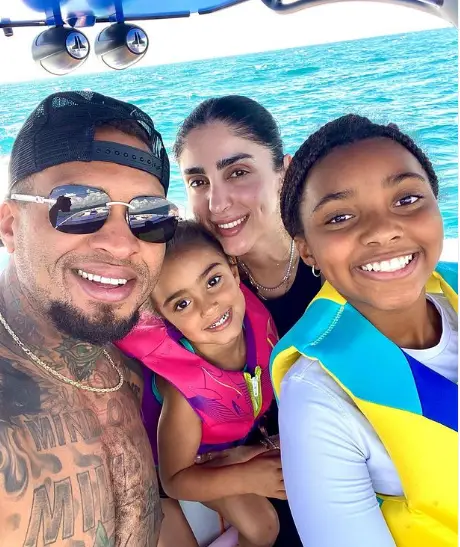 Maurkice Pouncey With His Children and Alleged Partner (Source- Instagram)
The former NFL star has kept his life very private since forever. Even while posting the picture, he has kept the identity of the woman a mystery. 
The sports personality has given no information regarding his relationship with her. However, going by the picture, they do seem to be in contact with each other. 
While the mother of his first child is also unknown, his son's mother is Kristian Fong.
Pouncey, age 32, usually post pictures with his three kids only, and almost none of his post features the baby mothers. 
Despite being in a relationship with multiple women, Pouncey never had a wife. 
Life With Kids 
"It brings a lot more joy to life. I am totally excited about it and love it," is what the 32-year-old tells about being a father. 
Adding on to his experience with his children, he mentions, 
"It makes you grow up quicker, it makes you appreciate things more, it makes you work a little bit harder because you know people are depending on you. They are your own. You made them. I tell people all of the time it's my greatest joy in life"
Although the former NFL star has decided to keep his relationships with women private, his love for children is clearly evident on his social media. 
Maurkice was recently given a prestigious tribute by the Florida Gators Football. He shared the experience on his social media and featured his three children, Janiyah, Marley, & Kayden, on the post.
There is no doubt that the father of three loves his children more than anything. While juggling the life of a father and a professional football player, he recently announced his retirement from his professional life. 
The Former Player's Career
Pouncey was always an enthusiast when it came to football.
Pouncey officially started his career as a 2010 NFL Draft. On the start of his career, he signed a five-year contract of $14.80 million with the Pittsburgh Steelers.
Being a Pro Bowl selection, he went on to play 14 games in 2011 and 15 games in 2012. On June 12, 2013, Pittsburgh Steelers again signed him on a contract of $44.12 million. 
He then went on to play for the team till 2019, after which he again signed a contract extension with Pittsburgh Steelers and this time for $33 million. 
After an 11 season career, the father of three decided to move away from his glorious and successful career to invest his time on family and other businesses.
The retirement news was given by Ramon Foster, Maurkice's teammate of 10 years. Foster took to Twitter to break the news. 
Over the course of 11 years of his career, he has accumulated a net worth of $13.8 million.
A Short Bio 
LaShawn Maurkice Pouncey, aka Maurkice Pouncey, was born on July 24, 1989, in  Ardmore, Oklahoma. His parents are Rob Webster and Lisa Webster. 
The former NFL athlete has an identical twin brother, Maurkice Pouncey, a former NFL athlete himself who retired alongside him. 
Maurkice attended Lakeland High School, where he was a standout lineman.
With his amazing talent, he bagged an athletic scholarship at the University of Florida and represented the Urban Meyer's Florida Gators Football team from 2007 to 2009.