Micky Ward's life story flows around the struggle of his family with his half-brother's addiction and talks about the glory of his career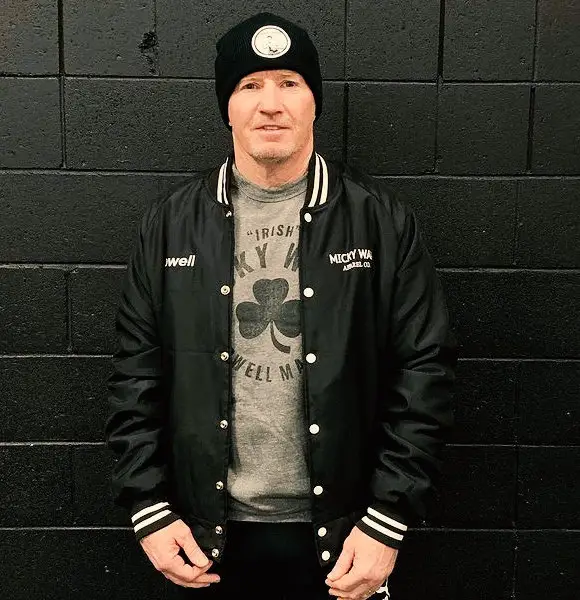 The movie, The Fighter which reflects the life of Micky Ward, touches on his journey before his fame, but that is not the only area the movie touches on. 
It also shows Ward's half-brother Dicky Eklund's struggle with substance addiction. 
Family First
Micky Ward's half-brother was also an athlete, a boxer who was a famous personality just like Micky. The brother's duo was known to be the most competitive fighters of the time. 
Dicky was also Ward's trainer once, and he struggled with drug addiction during his career. 
For the Ward family, family is everything, and the point only gets proved when the movie demonstrates the family's struggles to help Dicky. 
Ward's manager, who was also Eklund's manager, managed his career. During the hard times in his life, their seven sisters took turns supporting their brother.
They distracted, motivated and at times embarrassed him for his actions. 
Dicky experienced an overwhelming amount of support and love at the time and slowly started to recover from his habits.
On one particular moment in the movie, Micky was caught up in between all of the tension that the family was experiencing. 
In between his girlfriend and his family's feud, he tells his brother, mother, sisters, and girlfriend that he needs them all. 
The film touched upon the family bond of the Ward's. The scenes were widely appreciated and love, and to this day, they hold an emotional value for all the movie fans. 
The movie went on to be nominated on Oscars. And the brotherly bond of Micky and Dicky went on to show the importance of family that Micky holds in his life. 
The Irish boxer is still very close with his family. Although their mother is no longer with them both, the brother misses her every day. 
The former boxer shared a picture from a newspaper on his Instagram account. 
It was a throwback picture on one of his match days with his mother Alice, brother, daughter Kasie, and nephew.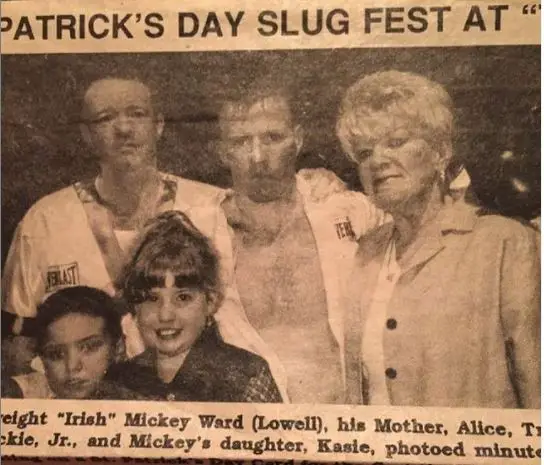 Micky Ward with his Mother, Kasie, Brother, And Nephew  (Source- Instagram)
Micky, age 55, gained massive popularity after the release of the movie "The Fighter" in 2010 amongst the new generation.
But he has always been a prominent name in the Boxing field due to his career achievements. 
Road To Glory
Micky, also known as the "Irish" Micky Ward, took hiatus from boxing in 1990/91 after losing four consecutive fights. 
He was already a three-time New England Golden Gloves champion, but he was only regarded as a professional boxer after his return in 1995. 
The 55-year-old quickly marked his territory upon his return after winning his first nine fights and WBU's Intercontinental Light Welterweight Title.
He also won the IBF Light Welterweight title in 1997. 
But the most interesting part about his career is his trilogy fight with Arturo Gatti. Two of their fights received the Fight of the Year award by The Ring Ring Magazine. 
The fight was heavily talked about and always anticipated. Ward made $3 million just from his trilogy with Arturo. 
Micky retired from his glorious career in 2003, but the stories of his career were all incorporated in a movie released in 2010 named The Fighter. 
What Is Micky Ward Doing Now?
Ward has a beautiful life with his wife and his daughter. He is a part-owner of the boxing gym. 
He owns the boxing gym with his half-brother Dicky Eklund, and they train new boxers. 
Micky provides classes for the trainers on his gym, Box2burngym. The 55-year-old also has his own Apparel line. 
Apart from that, he is also a motivational speaker. As of now, Micky enjoys his busy wife alongside his kid and his family.