Entertainment
Muriel Bowser On Juggling Professional Front Amidst Raising A Baby In Pandemic
Muriel Bowser has done a perfect job juggling being a mother & a mayor but one thing that stands out is does she have a husband by her side or possibly a wife?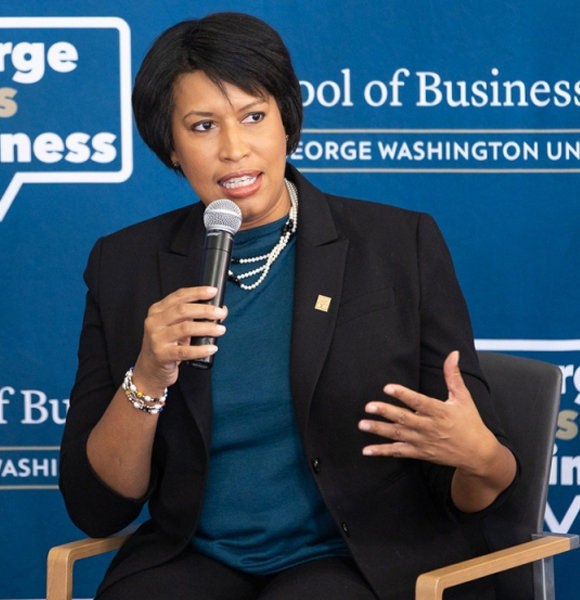 "I knew that I had a lot of love to pour into a child," tells the Mayor of Washington DC to Today, while expressing her gratefulness of being a mother. 
The job as a Mayor of one of the major cities of the US is a hard job on its own but juggling life with a 3-year-old is no easy task at all.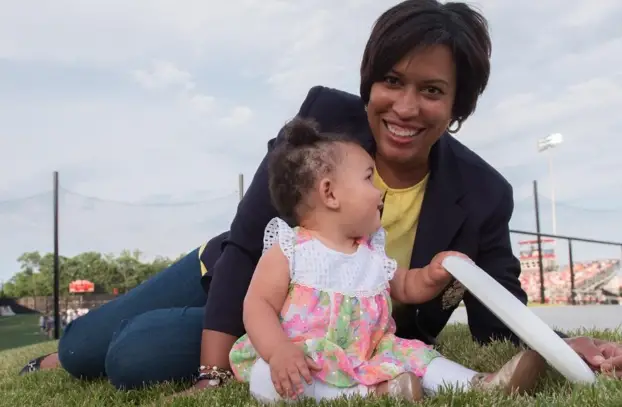 Muriel Bowser With Her Daughter (Source WUSA9)
However, Muriel Bowser does a fantastic job of fulfilling her role as a mother.
Although being very busy in her life, she manages time to have a one-one with her daughter.
Talking with the American University radio about managing time for her daughter, she said, 
"When I'm with Miranda in the morning, that is just our time. To wake up, get her dressed, read to her in the morning, and I try not to be interrupted. That's not always possible; We'll make up for that time,"
Her daughter Miranda is her one and only daughter. But who does she share her daughter with? 
Who Is Muriel Bowser's Parter?
Bowser is a single mother to Miranda. However, the beautiful woman does not share her daughter with a husband or a partner. In fact, she does not have a husband, nor she ever did. 
She is strictly into other beautiful women like her. So yep, the Washington DC mayor is an openly lesbian politician. 
She adopted her daughter, Miranda, back in 2018 when she was a little baby. 
Bowser got even more caught up amidst the pandemic as she had to take care of a whole state and at the same time nurture her daughter.
While taking to Fox5, she explained how hard of a job it was to juggle the life of a mother and a politician. She said, 
"I have learned how hard it is...I'm lucky that I have a great family, a great set of friends. I have a great team at the office as well. We haven't dropped the ball in any respects. But I have had to learn how to get a lot packed into shorter time."
Amidst all of the talks about her life with her daughter, her dating life is rarely in question. Well, that is because the 49-year-old is actually single. 
As of now, her plans of having a wife in her life seems to be the least of her priority, and the ongoing pandemic makes it hard for her to focus on her personal life. 
But her advocacy towards the right of LGBTQIA+ has always been on top of her priority. As a result, she was named lesbian activist as head of LGBT Affairs Office back in early 2015. 
This weekend, we celebrated our #DCValues. Our values in all people is what makes DC the greatest city in the world 
Wrote the Mayor while parading for pride month.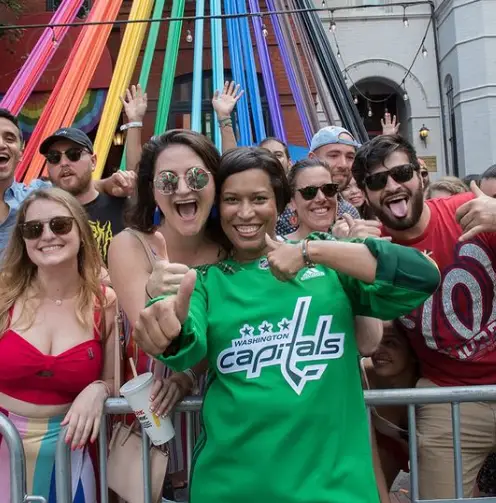 Muriel Bowser During Pride Parades (Source Instagram)
The smile on her face while holding the pride flag and her active involvement in the parades with the locals just shows her passion and enthusiasm for advocating LGBTQIA+ rights. 
While she is a famous face now, garnering over 130k followers on her official Instagram account, very few people know about who Muriel Bowser actually is. 
Who Is Muriel Bowser?
Born on August 2, 1972, as Muriel Elizabeth Bowser, she is the youngest daughter of her family.
Muriel grew up with five other siblings in North Michigan Park in northeast D.C. Born to parents Joe and Joan Bowser, she went to a private all-girls Catholic high school in Maryland named Elizabeth Seton High School. 
An excellent student in high school, Bowser academically excelled to get a college scholarship. She graduated from Chatham College in Pittsburgh with a degree in history. 
She began her political career in 2004, where she ran for Advisory Neighborhood Commission. But her life changed quickly in 2007 when she was elected as a member of the council of the District of Columbia with 40% of the total vote. She was again reelected in 2008 and 2012.
Finally, in 2015 she was elected as the eighth Mayor of the District of Columbia by 54.53% of the votes.  She proved to be notable during her time of Mayorship and made many changes from Gun laws to Crime law regulation to Budgeting and Education, to many more. 
Achieving a dream that she never knew she had, she was able to fulfill it not once but twice.
She is the second female Mayor of the District of Columbia and the first woman to be reelected to that position.