Ralph Carter Has Decided to Live a Life Away from The Eyes of the Media along with His Wife and Children.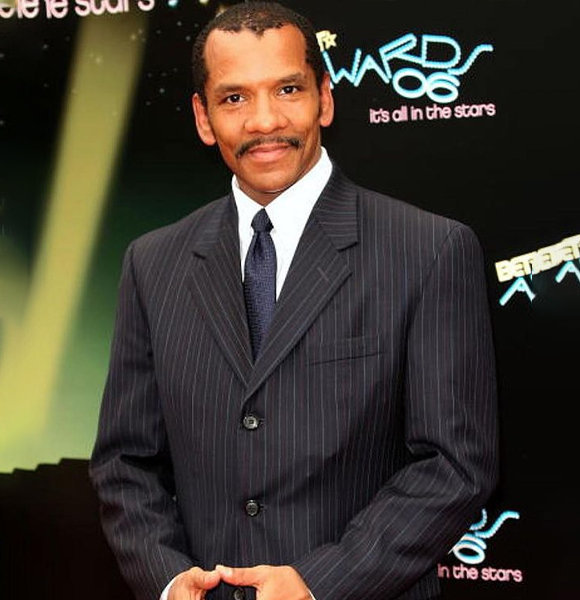 American actor Ralph Carter has his version of a movie-like love story that he experienced firsthand. Like a scene from a rom-com Christmas movie, he met his then-wife at a Christmas party.
Ralph Carter's Wife
Many of you have probably watched Christmas movies, and since it's December, even more reasons to watch festive films. But today, we are diving into Carter's version of a real-life classic Christmas romance. 
The singer, primarily known for his role in the famous 70's show, "Good Times," met his first wife, Lisa Parks, during Christmas. 
It was 1982 when now transitioned actor to the singer, Carter, met a girl at a Christmas party. She was Lisa Parks, the younger sister of his best friend, Larry Parks. The two then continue their relationship for five years until they decide to commit a lifetime.
Broadway Actor: Beautiful Actress Annaleigh Ashford Welcomes Baby Boy, Reserved the Name Already?
The two got married in 1987 when Carter had fully transitioned his career as a singer. The decision to spend a life together blessed them with two children. They are parents to sons, Michael Ralph Carter & James Ralph Carter. 
Even after being married to his wife, he was surrounded by gay speculation. But, looking into his previous relationships, it can be confirmed that he is not gay. 
However, this story did not have a "happily ever after" as the two divorced precisely a decade after their first meeting in 1992. 
Although one story ended, shortly, another story started for Carter. After two years (1994), the Tony-nominated actor got married to River York, and now as they are on their journey of fulfilling three decades together, their married life has been going strong. 
He and his second wife have welcomed three children, Phoenix, Jessica, and Vivica.
But the "Extra, Extra (Read All About It)" singer has decided to keep his wife and his children away from the prying eyes of media. Also, he has decided to stray away from his career and live his life backed by million-dollar net worth. 
Ralph Carter's Net Worth
Born in 1961, Carter is 60 years of age as of 2021. He stepped into the acting field with Broadway at just nine years old. He was in the musical The Me Nobody Knows. 
But his breakout role happed when he played Travis Younger in Raisin, for which he was nominated for Tony Award in 1974. 
Eventually, success wrapped him tight when he starred in the television series, All in the Family, Sanford and Son, and Maude.
More On Net Worth: From Babysitter to a Famous Persona: Kathie Lee Gifford's Struggles, Family Life, Salary and Net Worth
Later on, he was cast in Good Times, which happened to be the breakthrough point in his career.
As a music enthusiast, he started to transition his career in 1975 when he released his album Young and in Love. He again released another single, "Get it Right," in 1985. 
Ralph Carter's Song Get It Right
As times went by, Carter started appearing in fewer roles, and the last time he appeared on screens was in 2005 with the release of "Ain't Supposed to Die a Natural Death."
Now, Carter lives his life away from the highlight, entertaining a net worth of $1 million, as reported by CelebrityNetWorth.