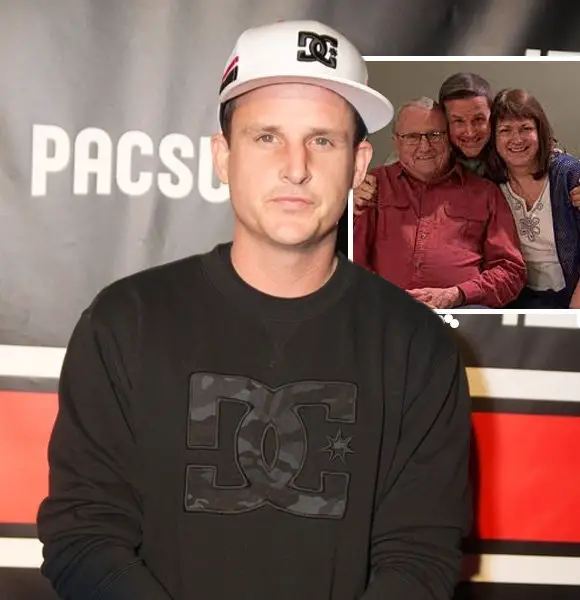 The "Jackass Forever" actor, Rob Dyrdek, is one of those actors and entrepreneurs who has been gathering millions of fans through his devotion and dedication to anything he tries his hands on.
 He is a man of versatility who finds his parents credible for all the wondrous accomplishments he has ever made. Having a hand over a child's head is more of a blessing that keeps on showering from the parents.
 Those blessings have turned Rob's life into something millions of people seek motivation from. So, dusting off the base, here's what he has got to learn from his parents.
Rob Dyrdek's Parents
They say, "Behind every young child who believes in himself are the parents who believed in him first."
Based on the saying, Rob never misses an opportunity to credit his parents for whatever he has become. 
He is the youngest child of the family born from his dad, Gene Dyrdek, and his mom, Patty Dyrdek. Moreover, he grew up in Ohio alongside his sister, Denise Dyrdek. 
Rob is one of those luckiest kids who never had to stay separate from the biggest inspirations of his life. Instead, he grew alongside a family of four, where the bond of his parents always held intact.
Rob also posted his feelings towards his mother on his Twitter handle with a nostalgic caption. which read,
" I wouldn't be the man I am today without the unwavering love my mother raised me with. I put her through so many things that either upset her or made her wonder what she did wrong that I turned out so crazy. But, she's been a willing and unwilling participant in…."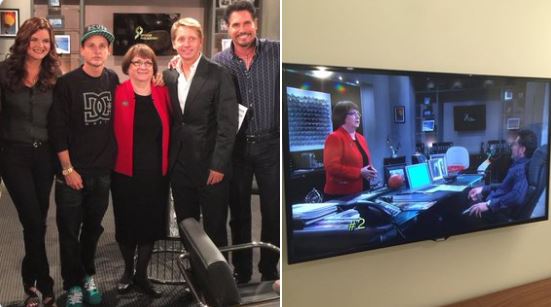 Rob Dyrdek Twitter Post About His Mom (Image Source: Twitter)
Also, he posted a picture on Instagram, where he hung out with his father, playing golf, he captioned the picture by writing, 
"The father/son golf battle comes down the final hole, and @genedyrdek1940 does it again. Almost four years to the day when he hit the 20 footers to beat me on the same hole, he hits the clutch eight-footer for victory once again. Priceless memories."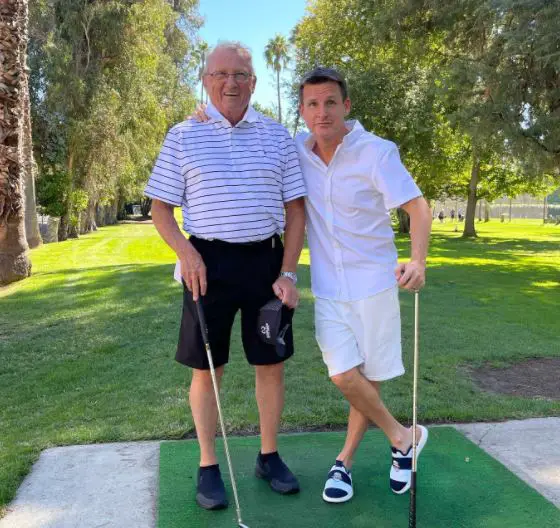 Rob Dyrdek with his father playing golf (Image Source: Instagram)
Being from a generation where the children try to get rid of their parents, he still keeps them in his heart with immense love and gratitude. He tries to immerse as much of his time possible in his family.
In one of the interviews, he opened up on how his dad and mom always let him do what he wished for.
Rob wanted to play skateboarding, and he was allowed to; he wanted to drop out of school and live on his own; was allowed to; Rob was never stopped from doing anything he wished for, due to which he has become the man he is today. 
After years of dedication, persistence, hard work, and of course, his family's faith in him has led him to achieve the success he thought was miles further.
Today, he also has built up a beautiful family alongside. 
Rob Dyrdek's Wife & Children
After years of patience in all the efforts made, Rob decided to lead his life further.
He decided to ring the wedding bells with his long-time girlfriend, Bryiana Noelle Flores, an actress, model, entrepreneur, and beauty queen. Rob found a partner as enthusiastic and versatile as him.
The way Rob chose to surprise his girl with engagement was quite special, he decided to take her on one of their dates, where they headed off to Disneyland. 
The couple was watching Aladdin when Rob got out of the theatre with an excuse of being to the washroom. 
Afterward, he snuck out from backstage and brought in a wild public proposal asking Bryiana to be his wife. His girl was shocked at how things happened so quickly yet unexpectedly. She immediately said yes with a gleaming appearance on her face.
On 19th September 2015, they tied the knot. Today, their love shimmers with two adorable kids, Nala Ryan Dyrdek and Kodah Dash Dyrdek. He never misses a chance to compliment his wife.
In one of the recent Instagram posts, he says,
"Hope everyone had a very Merry Christmas. There is nothing quite like the pure joy in the spirit of kids on Christmas morning. Thank you, @bryianadyrdek, for always making it so special for our whole family."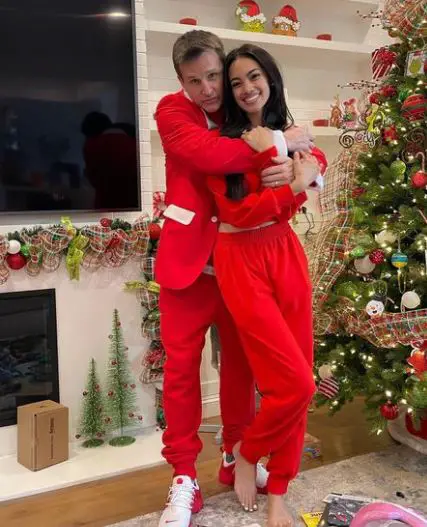 Rob Dyrdek alongside his wife Bryiana Dyrdek (Image Source: Instagram)
A millionaire like him is cherishing a life worth billions today.