Entertainment
Rollo Tomassi Dissatisfaction Towards Marriage And Divorce Laws
Rollo Tomassi despite having a wife and a daughter is against marriage and openly voices concerning divorce laws' disparity towards men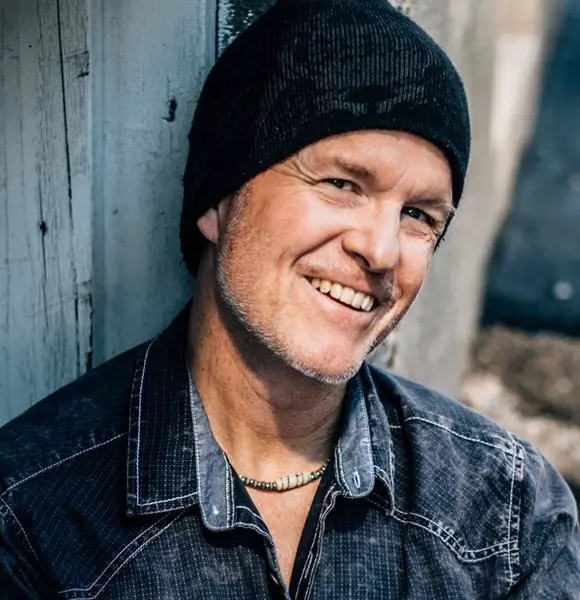 The author of the popular book series "The Rational Male," Rollo Tomassi, openly voices his dissatisfaction with divorce laws' disparity towards men. He expresses how the laws favor women more and have ultimately acted as a catalyst for 50% of marriages ending in divorce.
Does Not Support Marriage?
The manosphere merchant is in a happy marriage with his wife for about 25 years, but he oftentimes condemns some of the liberties that women have inside the marriage over men.
He is the author of "The Rational Male" series which openly discusses the way men should be treated in marriage and condemns the actions that harm them.
Tomassi finds it very disturbing the way marriage is practiced today and finds it as an agreement between two people that will later end in divorce.
He also describes that marriage is the "worst decision a man can make in his life at present."
So how is a married man with over 25 years of experience so against marriage?
Well, he actually is not. Rollo just condemns the practices inside the marriage and the laws that are against men. In the fourth series of his book, he writes,
"Marriage is a good idea ...... It's how we execute it in the 20th and 21st centuries that makes it one of the worst prospects imaginable for men."
On Jan 5, 2020, he posted a tweet where he wrote that a husband should not ask his wife's permission to purchase things and rather should have their own decision while purchasing things.
He tweeted,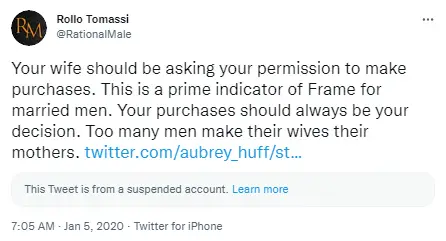 Rollo Tomassi's Tweet (Source Instagram)
Further looking into his Tweets, he also looks like someone to support the "Alpha male" characteristics. For example, in one of his tweets, he explains how he has a daughter, but he would rather see a display of Alpha males rather than Beta males who have been taught to hate their genders since they were 5 years old.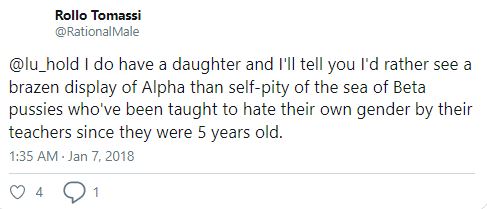 Although he has garnered a lot of fame and acknowledgment by the name of Rollo Tomassi, that is not his real name.
Who Is Rollo Tomassi? 
Washington Examiner reports Tomassi's name to be taken from the 1999 movie The Matrix. His name is an adherent of the red pill, which gives the men the power to know the unvarnished truth about women and relationships.
He explains men's relationships with women as taking a "blue pill," where one can enjoy the fruits of relationship and love as long as they act like a 'nice guy.'
Rollo's YouTube channel goes by the name of his famous book, The Rational Male. In his channel with over 131k subscribers, he discusses the issues about intersexual dynamics, relationships, and topics from his four-part book series.
Often times called the "Godfather of the Red Pill," he has been associated with the terminology of manosphere for about 20 years now.
He initially gained much attention from his blog named "Rational Male," which he eventually marked to his book and released his first book, "The Rational Male," in 2013.
As of 2021, he is 53 years of age. His fourth book series was released on Jan 3, 2021, named The Rational Male Religion.