Celebs
Shannon Bream and Her Husband's Bond- Withstanding the Test of Time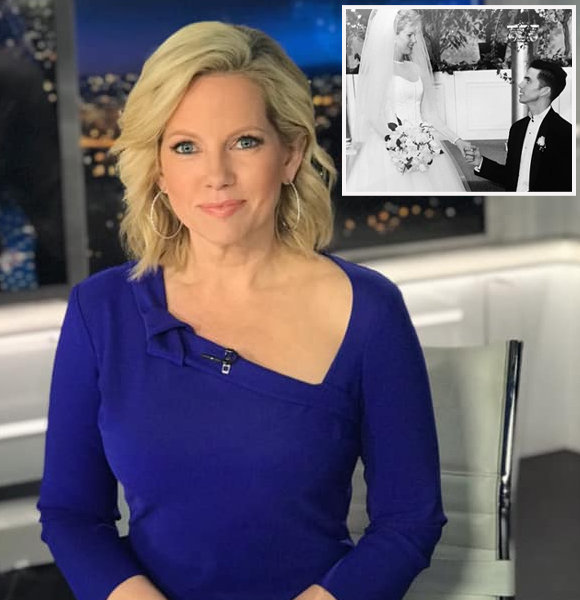 The Fox News Channel journalist, Shannon Bream, is a graceful lady who has ignited the sparkle in her name with the power of her words.
She is also a woman of strength who has faced tremendous challenges in her life, including her husband's deteriorating health battling cancer. Yet, despite all these, she keeps her chin up and mesmerizes millions of people with her impeccable strength in words.
Shanon Bream- Husband's Battle with Cancer
Love is a term that carries the essence like no other. The hearts unite to one, souls light up from within, and the concern they share among each other is ineffable. Shannon, therefore, believes in this ethereal term and cherishes the bond she has with her husband, Sheldon Bream.
The lovely couple tied their knots in 1995 and have been together ever since. Years of bonding yet so precious and beautiful. However, Shannon came across the most heart-wrenching part of her life within all these.
This moment had hit her before her wedding with Sheldon. Sheldon was an athlete whose health looked completely fine and well.
However, he always complained about the constant ringing in his ears, which worried Shanon about his health.
Later, the couple went to the doctors and consulted about the problem. But unfortunately, after quite a long procedure, Sheldon was diagnosed with a brain tumor that could turn into fatal cancer.
The health report shattered them into pieces. Shanon says,
"It just kind of threw our whole world into a tailspin,"
The doctor had mentioned how the tumor was the size of a golf ball which scared the couple even more. Also, the most fearful factor was if the tumor carried some pus within, it could have turned into cancer.
So, with nervousness hovering around, Sheldon underwent a nine-hour-long surgery where he got the tumor removed. Luckily, the tumor was clean, and all the cancer risk factors were gone.
But unfortunately, the sudden removal of the tumor affected his facial tissues a little, which led him to suffer from severe paralysis. Shannon didn't leave her partner alone in the battle despite so much happening.
Instead, she walked besides holding his hands and making him believe in her presence. Despite the heart-rendering circumstances, they were both engaged yet committed to each other heartedly. 
However, the doctor said the recovery would have initiated once his mouth showed movement. And one day, while the couple was on a date, Shannon noticed his mouth move, which made lovebirds jump out of excitement despite many people watching them. They didn't care as their happiness flourished like no other. She said,
"We jumped around a Pizza Hut, and it was wonderful. It was just so exciting because then, from there, he slowly began to recover. And it still took a while. But thank Ghe'se's good. No more return of that."
Soon after, the couple got married and walked the beautiful steps as an adorable husband and wife. The reason behind their enduring bond to this date is the dedication and efforts they have put in their relationship to keep it pure and intact.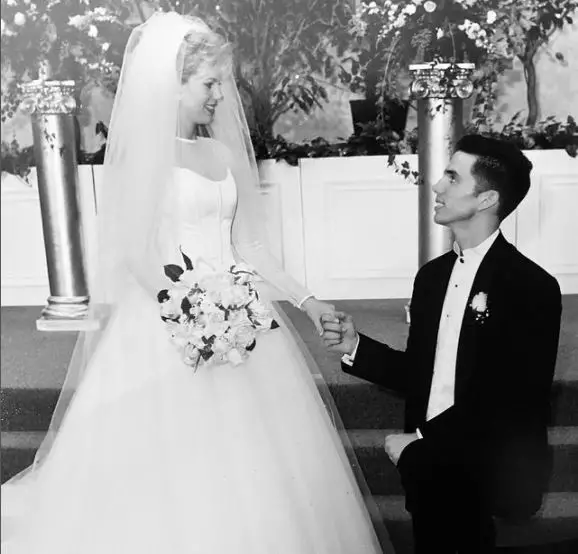 Shannon Bream With Her Husband, Sheldon Bream (Image Source: Instagram)
Also, read about another Fox News Channel journalist- Is It Just the FOX News Salary That Contributes to Monica Crowley's Net Worth?
After twenty-five years of togetherness, Shannon shared this adorable picture of her wedding with her husband, Sheldon Bream, on her Instagram page. She had a heartwarming caption beneath that went, 
"5 years ago tonight! I knew I was crazy about this guy, but I couldn't know what an incredible husband he would be. We've been through some dark valleys and had the best adventures. He loves me, protects me, respects me, and supports my crazy dreams. God blessed me beyond measure when He sent me Shel."
She added,
"Ladies, wait for the right one - the guy who cheers for you, picks you up when you fall, and fights for the two of you. Like we always say: we aren't perfect, but we're perfect for each other. Where did 25 years go!? Here's to at least 50 more. "
The caption clearly shows how years of bonding are going strong and good. They have lit up a pure example of an ideal couple.