Entertainment
Sindhu Vee & Her Husband Have A Common Goal On Their Marriage Of Over Two Decades
Sindhu Vee gives out all the details about meeting her husband, being a working mom to her kids, and how she creates her comedy script during an interview.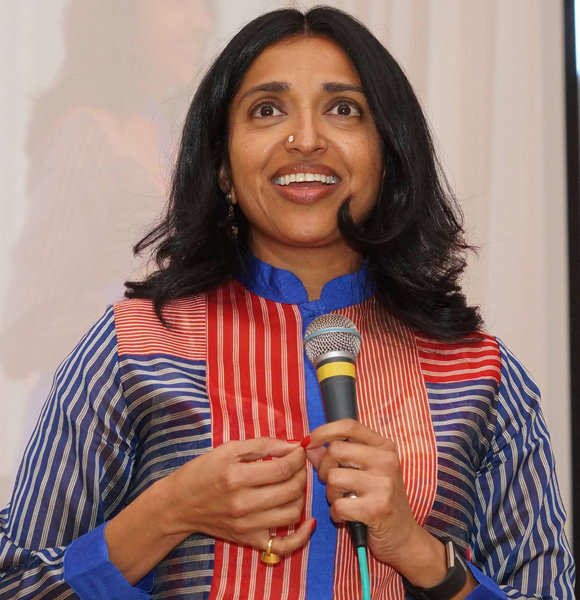 "My husband and I have a common goal in marital therapy.......making me happy."
Standup comedian Sindhu Vee shared through her Twitter post.
Looking at the post, it's pretty clear her husband is doing a great job making her happy, as the two have remained a married couple since the 1998s. 
How Sindhu Met Her Husband?
Sindhu's relationship with her husband dates back to when she was a college student. Talking to The National, she shared about meeting her husband while she was studying on a scholarship in the US.
Though their initial encounter was short, the two had the chance to get together again in London. But this time around, her Danish husband, who currently works in finance, did not waste any time and asked her out shortly. In her words, 
He was only there for a term. But then years later, we both ended up in London. We probably met three times with friends and then one time he said 'I think we should get back together.' Twenty days later, he proposed. 
Although their relationship was smooth sailing, Sindhu perceived marriage differently. To her, it was the beginning of hard work, and she always believed she was going to have an arranged marriage. 
Interestingly, one of the major obstacles in finding her an arranged partner was height.
Yes, you read that right!
Being five feet ten inches, Sindhu wanted her pair to be taller but did not have luck finding an eligible guy.
Well, her Danish husband turned out to be lucky that she winded up with him. Likewise, the stand-up comedian Sindhu also considers herself lucky that she did not wind up doing arranged marriage. 
Despite the two being of vastly different personalities, the husband and wife share the same belief regarding marriage. Destined to be together, the pair exchanged vows in 1998. 
Sindhu Vee's Happy Family of Five
Expanding their family of two, the pair are now parents to three wonderful kids. However, the initial ride to parenthood was not as easy for her. 
Realizing her job as a banker was not letting her spend enough time with her child, she quit after her first birth. She shared her struggle of being a working mom, saying, 
I used to sit in the bathroom at work and cry because I missed my baby. I transformed into someone I didn't recognise. You never know how love will affect you.
On the bright side, quitting her job let her be the nurturing mother she always wanted to be, but remaining jobless began weighing down on her. 
Banker Turns Comedian
After she welcomed her third child, the doting mother looked for her options, and, following her friend's suggestion, Sindhu found her place on stage as a stand-up comedian. 
Being on stage, I realised it was something I had to do again. 
Sindhu said, realizing that comedy was her calling.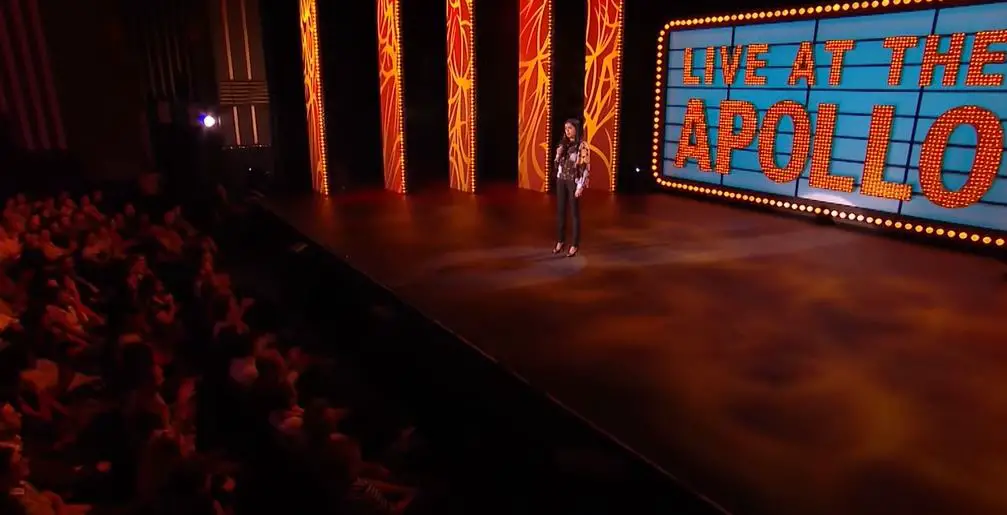 Sindhu Vee performing in front of a crowd at Live At The Apollo (Source: YouTube)
Although she had no background as a comedian, she was a total natural from the start as soon as she picked up the mic. 
Talking about her success as a comedian, Sindhu said she had plenty of content for her comedy from her day-to-day life with her family. 
Her show-stealing amusing comedy script surrounding her husband and children got her from her humble beginning to being the BBC New Comedy Award nominee in 2016. 
More so, the comedian is on fire with her recent tour titled Alphabet that started in May this year, and the details of her upcoming shows are up for grabs on her official website.