Entertainment
Slimecicle's Proposal To His Girlfriend Was Simply Magical
Slimecicle, a popular face in the Youtube and Twitch world got on one knee expressed his love towards his girlfriend but was it actually a proposal?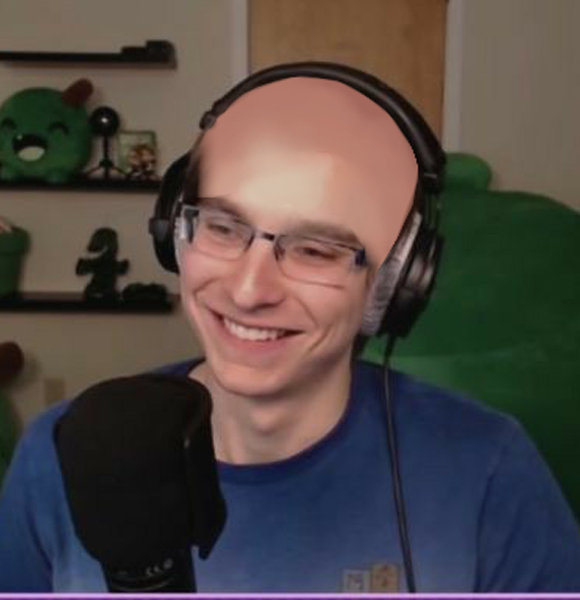 Popular YouTube face, Slimecicle's proposal to his partner beside a lake during a beautiful sunset looks straight out of a movie.
On January 25, 2020, Slimecicle posted a picture of him and his girlfriend beside what looks like an ice lake. He got on one knee in front of his girlfriend and asked her, well, cut to the chase, he was actually promoting his new 'Youtooz'.
So no, it was not a proposal. However, you can't blame someone for thinking it was one.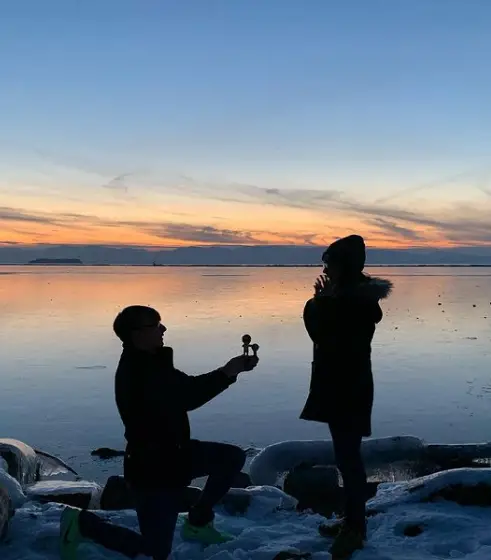 Slimecicle With His Girlfriend (Source Instagram)
See? Even you got confused for a second.
He landed on one knee and handed out his Youtooz to his girlfriend. 
The perfectly faded orange sunset created a picture-perfect silhouette of the pair, and the lake and snow just add to the magic of the picture. 
It looks like something out of a dream!
Talking about dreams, it surely would be a treat to watch Slimecicle's 'real' proposal to his girlfriend as his fans have dreamt of the two opening a new chapter of their life since forever.
Life Alongside Lifeline
Happy birthday to the cutest face in town. Love you bunches.
Wrote the Youtubers girlfriend on the occasion of his birthday.
The Twitch streamer is in a relationship with Grace Safford. Going through her Instagram account, she seems to be fond of plants and flowers. She shares pictures of different plants and flowers, and as per her bio, she is a gardener as well.
Safford is also a writer which is pretty evident by her social media. And apparently, she calls herself an Ugly sock collector.
Going through Grace's Twitter account, it looks like the pair have been together for a long time now. On August 18, 2018, grace posted a picture of Slimecicle with a caption,
Finally living with my best friend
This post shows that their relationship dates back even before three years and that they are in a living relationship.
Grace occasionally makes an appearance on her boyfriend's YouTube channel. On the occasion of 1 million subscribers special, the pair got together and made slimes and did a whole lot of fun together.
The precious moments shared by the two on the video clearly reflect the wonderful relationship of the two.
Slimecicle And His Gf Grace Safford
As of now, his channel has grown to over 2.9 million subscribers. Although being open about his relationship with his girlfriend on all of his social media platforms, The 23-year-old YouTuber is rumored to be gay after a video posted by him back on 23 January 2017.
Is Slimecicle Gay?
"At thirteen, I knew I was different from the other boys. I didn't have the same interest as they did, and i worked hard to hide it."
On a video titled 'Coming out,'  Slimecicle, age 23, explored back to his childhood and his experiences. He shared how he began searching for answers on the Internet.
Upon exploring himself, he shared how he 'turned on the camera, and tried something new' as he could not show it to his friends in person.
He showed the picture to his friends and revealed that many of his friends were like him. He says,
... Turns out many of my friends were like me, that had been experiencing too in slightly different ways. Of course, there were people who didn't understand....... After I started meeting people in the community... my parents found out
But eventually, his parents found out, and his father questioned him about his actions on the computer screen.
While he tried to answer his father, his mother ran into the room and further questioned him.
Having enough of the questions, he finally revealed to his parents that he was actually a YouTuber who makes funny content on YouTube.
His youtube video was nothing but sarcasm. But due to his jokes, he is still subjected to being called gay.
After making the video, he cleared the air of his video being nothing but a joke. He Tweeted,
I made a video I thought would be funny - now half of my fanbase thinks I'm gay, and the other half unsubscribed. — Slimecicle (@Slimecicle) January 23, 2017
With him being in a relationship with a woman, we can confirm that the Youtuber is not gay.
Slimecicle continues to post content on his YouTube channel, and most of his videos usually cross a million views mark.
As of now, he stands at 882k Instagram followers, and he is on his way to hit the 3 million mark on his YouTube channel.