Celebs
Insight on Steve Schmidt's Married Life Alongside His Kids
Steve Schmidt has kept the details of his married life and relationship a private matter which raises questions as to 'Who Is Steve Schmidt's Wife?'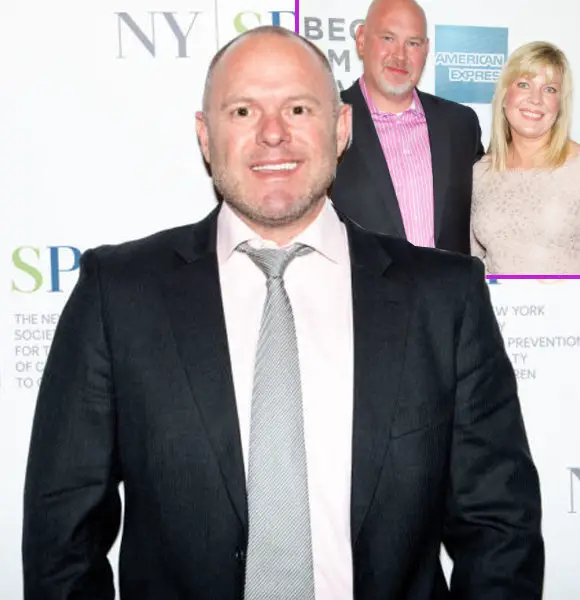 Steve Schmidt is known for playing a very vital role under the presidency of George W. Bush.
The communications and public affairs strategist is known as a "damage control master" all over America. Still, someone with such a high-profiled political career has kept his personal life wrapped up.
The world knows about the milestones Schmidt has achieved in his career, but very few people know about the inside of the 51-year-old's personal relationships.
Who Is Steve Schmidt's Wife?
Now, a Democratic party supporter Schmidt started off supporting Republicans for three decades till 2018. Schmidt loves to voice out his political opinions freely but shies away when it comes to talking about his personal life.
Although many are unaware of his relationship status, by the looks of it, he seems to be single now. However, the 51-year-old was a married man once and had a wife.
He was previously married to his ex-wife Angela Schmidt. She used to shower support on her husband's campaign and movies.
Yes! This political personality has also appeared in movies and documentaries, which are mainly political. The SES strategist was married to Angela, who worked as a labor delivery nurse.
The two used to make occasional appearances on events, but there is not much insight on their marriage or why it broke off.
Although Steve has successfully kept his married life under the radar and does not bring any new relationships to the surface, he clearly shows the love and compassion he has for his children.
Schmidt lives a fulfilling life alongside three beautiful children, and he occasionally updates the world about his life with them.
Life with Kids 
Schmidt is a father to three children. His children are from his marriage with his ex-wife Angela Schmidt. On July 21, 2021, Schmidt shared how he took his kids out to a tragic landmark from history. 
He felt the necessity to bring along his children because the landmark was the one where children were imprisoned, and many crimes took place. 
Likewise, in another tweet from back in the day (2018), on the occasion of children's day, he stated that it was a terrible father day because of the horrors the children in the USA  had been placed on; however, in the same tweet, he addressed how he was super grateful for three healthy children and that they were, "joy and loves" of his life. 
It is quite evident that Schmidt still keeps the life with his children very private and only mentions them whenever he feels hurt as a father with any ongoing situation.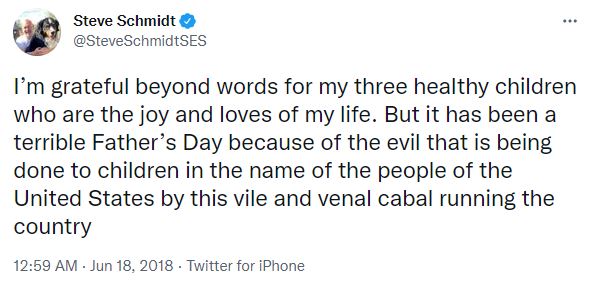 Steve Schmidt's Tweet On His Children (Source Instagram)
However, these gestures show how much Steve loves his children and is fond of them. He might share very few details of his personal life; we hope he is happy with his life and his new party transition.
fkw: is steve schmidt married  who is steve schmidt wife