Entertainment
Sydney Penny's Happily Married Life with Husband & Children
Sydney Penny, who lives a happy life with her husband has raised fans' curiosity about what she up to now?
American actress Sydney Penny is not big on posting when it comes to social media. However, every time she does, she makes sure it is on a beautiful occasion. 
A post from back on September 30, 2019, features the All My Children actress alongside her husband, sharing soulful smiles on the occasion of their anniversary. 
Coming to 2021, the two have happily completed their silver jubilee and are on their road to hit another glorious uncountable decade together. 
Sydney Penny's Husband 
"Happy Anniversary to us! 24 years and counting!"
Wrote Penny on the occasion of their 24th anniversary. The post was made in 2019, meaning the two have completed their 26 years together this 2021.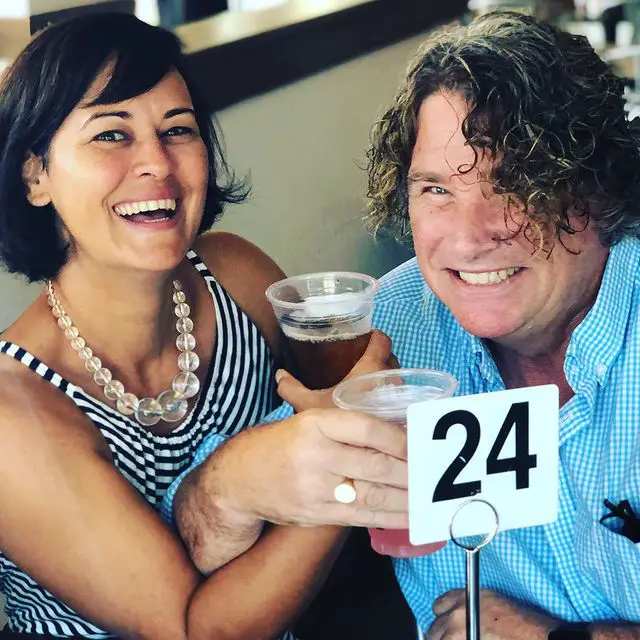 Sydney Penny With Her Husband (Source Instagram)
Life rewarded Sydney with a glorious career, but it also added a loving husband and a son to complete her happiness. 
She got married to Robert Powers in 1995, and together, the two share a son named Chasen August Powers. 
Another Anniversary: Make Your Anniversary Special: Top Ten Ideas for Celebrating Your Wedding Anniversary: Make Your Life's Every Single Moment Memorable
Her son is fourteen as of now, a charming teenager backed by a loving father and mother. Lucky Kid!
On his thirteenth birthday, Penny took to her social media to wish her son a very happy birthday. Sharing a picture of her son with blonde curly hair and greenish- eyes, she wrote, 
"Thirteen years of pure joy. Happy Birthday to my sweet boy."
Penny, age 50, juggles her personal life and professional wife well. As a result, she is still very much relevant in the acting industry and has continued to land roles in popular movies and TV series. 
Being an actress helps Sydney entertain a good fortune but what has added to her net worth over the years is her own ventures.
Sydney Penny's Net Worth
Sydney, alongside her husband, is big on business and investments. Her husband, who is an Arts enthusiast, also has his own art page on his Facebook account. 
Born in 1971, she started working behind the cameras when she was just ten years old. She appeared on The Thorn Birds with the role of young Meggie. 
Her most notable role came when she played the role of Megan Wheeler in Pale Rider. However, she is mostly known for her role in All My Children and CBS's The Bold and the Beautiful. 
Although choosing to play a few roles over the years, she has given justice to every role she has done. 
Her recent venture in movies was in the 2017 movie Mountain Top where she played the role of Judge Coberg. 
The 50-year-old runs her own production company, and her husband is the owner of Curly's Q Sauce. Together the pair also purchased Jester's Cafe in 2016. 
Similar Net Worth: Enjoying the Net Worth of $2 million, Fox News' Gerri Willis living happily with her Married Husband. Children?
Penny now entertains a net worth that ranks her to a millionaire list from the entertainment industry to business alongside her husband. 
As per CelebrityNetWorth, she boasts a net worth of $2 million.