Sports
Tiki Barber's Life with New Wife After Divorce- What Happened?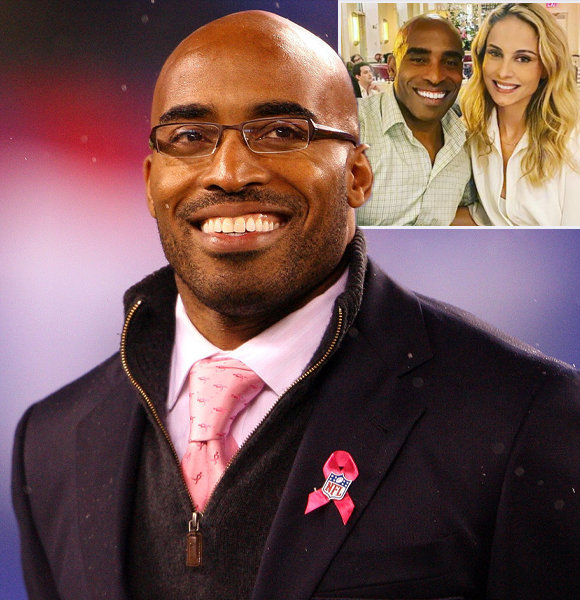 Widely celebrated for his outstanding football career, Tiki Barber's happy married life is just another aspect of his life that contributes to his happiness alongside his formidable career. 
He has been married to his wife, Traci Lynn Johnson, for exactly a decade now. Although Tiki has a partner who heavily caters to his happy life, she is not the only spouse he has ever had. 
The former New York Giants player was married before Traci, and well, it's a whole story on its own that cannot be missed. 
Tiki Barber's Wife 
Barber married his now-wife back in 2012, and coming to 2022; the two have spent a decade together, raising a beautiful little daughter named Brooklyn Barber. 
Barber was previously married to his ex-wife Ginny Cha, and although the two divorced, it was harder for Traci to be accepted by people into his life. 
It was reported that Traci came into Tiki's life fully knowing that his first wife was pregnant during the time with twins. 
Their marriage happened in 2012, while Tiki first filed for divorce with his first wife in 2010. But all the hatred that Traci gets for being a "homewrecker" is beyond her apprehension. 
Talking about which, she said, 
"The people who keep saying all these negative things about me don't know me at all," 
Their marriage during that time garnered a lot of media attention, landing Traci in a negative light, one which she says made her "shocked." She further added, 
"The tabloids love to write about celebrity divorces. Everyone else in the country gets divorced or breaks up with their boyfriend and nobody cares. When things bad happen, they love to exploit us."
Whatever might have gone down or might not have, the truth is there is never a smoke without a fire, and seemingly, Tiki himself had full consent and willingness to his second marriage, so Traci getting all the heat kind of seems unfair. 
All and all, that time has passed now, and the loving couple is on their road to completing ten years together. 
Personal Life Of Another Giant's Player: Leighton Vander Esch Age 22 & Girlfriend, Dating To Engaged Details
Commemorating their 9th anniversary, Traci made a very beautiful post showering her husband of 9 years with all the love. 
"9 years later and every dinner out with you still feels like a date. Here is to a marriage that is all about growth, learning, acceptance and unconditional love and loyalty. "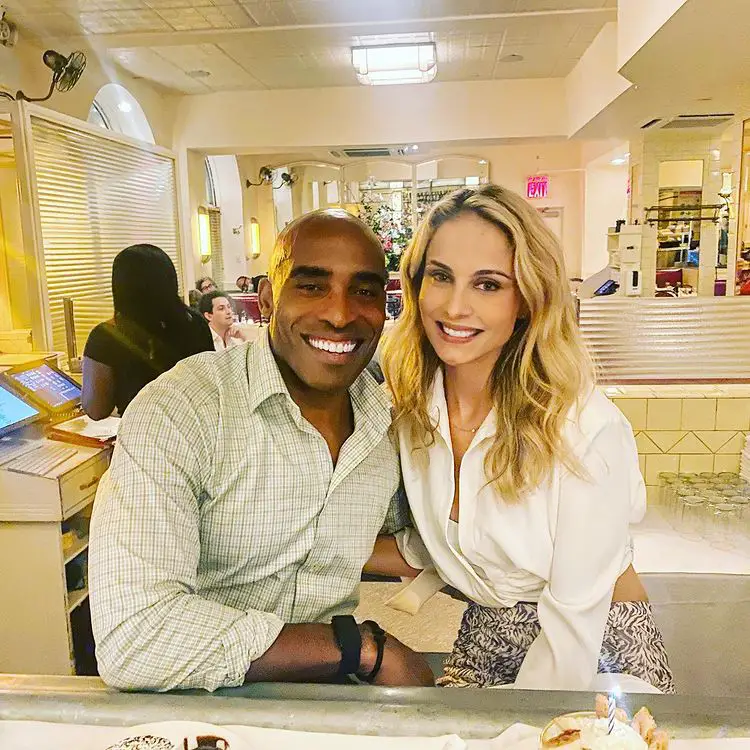 Tiki Barber With His Wife (Source - Instagram)
Traci wrote, declaring a towering love for her husband. Followed by her thanking her husband for all the evolution, love, and, not to forget, "countless dinners at cafe Lux."
As per Daily Mail, the two got married just days after Tiki divorced his ex-wife, a mother of four.
From his first marriage, Tiki is a father of four with two sons, named Atiim Kiambu Barber Jr and Chason Barber, and two daughters, Ella Barber and Riley Barber. 
Despite any media speculations, Traci seems to be a good part of his and his ex-spouse's children's life as they often come together to spend quality time in the house. 
So, seemingly Traci has a good bond with her step-children. 
Barber might have had to experience a failed marriage in his life, but he now fully cherishes the fruits that his second marriage gives him. All of which is fully complemented by the glorious professional front that has landed him a net worth of multimillion. 
Tiki Barber's Net Worth 
Barber, although now retired, is still considered on of the greatest American former football running back who played for New York Giants. 
After playing ten seasons, he retired from his NFL career, but it was the most glorious ten seasons of his life. 
Barber was drafted in the second round of the 1997 NFL Draft and went on to play till 2006, sticking to New York Giants. 
Tiki's entry-level contract was 1.6 million for three years that landed him an average salary of $553 thousand, eventually ascending to become $25 million when he signed the contract for 2001-2006. 
Fellow NYG Player's Salary: Dwayne Harris From Giants Faces A Salary Chop In New Contract; What's The Final Amount?
His massive salary surely has a lot to do with the enormous net worth that he has. He lives in Florham Park, New Jersey, US entertaining a net worth of $16 million, as reported by Celebrity Net Worth.