Sports
Is Tim Lincecum Still In A Relationship With The Mystery Blonde From 2012?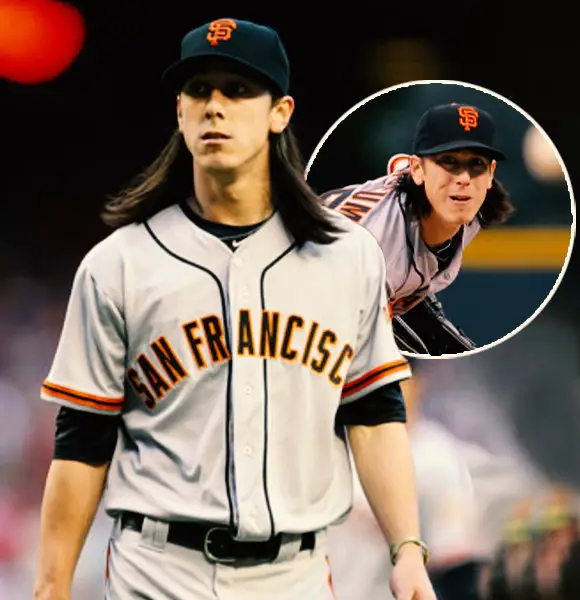 In late October 2012, on a day when half of the country was celebrating the Giants' win, half had their eyes on the screen for a different reason. 
First Appearance Together
Tim Lincecum, the former professional baseball pitcher, was holding a blonde woman by his arms. 
The San Francisco Giant's win was viewed on NCLSFOX, where Tim and a blonde woman were seen celebrating the win together. 
The woman wore a National League Champions hat and was wrapped around the former baseball player.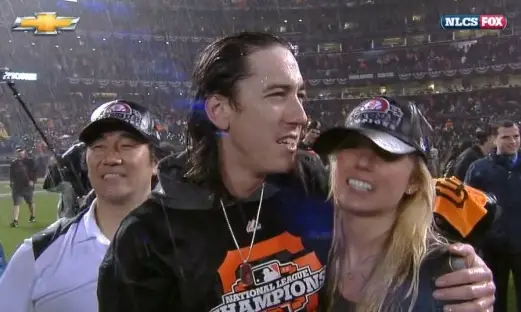 Tim Lincecum And His Girlfriend's First Appearance In 2012 (Source- Larry Brown Sports)
The mystery blond girl's name is Kristen Coleman, who later got famous by the name "Kart-girl." 
Coleman was a former elementary school teacher, and as of 2021, she is the principal of The Peninsula School. 
Going by the dating timeline of the player, he was about to get married to his soon-to-be wife, but he broke off his relationship with his former partner around 2010-11 before appearing with Kristen in 2012. 
So, it seems like they have been going strong for over a decade now.
Tim's personal life might not be a known aspect, but his career achievements have gained significant media traction. 
His parents have been his biggest supporter. Even at the start of his career, he opted to look after his family. 
How Did His Career Flourish?
Lincecum's mother, Rebecca Lincecum, was the first generation American of her Filipino parents who immigrated to the USA. His father, Chris Lincecum, was a worker at Boeing who helped his son refine his pitching motion since he was four. 
Chris used to film his practices and games and was his biggest supporter. From being polished since childhood, the baseball player grew up to break records and garnered the nickname of "The Freak" for his ability to generate powerful pitches. 
Lincecum, age 37, played two seasons of varsity baseball during his time in high school. When he was a senior, he was already named Player of the Year and won his school the title of Kingco Athletic Conference. 
A little-known fact about the player is that after his draft, he waited for a larger signing bonus so that his father could retire and he could help his family live a financially stable life. 
Drafting Journey 
After his achievements were noticed by reputed teams, many tried to sign him to their team. He was selected by Chicago Cubs in the 48th round of the 2003 Major League Baseball Draft, but he did not sign to the team. Instead, he attended university at the University of Washington. 
Winning Pac-10 Pitcher of the Year in 2004 and 2006 for the Washington Huskies, he was quickly noticed by the Cleveland Indians. The Indians tried to sign him for $700,000, but Tim refused the offer and waited for an amount to satisfy his worth. 
Eventually, he was drafted by the San Francisco Giants for a whopping amount of $2.025 million.
He also became the first player from his University to be drafted during the first round. 
Lincecum is now known as one of the best pitchers in the game. His unique pitching style has curated a different fan base for him. 
With his achievements, he is now the most beloved San Francisco sports figure and won the title of "Local legend and crowd favourite, now and forever" by Fox Sports in 2014.
In late 2019, talking about his retirement, he said, 
"I think the hardest part was coming to grips with who I was after baseball, and I haven't even done it fully yet..." 
Tim Lincecum has retired from his glorious career, but he still does not take his retirement as a formal retirement. 
Well, we, alongside the fans, are eager to see him get back on the field again.