Entertainment
Toby Keith and His Wife's Relationship, From First Dance To Having Two Daughters & A Son
Toby Keith and his wife's movie-like love story, beginning at the dance floor of a nightclub to spending four decades together as parents to two daughters and a son is worth taking a look at.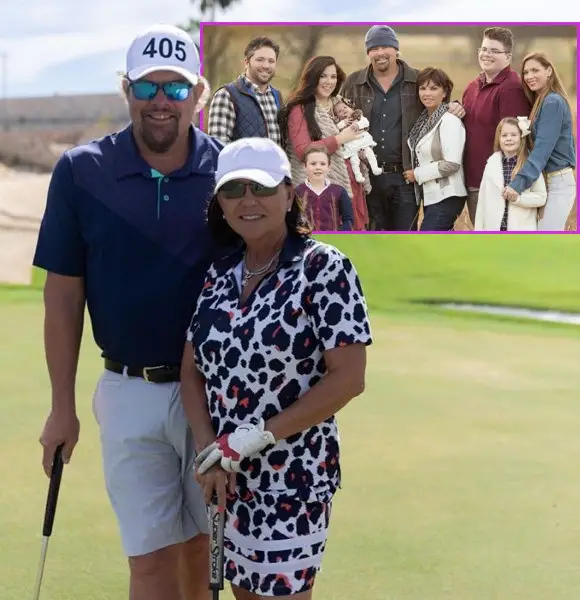 The American country singer Toby Keith's love story, which started with his first dance with his wife, Tricia Lucus, continues to grow even after four decades of togetherness. 
"She and I danced. I thought she was great," the country singer said, recalling his first encounter with Tricia at a nightclub in Oklahoma in 1981.
Bond this long is not a common occurrence amongst the public figures, but seeing Toby treasure his love for decades, his fans often knock the internet searches with the question, 'Is Toby Keith still married?'
To assure all the curious fans, the country singer is still married and committed to a lifetime of adventure together with his beloved wife.
A Look At Their History
The first night they met each other on the dance floor of an Oklahoma nightclub is something Toby and his wife will forever treasure in their memories.
Fueled with young blood, at the mere age of 20 and 19, they soon realized there was something more in store for them.
The impactful first encounter left the two falling in love, leading them to a new chapter in their lives.
After a few years of dating, the country singer and Tricia exchanged vows on March 24, 1984.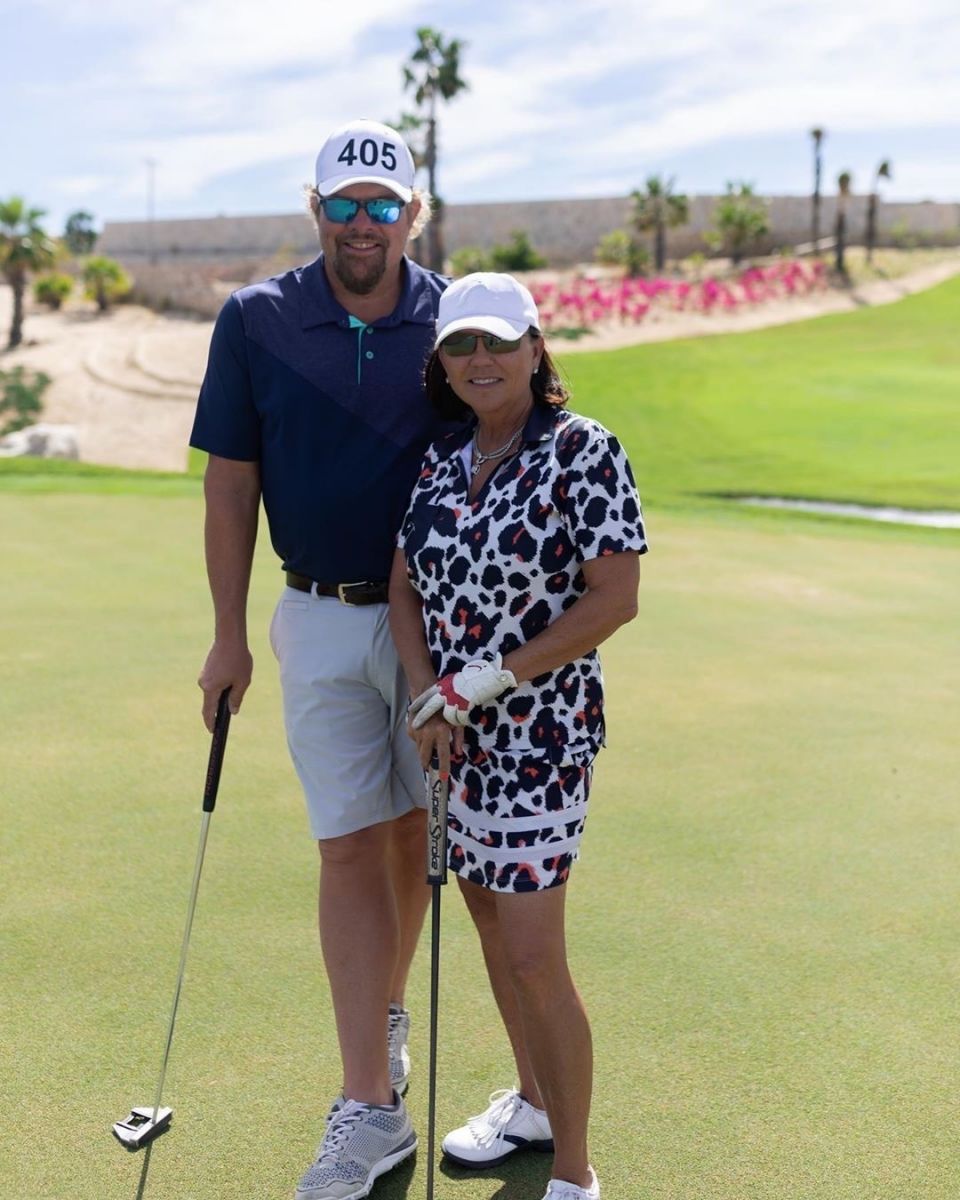 Toby Keith enjoying at the golf course with his wife (Source: Instagram)
While countless relationships have shattered, unable to withstand the pressure poured down due to excessive public attention, Toby and Keith, on the other hand, remain unaffected with whatever challenges they might have been through.
Toby's Happy Family of Five
Their relationship began when Toby was far from being the prominent musical figure he is today.
Having been there for each other since the start of their humble beginnings, the couple's humbling nature reflects through their relationship.
Toby is indeed a lucky man to have his wife as a backbone throughout his journey from being a dreamer to finally accomplishing his ambition of becoming one of the sought-after country singers.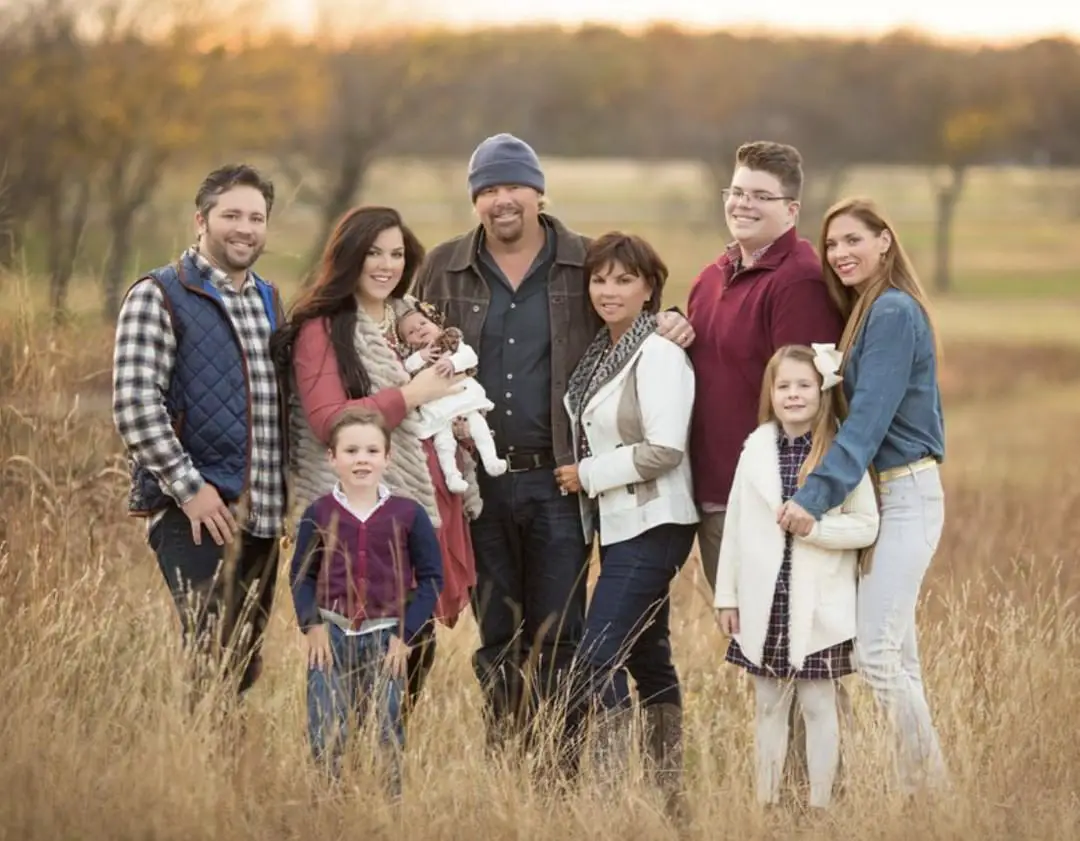 Toby sharing his family portrait on the occasion of thanksgiving (Source: Instagram)
Expanding his family of two, Toby welcomed his firstborn, Shelley Covel Rowland, in 1980. Five years later, the family further expanded after the birth of their second daughter, Krystal.
Eventually, Toby became a father to his son Steven Keith Covel, born in 1997.
All his three kids have grown to have families of their own, blessing Toby with four grandchildren.
However, Toby's journey to success in both his personal as well as professional life would have been a different story if it was not for his wife's love and support through all his hardships.
Toby's Journey To Achieving His Goals 
Before being known as the hitmaker artist, he worked regular jobs to provide for his family. But his strong ambition and relentless effort towards achieving milestones in music kept him unwithered from his accomplishments.
As almost every successful artist has their initial struggling story, Toby's story begins with him working in a bar as a singer from a few bucks and free beers.
While success seemed far from sight at the time, he continued despite all the criticism and challenges that followed.
However, it wasn't until Mercury Records approached Toby that he had his big break. Impressed by Toby's demo music, he was offered a contract with the record label, and ever since, the spotlight has never left his side.
To this date, the Should've Been A Cowboy singer released over a dozen of studio albums with numerous number-one singles, including Who's That man, I Love This Bar, American Ride, and so on.
As a result of his record hits, the singer appeared on Forbes magazine with an estimated net worth of 34.5 million dollars as of 2017. Currently, the acclaimed singer lives with family in his Oklahoma house, spread across a ten thousand square foot area with an estimated cost of around 3 million dollars. 
More on Toby Keith
The Oklahoma-born Toby Keith, age 60, was born to parents Carolyn Joan and Hubert K. Covel Jr., belonging to an English descent.
Later the family moved to a suburb of Oklahoma while young, and Toby, who stands tall at the height of six feet three inches, received his education from Moore High School.
Before taking up music, Toby worked in the oil fields with his father, who later lost his life while Toby was still young.
Later, reviving his passion for music, he embarked on a career in music, and the rest is history.