Entertainment
Tyler Hynes Reveals His Secret Girlfriend Through Social Media | Are They Still Together?
Tyler Hynes's abrupt post about his alleged girlfriend caught a lot of attention among his fans. But the question is, are they still together?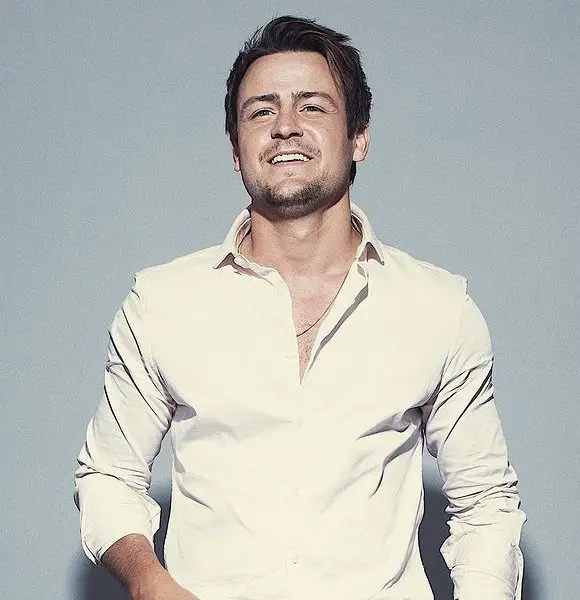 It Was Always You star Tyler Jeffery shared a picture on his Instagram with his dog and his alleged girlfriend on Valentine's day of 2017 and captioned it "Miss my girls."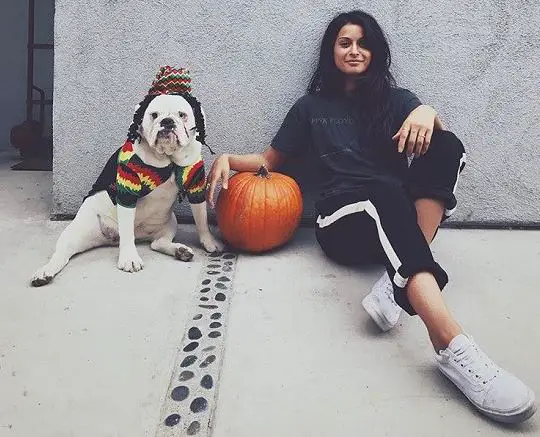 Tyler Hynes Instagram Post Of His Alleged Girlfriend And His Dog (Source- Tyler's Instagram [Now Deleted])
Who Is Tyler Hynes's Girlfriend? 
Hynes's socials show no clue of his personal life, but his abrupt post about his alleged girlfriend, Racquel Natasa, caught a lot of attention among his fans.
This was not the first the actor hinted that he had a girlfriend. Back in 2018, while talking to My Devotional Thoughts, Tyler casually mentioned his girlfriend. 
He quoted-  
"Oh, yeah, my girlfriend opened up my Twitter the other day, and I haven't been on there in so long. She told me I had so many followers on this Twitter account. I don't know if I had looked at it since I was on Saving Hope".
After the interview, Hynes did not drop any hints regarding his girlfriend or his love life. Further, the pair that seemed to be together once don't follow each other on Instagram anymore. 
The charming Canadian actor never had a wife, and neither had been engaged before. However, his charming and romantic side is very evident in his movies. 
As of recently, his new dynamic with Erin Krakow, his reel life partner, has been a widely talked about subject. The pair's sizzling chemistry has fans shipping the two. 
Relationship With Erin Krakow
The Hallmark pair seem to enjoy each other's company. No wonder their new project, It Was Always You, turned out great.
Hynes and Krakow's off-the-camera friendship has worked right in their favor, and their fans also seem to be in awe of their chemistry.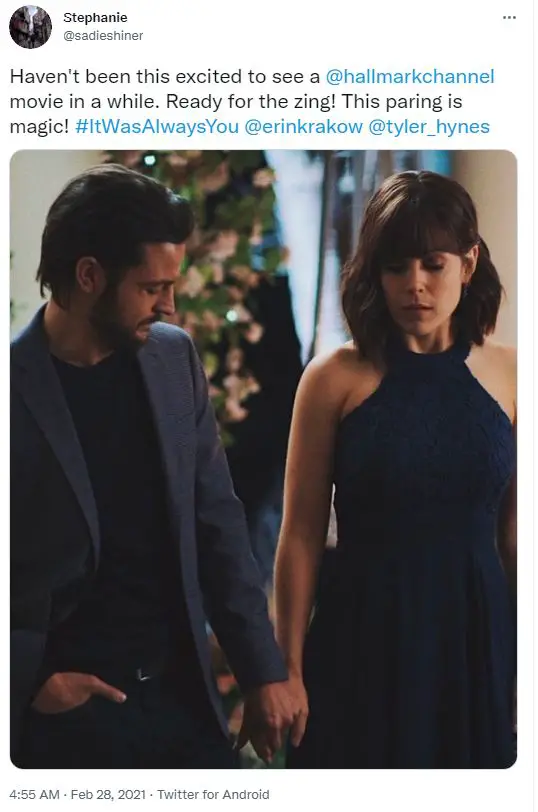 Fans Response Towards Tyler And Erin's Chemistry In The Movie (Source- Twitter) 
It Was Always You is streaming on the Hallmark channel.
Being part of more than a dozen movies, the 35-year-old actor is not taking a break anytime soon.
The Hallmark Crush
The Canadian actor has been in the industry for over 16 years. From being a part of Star Trek to Flatliners to series like Rookie Blue and Warehouse 13, he has worked on over 50 films. 
It might appear shocking, but in 2020-2021 he appeared in 5 movies in total, and his other Hallmark movie, Roadhouse Romance, is releasing this year itself. 
His lack of media appearance might make it seem like he does not play in the movies too often, but he is an actor who has never taken rest in his career. 
He started to work as an actor at 8 years old with the Musical Stage Production of "A Christmas Carol." After that, the 35-year-old continued theatre performances and, later on, moved into movies.
He made his first big debut in 1997 with Lassie, and the Hallmark star has never looked back in his life ever since.