Entertainment
Urzila Carlson Thinks Its A Nightmare To Get Stuck In A Hotel Room With Her Two Kids
Urzila Carlson has a spouse of 7 years and enjoys life with her alongside her two kids that she conceived through sperm donation.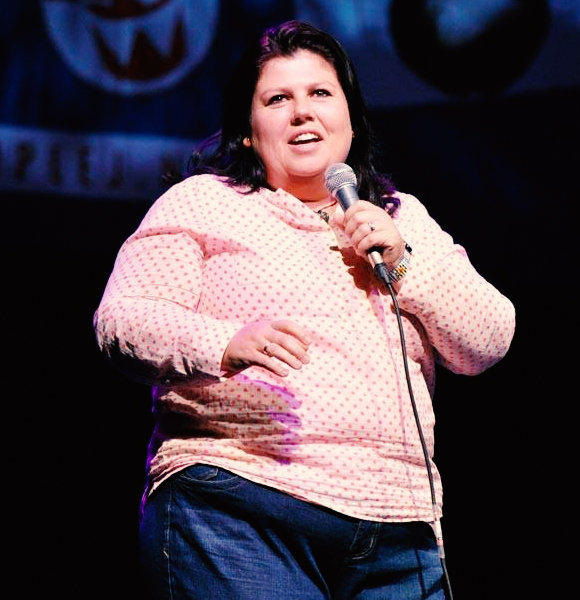 Urzila Carlson left her spouse and two kids amidst the pandemic to enjoy her quarantine in Australia.
"I wouldn't risk travelling with them (under current conditions) but also what a God damn nightmare it would be to be stuck in a hotel room with two kids, " The Masked Singer judge told The Daily Telegraph. 
Life With Family
Well, the statements might confuse our readers, but Urzila is a loving mother and a wife. So let's say it's a perk of being a comedian that she can add humor and sarcasm to her words all the time. 
The New Zealander comedian has a happy family of four, herself, her spouse, and two children. 
Urzila is an openly lesbian artist who is married to her wife, Julie. 
The pair's decision to tie the knot came after a year of New Zealand's decision to legalize same-sex marriage (2013). 
Let's say the stars aligned perfectly for the two to be together. The spouses wasted no time and decided to marry and have a family. 
Both of their children were conceived via a sperm donor, which continuously raises questions regarding the identity of the sperm donor.
While talking to The New Zealand Herald, the 45-year-old comedian expresses her anger on getting asked about the identity of the sperm donor. 
"It really pisses me off when I get complete strangers coming up to me after a gig and asking where we got the sperm from..."
Further, the Kiwi comedian revealed that in honor of celebrating International Day Against Homophobia, she and her wife decided to have their first child. 
She broke the news on May 17th, 2019, on the occasion of her first daughter's 6th birthday. 
6 years ago to celebrate Int day against Homophobia, Transphobia and Biphobia my wife and I had a baby! Our little girl is 6 years old today and she's fierce and amazing and the best big sister our son could ever have. I could not love her more! #StopHate #MyKidTheSuperHero pic.twitter.com/8HzBz6GIkK — Urzila Carlson (@UrzilaCarlson) May 16, 2019
The family of four is now residing in a three-bedroom Henderson property that Urzila bought in 2012. 
While making everyone laugh and smile through her jokes and humor, the comedian hides behind a past that is not easy for her to forget.  
Restraining Order For Abusive Dad
On late 2016, Carlson sat down with The New Zealand Herald on a segment called Twelve questions with Urzila Carlson and revealed how she was chased by her father with a gun when she was 6 or 7 years old.
Along with her siblings, Carlson ran through the back door to their neighbor's house and hid in a wardrobe while her mother hid in another. 
The tragic incident got terrifying when her father came into the neighbor's house searching for them.
She remembers how the neighbor distracted their dad and snuck her family along with her into his car, and drove them out of the town.
The family later filed a restraining order for the dad, but he still paid a visit, and again with the help of their neighbors, Carlson's dad was escorted away. 
Despite the traumatic experience, Urzila has now found solace in trying to make others happy. 
She enjoys what she does, and she does that perfectly. 
With the gift of making people smile and laugh hysterically and bring tears of joy, Urzila is one of the greatest comedians the world has to offer.