Sports
'Brad Pitt' of Track, Nick Symmonds Dating Rumors With Paris Hilton: Dedicated Medal to Gay Community
Known as "Brad Pitt of Track," Nick Symmonds is one lucky man. The reason behind it is his affair with one of the top celebrity Paris Hilton. The middle distance Athlete has been having a very good time after his name was pumped up with Paris Hilton following a date. Is Hilton his girlfriend? Is Nick dating Hilton?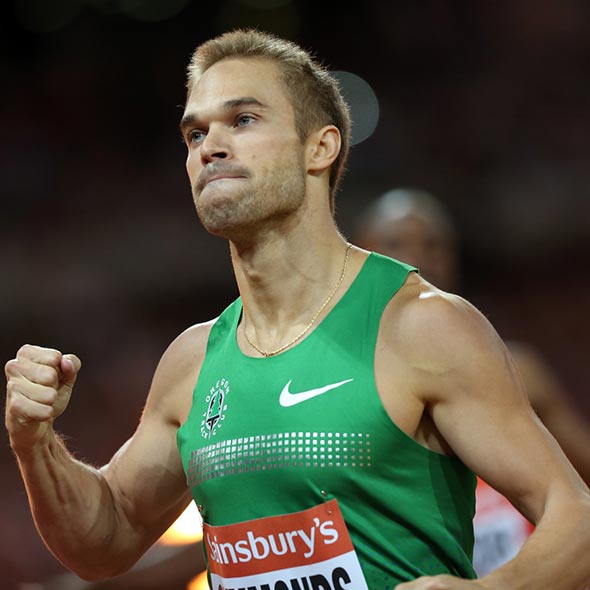 After the "Brad Pitt of News Anchors" David Muir, it's time for "Brad Pitt of Track."
He is none other than the 6-time US National 800 meters champion, Nick Symmonds, who was once known for his dream date with one of the top celebrity, Paris Hilton.
The outspoken middle-distance track athlete lived a demanding but an entertaining life, in his book "Life Outside the Oval Office: The Track Less Traveled" he reveals.
Not only that, Nick Symmonds is known for his act of supporting the gay community in his own way. 
Dating Affairs With The Beauty!
In 2012, Nick was hit by cupid's arrow right in the heart and went on to win a date with Paris Hilton in Los Angeles. Nick was all over Hilton although he has dedicated his life to athletics and has been training hard for Olympics in 2016.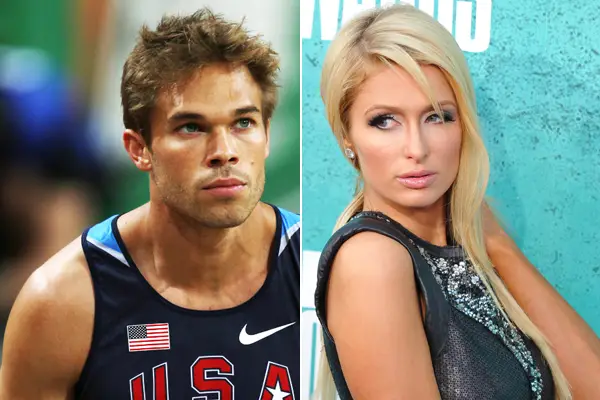 Mike and Paris Hilton (Photo: blog.sina.com)
In an interview with bleacherreport.com in June 2012, Nick shared his feeling after meeting Paris Hilton in Beverly Hills saying, 
"It was kind of a whirlwind trip down to Beverly Hills. Three weeks out from the Trials, I thought that would be a much-needed quick escape. I was pleasantly surprised to be able to sit down with Paris Hilton one-on-one and get to know her a little bit better."
Following his meeting with Hilton, Symmonds was seen with a bag of pink goodies.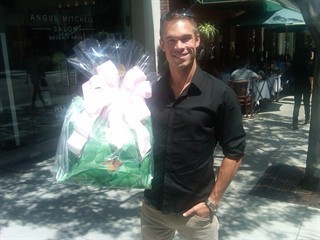 Symmonds with the bag of pink goodies (Photo: nbcolympics.com)
The Olympics runner put together a goodie bag that included a pink Timex Ironman watch, a package of SnoBalls, a pink bottle of Mr. Bubble bath and much more.
For the matter of fact, Hilton is fond of colors and Nick's act was more likely to impress Hilton!
And Symmonds explained his encounters with Hilton in the same interview with bleacherreport.com saying, 
"I feel privileged to have had her attention to myself for 90 minutes. On the way out, I walked her to her red Ferrari. I had to leave from there to go to LAX, but when I got home I was pleasantly surprised to find an email from her with her phone number attached."
Also, he was asked whether he has used Hilton's phone number and Symmonds replied,
"We have been texting a bit and I really hope to stay in touch with her. I really hope she is able to make it up to the Olympic Trials on Monday."
Later, the pair got split but their separation date and the reason behind the split still remains a mystery. 
Nick Symmonds' New Girlfriend 
Aft Aer Paris Hilton, the American track athlete started dating a girl named Tiana.
His dating affairs with Tiana was spotted all over his social media. Whether it's sending a bouquet of flowers or spa in 500 roses, Nick has done all for his girlfriend. 
The couple has also celebrated different holidays and occasions like St.Patrick's Day or Halloween Day, which are all covered in their Instagram. The Bishop Kelly High School graduate celebrated Halloween Day together and showed their Halloween costumes sharing an Instagram image on 1 November 2017. 
Dedicated Medal to the Gay Community!
U.S. middle-distance running champion Nick Symmonds dedicated his silver medal, which he won at the World Track & Field Championships held in Moscow in 2013 to his gay and lesbian friends at home.
Not only dedicated, he also became the first athlete to openly criticize Russia's controversial anti-gay "propaganda" law.
In an interview with sputniknews.com on August 2013, Symmonds gave his statement after being second in the 800-meter race, as reported by RIA Novosti 
"As much as I can speak out about it, I believe that all humans deserve equality as. However, God made them. Whether you're gay, straight, black, white, we all deserve the same rights. If there's anything I can do to champion the cause and further it, I will, shy of getting arrested."
Caption: Nick's 2016's interview about his future (Published on 30 Jun 2016 ) 
His net worth is $10, Million.
Nicholas's Short Bio:
Nicholas "Nick" Symmonds (born 30 December 1983) is an American middle-distance track athlete and specializes in 800 and 1500 meters. Nick is also a six-time US National 800 meters champion.
In London Olympics, he finished fifth in the final improving his personal record to 1:42.95. He won a silver medal in the 800 meters at the 2013 World Championships.
His personal best was fifth in 2011. Symmonds was detached from the U.S. team at the 2015 World Championships in Athletics.
Symmonds was removed from the U.S. team at the 2015 World Championships in Athletics due to a sponsorship rights conflict between personal sponsor Brooks and U.S. sponsor Nike and it created huge controversy all over.
Lately, Symmonds had to forego racing the 2016 Olympic Trials due to an injured ankle.
The reason behind this was sponsorship rights conflict between personal sponsor Brooks and the U.S. sponsor, Nike. Symmonds had to abandon racing in the 2016 Olympic Trials due to an injured ankle.