Sports
With An Extended Contract With The Beijing Ducks Stephon Marbury Is Determined To Retire In China
Chinese basketball has become a major target of former NBA players looking for a generous pre-retirement package lately. But no one from those former NBA players could perhaps match the pioneering exploits of Stephon Marbury, the same player who stormed China's top basketball league with his sheer competitiveness.
Stephon Marbury is probably considered as the greatest foreign player to ever play in the Chinese Basketball Association. Marbury is having a beautiful and celebratory career in China with three CBA Championships. Marbury has renewed his contract with Beijing Ducks. So what's next to Marbury?
An Extended Contract With The Beijing Ducks!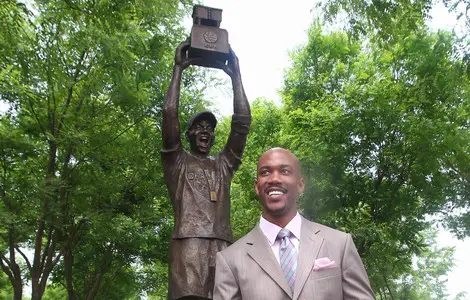 Caption: Stephon Marbury poses in front of his life-size bronze statue built by fans in commemoration of his contribution to the Beijing Duck's in 2012.
Photo Credit: chinadaily.com.cn
Stephon Marbury – the American abominated at home seven years ago, but loved in China – has signed a new contract for three years with the Beijing Ducks that will keep him in the capital of China until 2018 and will retire in China. The player is so popular in China that they built him a statue and he's even been approached as a future national team coach for China.
Moreover, Stephon Marbury announced on Twitter in 2015 that he will be retiring in China. The former NBA guard signed a new three-year contract with Beijing Ducks with the third year as an option for the team.
I'm retiring in China. My Beijing JERSEY will be the jersey I hang in the rafters proudly happy with loyalty. https://t.co/wIkVsxdyjS

— I AM PEACE STAR (@StarburyMarbury) July 21, 2015
Best Foreign Player In The League!
After leading his beloved team Beijing Ducks, capital's professional basketball team, to two championships in three years, Marbury has become a brand name in a city that has more than 8 million migrants. Those migrants from across the globe are usually referred to as a bei piao in Chinese, which means "floating in Beijing."
Marbury said:
I love my new life in Beijing. My heart is filled with love for my new extended family -- the billion-plus people in China.
Moreover, he added:
"Coming to Beijing, throughout all of what has happened and the success I have gained, I look at it as I was just fortunate and blessed. To be able to endure, accept and embrace the culture, allowed me to just become a bei piao."
Caption: CBA Finals in 2014-15 in a Playoffs game against Beijing Ducks and Liaoning Leopards.
The 38-year-old former NBA standout, Stephon Marbury was named MVP of Finals for the first time in his career after Beijing's 106-98 victory over the Liaoning Leopards in finals in the northeastern city of Shenyang.
Marbury's stats averaged 29.7 points with 4.8 rebounds, 5.7 assists and two steals over the best-of-seven series, which Beijing won 4-2. In the final playoff game, he scored 24 points with five rebounds, seven assists, and four steals.