Sports
A. J. Green: Married to Longtime Girlfriend Miranda Brooke; Welcomed A Baby Boy With Wife And It's A Bliss
It's been a year since A.J Green married love of his life Miranda Brooke and the couple announced that they are expecting a baby and that on the special occasion, their anniversary.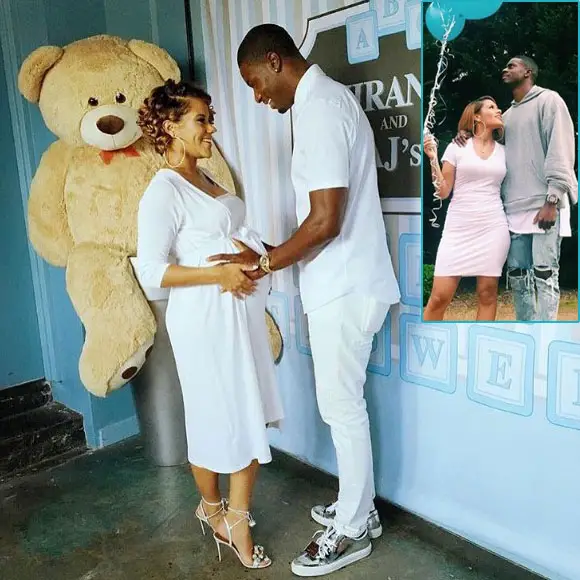 Together since a year, NFL star  A.J Green and American singer/dancer Miranda Brooke chose a special day to announce about the upcoming baby.
Married to His Longtime Girlfriend, Miranda Brooke!
American football wide receiver and Bengals star A.J. Green married his longtime girlfriend, Miranda Brooke in a star-studded wedding in 2015.
Legendary singer John Legend sang for the couple while his teammates played their part dancing and partying in high spirits.
 Andy Dalton, Mohamed Sanu, Marvin Jones, Carlos Dunlap and former Bengal Andrew Hawkins also attended the occasion at the historic 200 Peachtree.
The main highlight of the night included the dance routine Brooke put on with some of her friends and the couple's first dance as husband and wife. Well, we must admit, it was pretty adorable.
The 26-year-old football star and 24-year-old entertainer first met on social media back in 2010. After few years of relationship, they tied the knot in a star-studded winter wonderland themed wedding at Atlanta's luxurious 200 Peachtree venue in 2015. 
Expecting a baby!
 Miranda Green, the wife of Bengals wide receiver AJ Green, posted an interesting picture on her Instagram account in March to let everyone know about the upcoming baby. And what picture did she chose? A bun in the oven!
"Happy Anniversary babe! ..and it just keeps getting better.." It was captioned. 
And here he is! Miranda Green and A.J. Green have a baby boy born in September!
Here it is how he looks after one month!
Birth of his first Child!
A.J. Green and his wife Miranda welcomed their son on September 21, 2016, and named their son Easton Ace giving him a nickname, Eazy.
Moreover, Miranda also shared a video on Instagram of herself dancing around the hospital room yesterday while in labor:
Green made it known to everyone that he would be there for the birth of his son, even if it meant missing an NFL game.
"First one, definitely. I want to be there," Green said that when asked about whether he'd miss a game for the birth of his son. The original due date of the delivery was on Sept. 30, 2016.
AJ Green's Short Bio:
Born July 31, 1988, Adriel Jeremiah "A. J." Green is an American football wide receiver for the Cincinnati Bengals of the National Football League (NFL).During his early days, he played college football in Georgia. The Bengals drafted him as the fourth overall pick in the 2011 NFL Draft.
With success, Green has also seen numerous injuries such as the 2009 injury and the 2014's lingering toe injury.
 AJ Green has an estimated net worth of around $43 million, His yearly salary of 2015 was recorded as $5,369,481.
Stay with us for the latest updates on AJ Green!