Sports
A Rising Basketball Player LaMelo Ball Set Scores Bar Pretty High Taking Stats Line Up To Another Level
Teenager LaMelo Ball has taken this game of Basketball to another level as he is nailing at the match.  The Chino Hills sophomore and brother of UCLA star, Lonzo Ball became an instant internet sports sensation.
His shooting performance gained much limelight during a game on 7th February 2017 when he scored 92 points against visiting rival Los Osos. And yes, you have to see it believe it!
Caption: LaMelo Ball Scores 92 Points in Chino Hills vs. Los Osos posted on February 7, 2017.
LaMelo Ball, Player of the top ranking team, Chino Hills High School in Chino Hills, scored total 92 points in Chino Hill's 146-123 win over Los Osos. 
LaMelo Ball stats was overall 37-for-61 from the field and made total seven 3-pointers. The five-star sophomore from Chino Hills went 30-for-39 from 2-point range.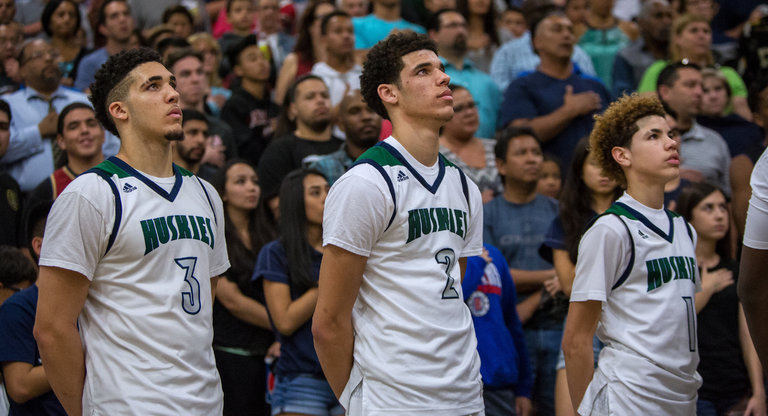 Caption: The Ball brother's, LiAngelo, left, a 6-foot-5 junior; Lonzo, a 6-6 senior; and LaMelo, a 5-10 freshman play for a team.
Photo credit: nytimes.com
His older brother, LiAngelo Ball, didn't play the game against Los Osos due to an injury, leaving the whole court and team to his younger brother LaMelo and LaMelo made full use of it. 
LiAngelo Ball who is the team's usual leading scorer didn't play the game because of an ankle injury, and that's the reason LaMelo was given the green light to shoot and score.
Only 15 years of age, LaMelo made 11 of 14 free throws in the court, and when he wasn't scoring, he also racked up seven assists. Lavar Ball, his father, told ESPN after the game:
And then he went crazy. I unleashed him. My boys get mad when they lose. [LaMelo] started on fire. Just attacking the rim. They tried to double- and triple-team him after he scored 45."
LaMelo Ball overall scored 41 points of his 92 points in the fourth quarter. Los Osos coach Dave Smith called his performance a joke. He said:
"That's wrong. It goes against everything CIF stands for. The Ball boys are very talented and great players, but it's embarrassing to high school athletics. I've been coaching for 35 years, and we've turned high school athletics into individualism.
Moreover, he added:
It's amazing to watch a kid score that many points. But it's tough to say that's what CIF athletics is about."
Well I mean that's one way to bounce back after a loss... I see you lil bro 9??2??

— Lonzo Ball (@ZO2_) February 8, 2017
LaMelo Ball is standing up for a campaign for Alexis Anderson, Chino Hills student who had to undergo emergency surgery just before the game started on 7th February 2017 and Ball dedicated that performance for Anderson.