Sports
With Strong Stats Devin McCourty Reconstructed His Contract That Profits Him; Wants Twin Brother To Join Patriots
When you can show how good you are on the field, you surely are going to have the upper hand to put up your case, be it financially or anything else. Today we look into the fact that New England Patriots' Devin McCourty has reconstructed his contract based on his stellar performances on the field and his stats show just what value he holds to the Patriots. So without further ado, let's grab a look at how all of this unfolded!
Devin McCourty's Restructured Contract: Salary and Stats
New England Patriots' Devin McCourty restructured his contract with a move that did put some more money in his pocket!
His contract reconstructed creating $2.8 million in salary-cap space in 2016 and moreover, increasing his cap hits in 2017, 2018 and 2019. Similarly, his cap charge in 2017 has now reached $10.9 million, which will increase to $11.9 million in 2018, and then all set to rise to $13.4 million in 2019.

Caption: A look over at Devin McCourty's Salary over the years.
Photo Credit: spotrac.com
This situation is lucrative, and he has earned all of these on the back of some stellar stats which he boasts with pride. The New England Patriots drafted Devin, who played college football for the Rutgers University in round one of the 2010 NFL Draft.
Devin has been a great asset to his team, and with all his performances over the years, he has proved how good he is.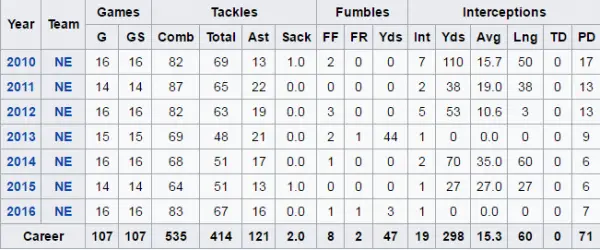 Caption: Devin McCourty's Career Stats.
Photo Credit: nfl.com
He has deserved everything with such a devoted career!
Devin's Will To Make His Brother A Patriot:
Devin's twin brother, Jason McCourty, who also attended Rutgers, has played in the National Football League for the Tennessee Titans in the past and has currently grabbed the interest of Cleveland Browns. But now, Devin has expressed his desire to make Jason a patriot after Jason was released by the Tennessee Titans.
Back in an interview in April 2017, he said,
"I'm excited for him,"

"I was hoping he would be out of Tennessee a couple years ago just to experience something different. I think obviously now everyone is saying 'he's going to come here, he should come here.' But you never know. I hope we're interested in him."
Devin also added,
"Like I've said before, we've loved to play together, but I think first and foremost, he has to do what's kind of right for his family and where he could actually play and be out there playing,"

"He's not at the point in his career where he just wants to sit on the bench. He wants to get a chance to get out there and compete."
But reports are there that the Cleveland Browns are set to sign Jason McCourty.
Regardless of the team, we would like to wish the brothers all the very best for their career in the days ahead.
Devin McCourty's Married Life:
Regarding his married life, Devin married his wife Michelle Powell, a doctor, in New Jersey in April 2016 and he is all happy in his relationship with her. Before tying the knot, the couple bought a new home in New Jersey. Devin stated,
"My fiance and I want to go away for like two weeks and hit a bunch of different countries. My brother went to Greece and he told me how much fun that was,"
As per this post, the couple is expecting a child soon, and so we would like to congratulate them on this happy occasion.
Stay with us for the emerging updates on Devin McCourty!