Sports
Where Is Troy Polamalu Now? The Man Whose Stats are Still A Milestones
The bright star, under whose limelight the team Pittsburgh Steelers glorified its name for almost twelve years, seems to be shining no more. We, perhaps, know the fact beyond the bright star turning non-luminous.
In reality, it is his professional football retirement announcement which came on April 10, 2015.
The football player we're talking about is Troy Polamalu, who had an excellent career stats when he was an active member of his football team. It was more than pleasure for our eyes to watch him playing on the ground, the interesting fact being; the player could be recognized from a distance due to his long hair.
An Excellent Carrer Of A Person Who Excelled Football:
Troy Polamalu is a former American football player who started his college football playing for the University of South California (USC), that made him the owner of consensus All-American honors.
The awarded player then became the part of the National Football League (NFL) with his name listed in the first round of the 2003 NFL Draft. It was the commencement of his great career when he joined Pittsburgh Steelers in 2003.
The Steelers were lucky enough to get such player playing and winning matches for them. Troy was firm at his position of Strong safety and would give his best for the team to make opponents kneel down before the Steelers.
He was a member of two of the Steelers' Super Bowl championship teams, and he also got awarded as the NFL Defensive Player of the Year 2010. The lifetime career stats of the player is excellent which looks like: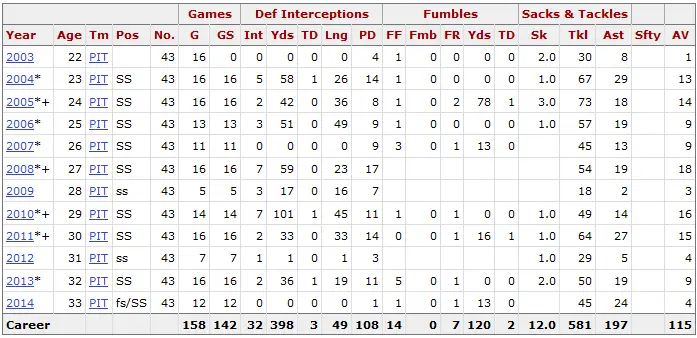 Caption: Troy's lifetime career stats according to Pro Football Reference.
But Troy retired from the professional football, and the great stats got its stoppage point in the year 2014, after a year he left the Steelers.
However, it is still a popular talk about his decision to leave Steelers as he had signed a three-year contract with Steelers before the 2014 season and it is assumed to be forced retirement for him.
It wasn't easy for the player to make his retirement decision, as he once told Herald-Standard:
"It was just whether or not I wanted to play. I had talked to a lot of people about what I should do with my situation, and what they kept saying back to me, and which was not a sufficient reason, was 'Troy, you played 12 years in the NFL, you won Super Bowls, won individual awards. There's nothing left to prove. You have a legacy.' And I just kept saying, 'First of all, I don't care about a legacy. Second of all, I play the game because I enjoy it.' That's the reason to keep playing.
Well, the player has proved his part from his great playing stats, and it's obviously hard to forget the milestones he has set for other players.
What's Troy Occupied With Now?
After the retirement, Troy has been doing the things which he adores a lot and most importantly he is happy to have plenty of time for his family.
He lives in North Hills with his small but beautiful family which includes his wife and two sons. The two kids are Paisios Polamalu and Ephraim Polamalu, and Theodora Holmes is their mother.
Paisios Polamalu is elder of the two who was born on October 31, 2008, and his younger brother was born on September 16, 2010, and the two brothers do their schooling in North Hills.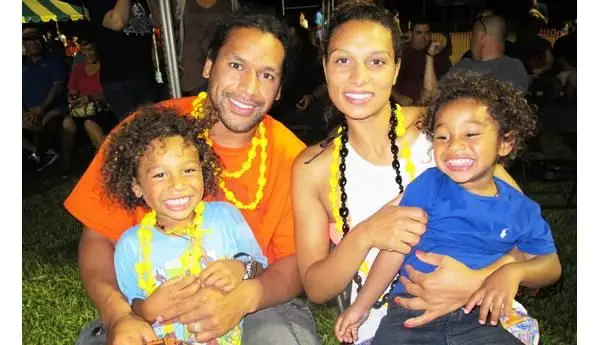 Caption: Troy pictured together with his beautiful wife and two adorable sons.
Photo Credit: pinterest.com
Besides living in North Hills, he keeps distance with the Steelers due to his bitter past with the team. He even avoided the 80th Dapper Dan Dinner and Sports Auction due to the same reason, but he still managed to attend a Pirates game in May with his teammates, along with Franco Harris, as they paid tribute to him.
Moreover, he accompanies his wife and gets spotted together at social events around the city. They also have a foundation called Troy & Theodora Polamalu Foundation Fund which, in collaboration with the Harry Panos Fund for Veterans, involved in arranging a dream marriage for a couple at Downtown's Hotel Monaco in December last year.
Stay with us to avoid missing anything new on Troy Polamalu!