Sports
A Swift Look At Alexander Ovechkin Career Profile From Domestic To International Play
Alexander Mikhailovich "Alex" Ovechkin is that one big name which is reigning over the current Ice Hockey world. The Russian winger has taken the sport by storm accomplishing everything, shattering records, piling misery on rivals and building a legacy.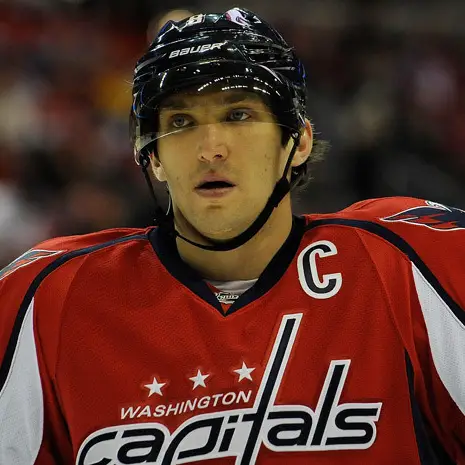 Alexander Mikhailovich,"Alex" Ovechkin, is one of the big names which is at present reigning over the Ice Hockey world. The Russian winger has taken the sport by storm: accomplishing everything, shattering records, piling misery on rivals and building a legacy.Apart from being an excellent winger, he has also established himself as an able captain leading the National Hockey League (NHL)'s outfit Washington Capitals to absolute dominance. 
Brought up under the guidance of father and mother who were professional footballer and basketball player respectively, he was destined to shine as an athlete.
Here, I enthrall you with a peek into his profile.
Domestic career of the Ice Hockey Legend:
Dynamo Moscow:
At the tender age of 16, Ovechkin stepped into his professional career playing for the Dynamo Moscow in Russian Super League (RSL), where he went on to end up as profoundly touted prospect on World Ice Hockey's radar racking up 36 goals and 32 assists in 152 career games. In his stay of four years, between 2001 and 2005 along with a short stint during the 2012-13 NHL lock-out, he got his team clicking and won Dynamo RSL title as well.
After spending as a "draft lookout" for a year, he was seeking other contracts until he bagged one from Washington Capitals -whopping $984,200 per season on August 2005. The move was worth the wait regardless of the holdup
Washington Capitals:
Immediately after his recruitment, he shined in the league winning the Calder Memorial Trophy as Rookie of the year, notching 52 goals and 54 assists topping all rookies and securing the third position on overalls chart. He is in a sensational form ever after having accumulated huge 966 points with 525 goals and 441 assists in 839 appearances over the years. As of now, he ranks eighth in the overall NFL rankings. 
He is the only player in NHL history to be named to the NHL First All-Star Team for five straight seasons and also holds the record for most seasons of 10+ game-winning goals with five such instances. Alexander's play is built upon his remarkable capability to shoot intensely.
International Ice Hockey Career Statistics: World Championships and World Junior Championships
He is presumably the best discovery of Russia Ice Hockey. His international duty begun as a 16-year-old. He went on to win gold at World Junior Championships in 2003.The brilliance of this 17-year-old lured the senior team coach Viktor Tikhonov into making him the youngest player ever to skate donning Russian jersey. What next? He became the youngest player ever to score an international point. Thus far, he has accumulated 73 international points with 42 goals and 31 assists while making 92 senior appearances. He has also played 18 U20 and 14 U18 games with 56 points.
Greatest Russian Scorer of all time: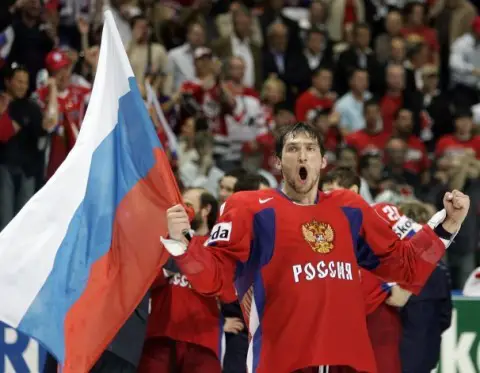 Caption: Ovechkin celebrates one of his many wins in patriotic fashion
Source: washingtonpost.com
The case for Alex Ovechkin as the greatest goal scorer of all time https://t.co/jBkZoEUHf3 pic.twitter.com/zb8v79riyU
From a stellar performance in IIHF World Championships to three Olympic triumphs, he has been unstoppable throughout in his national obligations.
Compiling Awards and Achievements:
In the course, he has successfully won numerous awards and achievements that consist of prestigious Order of Honor, Ride of Fame, Rocket Richard Trophy (six times) and Lester B. Pearson Award among others. Ironically, he has never been to the conference final.
With characteristic shyness, Ovechkin is renowned for letting his play do the talking. Aside from his busy professional life, he is engaged to his girlfriend and an established model, Nastya Shubskya.
Since his is still a thirty-year-old, we are going to witness more numbers being added to his figures and more beauty on his already excellent career statistics.