Sports
A Tribute to the legendary boxer Muhammad Ali: his record, wiki, death details & memorable moments
Sporting world along with other millions couldn't believe the headlines, or more appropriately, didn't want to believe the news. Unfortunately, they were not any random rumors but the bitter truth. The entire world has submerged into the sea of grievances and gloom following this "end of an era".
Quick Information
Relationship Status

Married

Eye Color

Black

Hair Color

Black

Hair

Short

Weight

107 kg (236 lbs)

Height/ How Tall? 6'3" (1.91 m)
High School

Central High School

Net Worth

$50 Million

Dating/Affair

No

Gay

No

Ex-Wife

Khalilah Ali (m. 1967–1976), Veronica Porché Ali (m. 1977–1986), Sonji Roi (m. 1964–1966)

Divorce/Split

Yes (Thrice)

Wife/Spouse

Lonnie Ali (m. 1986–2016)

Date of Birth B- 1942-01-17, D- 2016-06-03
Daughter/s

Laila Ali, Maryum Ali, Rasheda Ali, Hana Ali, Jamillah Ali, Khaliah Ali-Wertheimer, Miya Ali

Son/s

Ali Jr., Asaad Amin

Brother/s

Rahman Ali

Mother

Odessa Grady Clay

Father

Cassius Marcellus Clay Sr.

Ethnicity/Race

African-American

Zodiac Sign

Capricorn

Nick Name

The Louisville Lip, The Greatest, The People's Champion

Birth Name

Cassius Marcellus Clay Jr.

Profession

Professional Boxer

Birth Place

Louisville, Kentucky, United States

Nationality

American
 "Muhamad Ali has bid adieu to the world."
Sporting world along with other millions couldn't believe the sad headlines, or more appropriately, didn't want to believe the news. Unfortunately, they were not any random rumors but the bitter truth. The entire world has submerged into the sea of grievances and gloom following this "end of an era".
The 4th June of 2016 will go down in history as the darkest day the boxing world has ever witnessed. Muhammad Ali, the legend who refused to lose any boxing bouts, finally lost his battle at the age of 74 to Parkinson's disease after keeping it at bay for 30 long years.
Muhammad Ali was regarded as a synonym of "Boxing"; for winning 56 of 61 matches that included 37 victories by knockout. He was crowned "Sports Personality of the century" by BBC in 1999, BET Humanitarian Award in 2002, Sports Illustrated Sports  Person of the year" in 1974 (much more). He clinched Olympic gold and three World Heavyweight Championships and vying in the History's best matches of boxing. However, it is a crime to mistake that his contribution in boxing is the only thing that we are indebted to.
Apart from being "The Greatest" of boxing, he was also a social activist, philanthropist, peace promoter and, of course, an inspiring personality.
Although it is an impossible task to embed a life as great as his within my limited words, I have attempted to note the most memorable ones through a timeline.
Here we go:
1942-1960
Born as Cassius Marcellus Clay Jr. on Jan 17, 1942, in Louisville, Kentucky, he was one of the six children of Cassius Marcellus Clay Sr., a billboards painter, and Odessa O'Grady Clay, a household domestic. His family had descended from Slaves of African origin and he had to undergo numbers of abuse for his color.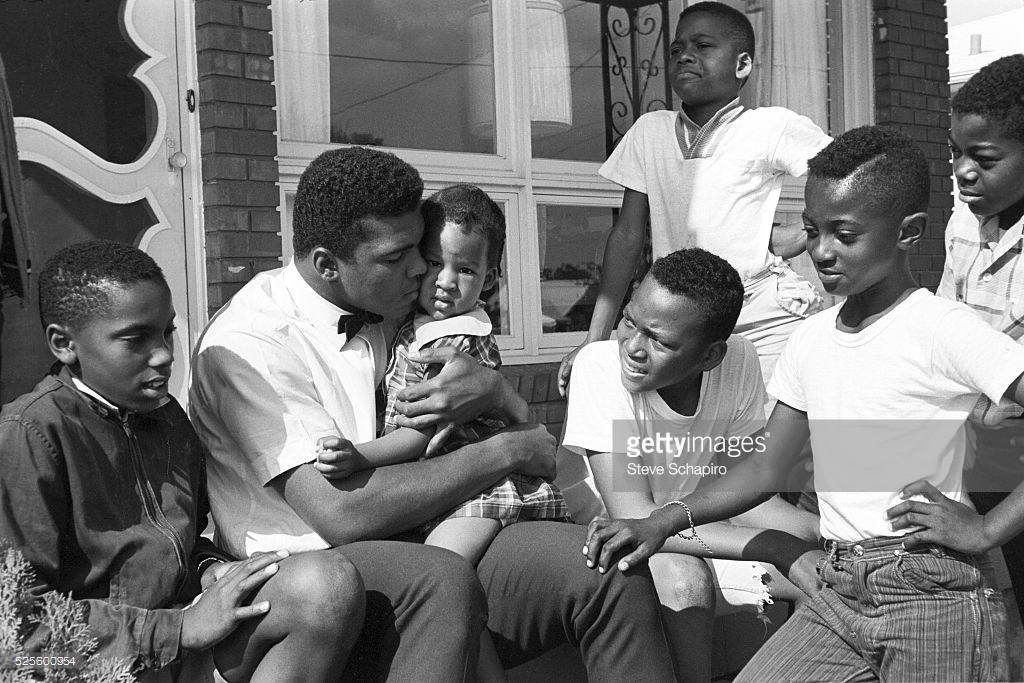 source: gettyimages.com
He was only 12 when he was introduced to boxing for the first time in 1954. In the course of trying to "Whup" the thief who stole his cycle, the angry Cassius encountered a police officer and boxing coach Joe E. Martin. Martin was moved and suggested him to box first. He would go on to be Ali's coach for next six years leading him through his amateur career to fearless professional debut in 1960.
In his amateur career, he has the record of 100 wins and five losses during which he won six Kentucky Golden Gloves titles, two national golden Gloves titles and light heavyweight gold in the 1960 Olympics.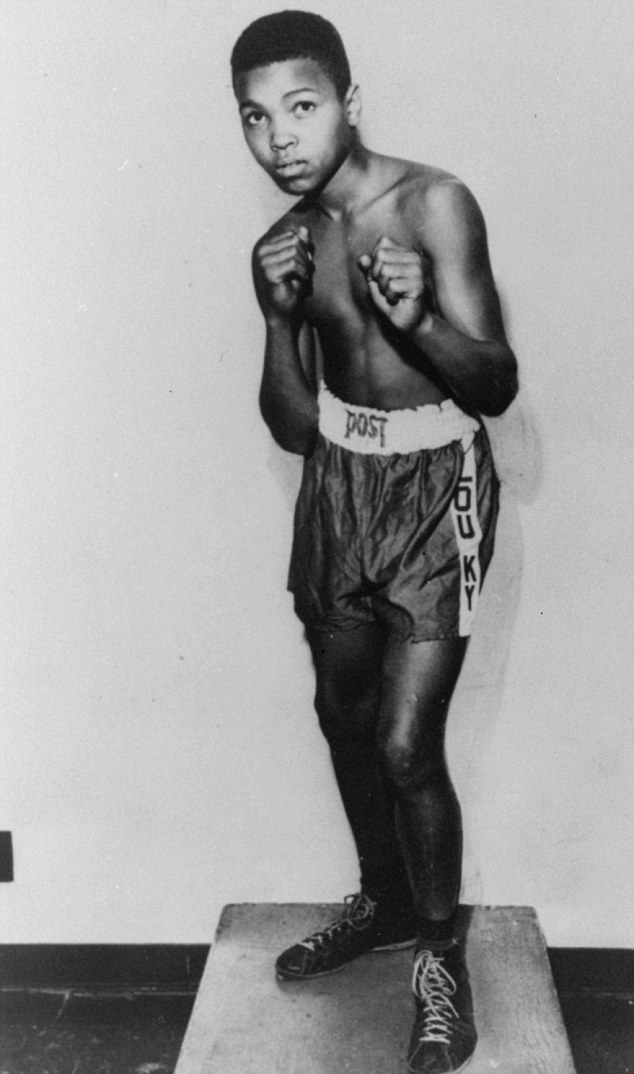 source: dailymail.co.uk
1960-1970
On October 29, 1960, Clay turned pro and announced himself with a bang by reaching the remarkable record of 19-0 by the end of 1963 that consisted of 15 knockouts. Besides the swiftness of his hands, the sharpness of his tongue evolved too as he "trash talked" against his competitors; Calling Doug Jones "an ugly little man" and Henry Cooper a "bum".
It was his bout with Sonny Liston on February 25, 1964, that made the boxing world realizes his true worth. Despite being blinded reportedly by ointment applied on Liston's cuts midway through the match, he held on to seventh round before technically knocking him out to win his first heavyweight title. The next moment, he was shouting, "I am the greatest! I shook up the world. I'm the prettiest thing that ever lived." And boy! He sure was.
"The crowd did not dream when they laid down their money that they would see a total eclipse of the Sonny!" pic.twitter.com/HeE7phSNpH — Muhammad Ali (@MuhammadAli) February 26, 2016
He kept the momentum going by winning every bout for next three years with his characteristic approach that he described as "Float Like a butterfly, sting like a bee."
 In 1964, he got married to Sonji Roy, a cocktail waitress. they divorced after two years over the dispute regarding Roy's denial to wear Muslim dress. He then married Belinda Boyd in 1967 and went on to father four children.
He also converted his name from Clay, the "slave name" as he believed it to be, to Muhammad Ali after joining The Nation of Islam in 1964.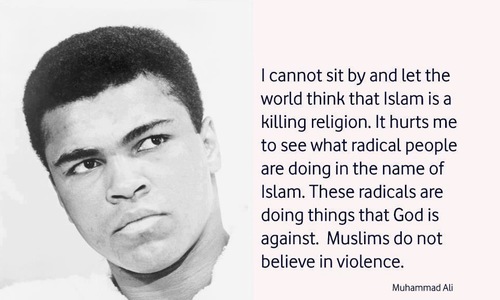 source: whichdn.com
In 1967, Ali was drafted to fight for U.S in Vietnam War but the rebel controversially refused because his religious beliefs were against wars and killing. As a consequence, he was slapped with an "exile" from boxing for three and a half years stripping him of the heavyweight title.
1970-1980
Ali couldn't be kept away from boxing for long as he made his comeback in 1970. He seemed "rusty" initially but then, he got into his former tone to box in "The fight of the century" against the then heavyweight champion Joe Frazier. This event was also known for the pre-match hype they enjoyed.
45 Years Ago: #MuhammadAli & #JoeFrazier battled in The Fight of the Century, a showdown that lived up to the name. pic.twitter.com/GTNn7rFNto — Muhammad Ali (@MuhammadAli) March 8, 2016
Ali lost the fight that cost him his first professional defeat and heavyweight title. However, he came back stronger to win the other two rematches including the "Thrilla in Manila" in 1975.
His "The Rumble in the Jungle" fight against George Foreman in 1974 also was the highlight of his career.
"I've done something new for the fight. I done wrestled with an alligator, I done tussled with a whale; handcuffed lightning, thrown thunder in jail; only last week, I murdered a rock, injured a stone, hospitalized a brick; I'm so mean I make medicine sick.", He said in an interview with David frost as he vocally intimidated Foreman.
And the might of words were clearly visible in that fight as he knocked out him in the eighth round to clinch his second heavyweight title. He would go on to win his third title by beating Leon Spinks in 1979 and briefly retired from boxing before making his comeback soon.
Renowned actress and model, Veronica Porsche, became his third wife following an affair of two years since 1975. They already had a daughter at the time of their marriage. Laila Ali, a boxing sensation, is the second child that Porsche gave birth to before getting divorced in 1986.
1980-2016
When his attempt to clinch the fourth title failed bitterly with career's first knockout against Larry Holmes, he announced his retirement following the final fight against Trevor Berbick in 1981. Ali was diagnosed with Parkinson's syndrome in 1984, which seems to have resulted from head trauma he received during the fight with Holmes.
 From attempting to negotiate the release of hostages with Saddam Hussein to acting as U.N Messenger of Peace in Afghanistan, the man preached peace around the world. He also lit the flame at 1996 Olympics. His was also honored as a titular bearer of the Olympic flag in 2012 Olympics in London.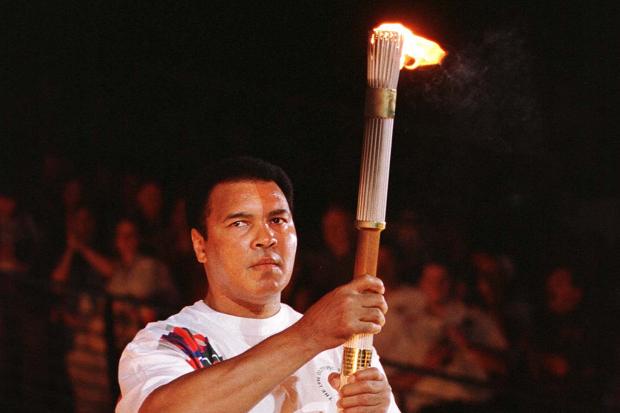 source: asianmirror.com
He also was in the limelight for talking a man out of jumping from a ninth floor ledge in 1981.
35 years ago Muhammad Ali talked a man out of jumping from a building #legend #rip https://t.co/rqmMExlnI8 — Football Fights (@footbalIfights) June 5, 2016
Like his boxing journey, his personal life was no smooth ride as he went through three unsuccessful marriages to depart with his soul mate Yolanda Lonnie Williams, who he married in 1986, on his death bed. He is the father of nine children; among which two are from extra-marital relations and one is adopted.
They were residing in Scottsdale, Arizona til the hero breathed his last on June 3. This last portraits of Ali show adverse effects of Parkinson's. But his fists still show how much boxing meant to him.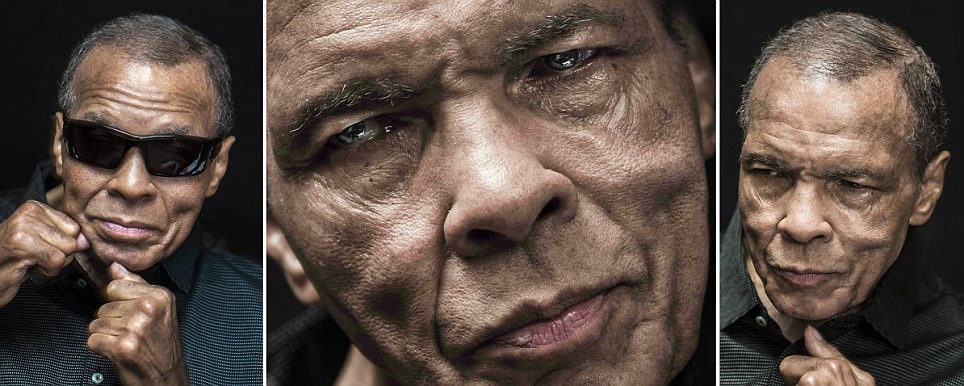 source: dailymail.co.uk
His physical form has disappeared but his preaching, inspirations, and boxing contributions will always immortalize him to the end of the world.
World bids farewell to their hero:
God came for his champion. So long great one. @MuhammadAli #TheGreatest #RIP pic.twitter.com/jhXyqOuabi — Mike Tyson (@MikeTyson) June 4, 2016
Muhammad Ali was not just a champion in the ring - he was a champion of civil rights, and a role model for so many people. — David Cameron (@David_Cameron) June 4, 2016
A giant among men, Ali displayed a greatness in talent, courage & conviction, that most of us will EVER be able to truly comprehend. #RIPAli — Lennox Lewis (@LennoxLewis) June 4, 2016
we lost a King, a Soldier and a true Hero all in one... RIP Muhammad Ali ???? pic.twitter.com/5lf6sEAlWz — Black Jesus (@BullHunitProof) June 5, 2016
RIP our beloved hero. _sy. Sufi Boxer Muhammad Ali's last fight was against Extremism & Politicians' Islamophobia https://t.co/31pUp8hmCZ — Sami Yusuf (@SamiYusuf) June 5, 2016
He have left behind so much for us, including these words.