Sports
Aaron Ramsey Taking A Break From Field Because Of Injury; Has A Blessed Family Life With Wife And Baby
Aaron Ramsey Taking A Break From Field Because Of Injury; Has A Blessed Family Life With Wife And Baby Wales has produced the greatest player of all time such as Gareth Bale. But there's no denying that Aaron Ramsey is one of the gifted and talented midfielders of Premier League as well. Along with that, there's no denying that his career has been halted time and again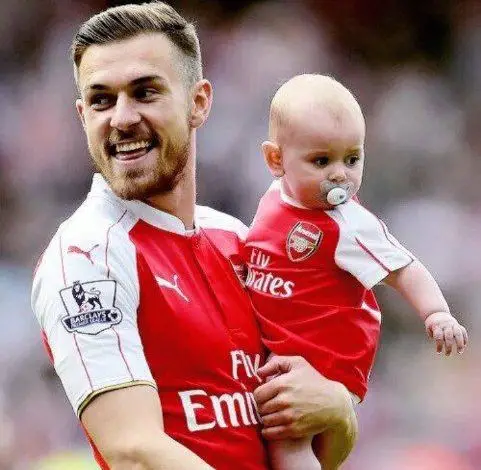 Wales has produced the greatest player of all time such as Gareth Bale. But there's no denying that Aaron Ramsey is one of the gifted and talented midfielders of Premier League as well. Along with that, there's no denying that his career has been halted time and again by injury as like Jack Wilshere.
Out of Action for Weeks!
Arsenal Football Club has been dealt an injury blow after Aaron Ramsey limped out of Premier League clash against Watford on 31st January 2017. The Welsh midfielder Ramsey pulled up with a calf strain(sort of broken leg) and headed straight down the tunnel for treatment in the opening stages of the 2-1 defeat at the Emirates.
He was replaced then by midfielder Alex Oxlade-Chamberlain after just 20 minutes and boss Arsene Wenger admits that Ramsey could face a lengthy spell on the sidelines. Wenger said:
 "He has a calf strain. We don't know how long he'll be out for yet."
Arsenal boss Wenger is now confronted with a midfield crisis with midfielders Santi Cazorla already out, and Granit Xhaka suspended. But despite all the mounting problems, Arsene Wenger insists that he has no regrets in letting Jack Wilshere go out on loan and at least inserting a recall clause in his deal with Bournemouth.
He stated:
 "I would say 21 days (on Ramsey). Yes, we are a bit short at the moment but I think we have young players who can do well in there.We have Adelaide, we have of course Maitland-Niles, we have Chamberlain. Iwobi can play in there. Elneny will come back after Sunday, so I still have some strengths.
Ramsey had introduced a new hair style only few months back, sharing it with his fans over Twitter.
Prior that, he had also pierced a tattoo so as to reflect his challenging personality.
Married To the Love of his Life!
Aaron married his childhood sweetheart Colleen Rowlands at Caldicot Castle in Monmouthshire, Wales on 8 June 2014. Aaron Ramsey and his wife Collen, who went to Ysgol Gyfyn Cwm Rhymni in Blackwood together, asked all the guests to donate their money to the Parkinsons UK charity via Justgiving rather than providing gifts.
Aaron Ramsey and his wife Colleen Ramsey are celebrating the birth of their first child, a boy, after the Arsenal and Wales midfielder announced the news to his fans on November 21, 2015. Ramsey said:
"Me and my wife have become parents for the first time to a beautiful baby boy"
Aaron Ramsey current contract is till 2018 with the salary of £90,000. Moreover, Ramsey has also been trolled on the internet that whenever he scores a goal, one of the celebrity dies.