Sports
Adam Thielen Contract Terms, Career & Season Stats Update; Details On Salary & Injury
The jersey number 19 of the Minnesota Vikings, Adam Thielen surely knows to make his mark on the pitch during the game. The American football wide receiver is currently playing in the National Football League, who is a 4-sport standout athlete.
Adam, a sports person with a great wit for games, was involved in Football, Basketball, baseball, and golf during his high school days at Detroit Lakes, Minnesota. Later he persuaded his career in football while adding numbers to his stats and playing during college while finally landing in Minnesota Vikings.
Early College Career Including Stats
Adam Thielen developed a keen interest in sports from his early days and started playing early from his high school days at Detroit Lakes. He took his team, Lakers to a victory with a lead of a 9-1 season.
Later, when he became a Minnesota State University student, he added more figures in his stats. He was red-shirted for 2008 season at Minnesota State University to develop his skills and extend playing eligibility.
After a season away from the competition, Adam caught 21 passes and a touchdown as a freshman in 2009. The very next year, in 2010, he led the Vikings with 686 yards and six receiving touchdowns.
Later, for the next two years, he was already the team's starting kick and punt returner. In 2012, he notched a five 100-yards receiving games that included career high of 167.
Professional Career, Contract, Injury
After finishing up with college in 2012, Adam went undrafted in the 2013 NF draft. He then attended a rookie try out an evaluation session at Winter Park with the Minnesota Vikings. He was then signed as the undrafted free agent by the Vikings.
In 2014, he was able to make a mark on the pitch as he scored his first NFL touchdown in Week 13 of the 2014 NFL season. Four weeks later he scored his first touchdown on a 44-yard reception from Teddy Bridgewater after which he threw the ball to his wife Caitlin Thielen who is his high school sweetheart.
Adam was honored as the Vikings Special Teams Player of the Year in 2015. He finished the 2015 season with 12 catches for 144 yards which included a long of 30.
A year later in 2016, Adam had one of his best performances of his career breaking 100 receiving yards for the first time as he finished it with seven catches for 127 yards along with a touchdown.
Adding to it, he led the Vikings in receiving yards with 967 while becoming the only Minnesota native in team history to do so. He was also named the "Unsung Hero" for the Minnesota Vikings.
After that in March of 2017, Adam signed a three-year contract extension with the Vikings. He started the season off strong adding numbers to his season stats. He sure proved up to the mark as he agreed to a three-year, $17 million contract with the Vikings.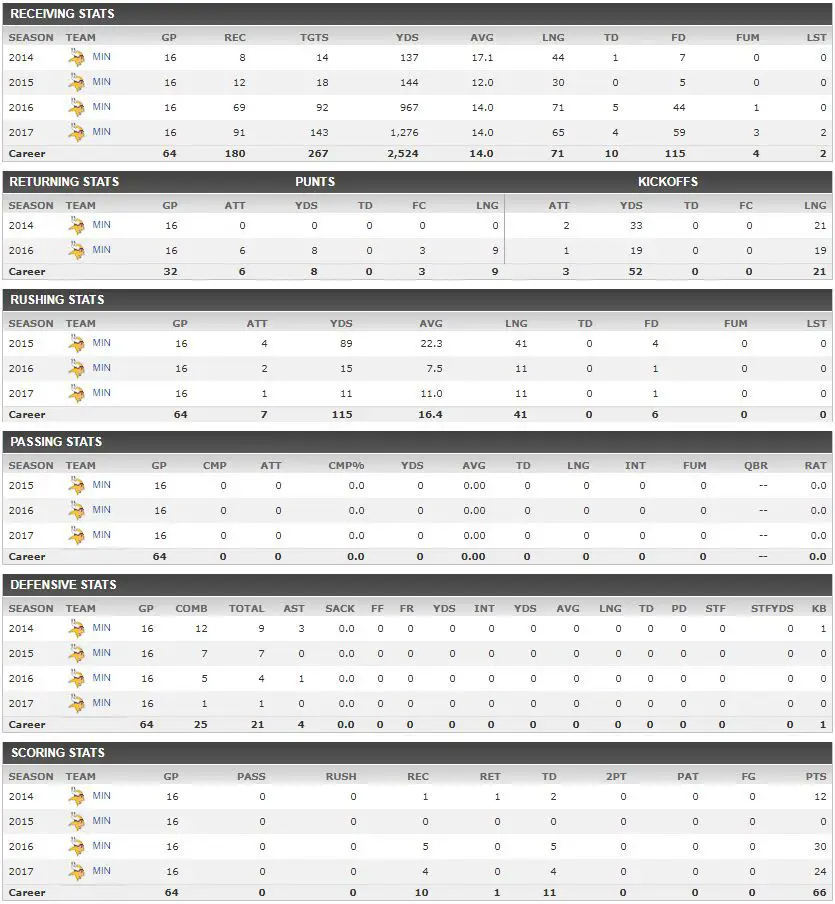 Adam Thielen's career stats from 2014-2017 (Photo: espn.com)
Well, Adam did put his effort into earning points for the team despite facing injuries along the way. In January 2018, his back injury was diagnosed and fractures after the game loss to Philadelphia Eagles.
However, besides his successful career in the field, Adam is also enjoying his married life with his wife, Caitlin Thielen. The pair got married in May 2015 and now, shares a baby Asher with her. His first-born was born in October 2016 while he was catching hights in his career. As of 2017, Adam earned yearly salary of $7 million.